What's better: a simple author signature, or an inscription? As a longtime bookseller -- a veteran of Borders, Waldenbooks, and independent stores -- I thought I knew the answer. But, once I began working for antiquarian booksellers, I discovered the question is much more complex.
A comment on the ABAA Facebook page recently asked why some booksellers appear to prefer plain signed books, rather than inscribed ones? While trying to find the answer, I encountered an interesting tale of changing fashions and the dark side of book collecting.
The prevailing wisdom in literary circles over the past decade or two has been to ask an author for a plain signature when getting a book autographed (some collectors even purchase two copies, asking the author to inscribe one to them for their 'permanent collection,' and to simply sign their name to the other one, which they will hold onto in the hopes its value appreciates -- sellers of new books have no qualms about endorsing this point of view, although antiquarian booksellers know there is no certainty of modern firsts becoming valuable collectibles, and strongly caution collectors against viewing them as such). To my shame, I've organized and helped run hundreds of book signings and never previously gave this standard advice much thought.
inscribed
--
a book, or other printed piece, with a handwritten and signed statement usually written for a specific named person(s) and often located on the end paper or title page; when "inscribed" is used to describe a book, unless otherwise stated, it is implied that the author has written the inscription. When used to designate the recipients of a book as a gift from the author (or publisher), it is called a "presentation inscription". (ABAA Glossary of Terms)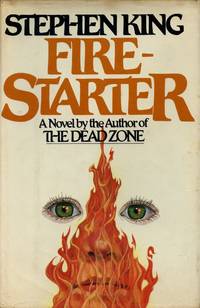 The theory was that such a plain signed book might be more valuable or 'collectible' than one inscribed to an individual personally because some later potential buyer might be more interested in a book signed "Stephen King," than a book signed "To Harry, Best Wishes from Stephen King." While I myself might appreciate looking back over my library and recalling an entertaining dinner with Greg Keyes when he signed a book for me and we gossiped about the book industry over several bottles of wine, why would anyone else be interested in the cryptic comments added by an author? (My advance copy of Greg Keyes' The Briar King is inscribed "Hope you still have this one in six years." Baffling to anyone but me.*)
Antiquarian booksellers look at inscriptions in a different light. ABAA-member Ken Lopez writes "when you buy a signed book you are purchasing a signature, but when you buy an inscribed book you are getting a story." Part of the skill of the antiquarian bookseller is to be able to decipher and tell that story. One of the issues with a plain signed as opposed to inscribed book is that it lacks provenance. Inscriptions, even if not to a famous person often have a story behind them that can prove provenance. (The inscribed copy of Brion Gysin's The Process below illustrates just such an interesting story.)
---
Featured item:
by Brion Gysin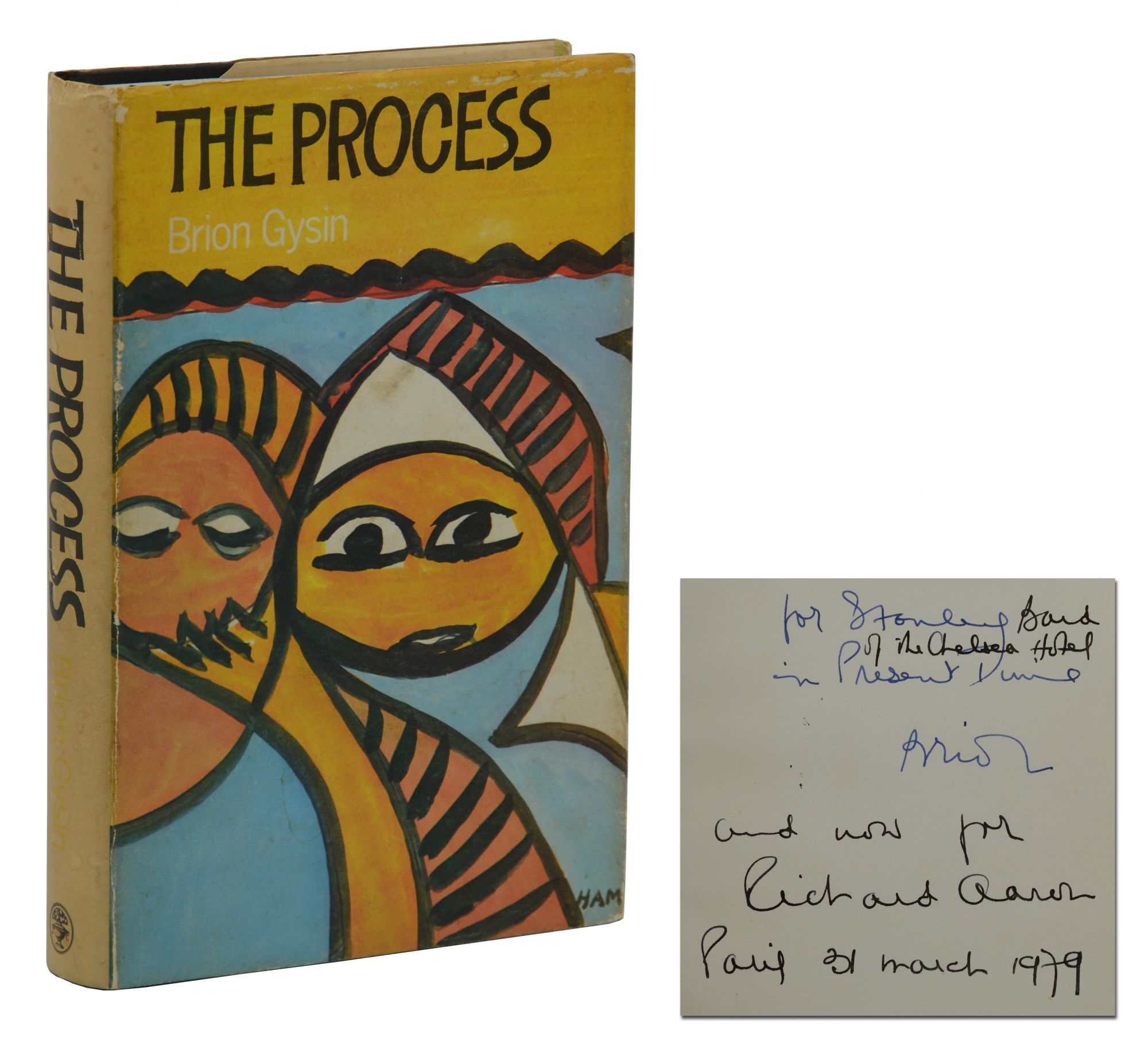 London: Jonathan Cape, 1970. First British Edition. Fine/Near Fine. First British edition, first printing. Signed by Brion Gysin to Stanley Bard, owner and manager of the notorious Chelsea Hotel in New York, with a second inscription to Richard Aaron reading "For Stanley Bard of The Chelsea Hotel in present time, [signed] Brion," "And now for Richard Aaron, Paris, 31 March 1979."
At the time of publication, Gysin was living at the Chelsea Hotel on the 7th floor near William S. Burroughs. Bard often accepted works of literature of art in lieu of rent. Bound in publisher's black cloth with spine lettered in gilt. Fine, in a Near Fine dust jacket, lightly edge-worn and lightly soiled, with fading and light staining to spine panel. The painter and composer's first novel. Gysin is best known for his discovery of the cut-up technique, which was famously used by his friend and collaborator, William S. Burroughs.
Offered by Burnside Rare Books.
---
Since the advent of the internet, anyone can put an alledgedly signed book for sale online, and most online auction sites like eBay do little to police the authenticity of their offereings. Some unscrupulous online sellers offer so-called certificates of authenticity with their signed book; these are simply not worth the paper they're printed on. The ABAA guarantees that a signed book purchased from one of its members is genuine, and that is one reason that obtaining membership for the ABAA is a long and exacting process -- only the most experienced, ethical, and knowledgible booksellers are accepted!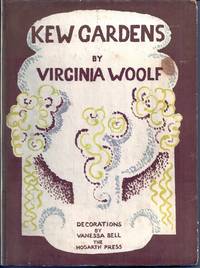 Lopez adds some historical context to the current confusion over the relative value of signed versus inscribed books by explaining that for "a long time -- generations, literally -- there was a clearly established hierarchy of values that pertained to books signed by their authors. The best copy was the 'dedication copy,' and usually there was only one of these. Next best were 'association copies,' that is, books inscribed by the author to someone notable or important in the author's life -- a relative, a friend, a mentor, another writer. After that were 'presentation copies,' which simply meant those books inscribed by the author to someone who was not important to the author, or whose importance was unknown. And finally, at the bottom of the hierarchy, were books that were just signed, with no further inscription, no other writing, etc."
Various factors owing to attempts to game the system and people enticing authors to inscribe books to them despite having no personal relationship began to cause booksellers to look askance at certain inscriptions to these "false fans" in the 1970s and '80s, and collectors picked up on this new sense of suspicion over certain inscriptions, and some began to view plain signed books as more desirable. Then came the internet, and the largely unregulated marketplace of eBay and other online auction sites. Some antiquarians now feel that the pendulum is starting to swing back, and once again the principle of, in Lopez's words, "the more writing by the author in a book, the better" is beginning to reassert itself. (You can read Ken Lopez's more detailed thoughts on signed books versus inscribed ones here...)
The recent popular wisdom favoring plain signed books not only flies in the face of long-established preferences, but, Lopez believes, also "diminishes and demeans collecting, and collectors":
"For not only can a presentation copy to an unknown third party "turn into" an association copy after a little research, but a collector's own copy can become an association copy if the collector stays with it long enough and seriously enough for the collection to become recognizably important. Hemingway's first bibliographer was Louis Cohen, a fan and book collector. A Hemingway book inscribed to Cohen would, at the time, have been a simple presentation copy to a person of no particular consequence. Today it would be viewed as a highly desirable association copy."
ABAA members go to great lengths to research inscriptions and establish whether a book has genuine literary associations or not. One terrific example of the fruits of this research is the description provided by James S. Jaffe Rare Books for a presentation copy of Sylvia Plath's first book of poetry, The Colossus, which she inscribed to Lucas (Luke) Myers, a fellow poet and intimate of Plath and Ted Hughes, who was in their circle when Plath first met Hughes in Cambridge in 1956. Plath was influenced by Myers' poetry, and in fact wrote that she was dancing with him at the launch party for the St. Boloph's Review just moments before meeting Ted Hughes! Clearly this is a copy with great significance for collectors of Plath and Hughes. (Read that description here...)
An appreciation of the history behind a certain volume and how some inscriptions reflect the larger currents of an author's life or work shows that such dedication, association, or presentation copies are far more desirable than any plain signed copy.
* The story behind the inscription in my copy of The Briar King is that I had met Greg Keyes years earlier, at a science-fiction convention just before his first novel, The Waterborn, came out. I brought a promotional blad (an excerpt from the novel bound for promotional purposes) which the author had signed at our first meeting to the dinner six years later, which spurred a great discussion about his career and experience over the intervening years.
----
---
Some signed and inscribed books of interest:
THE WOODLANDERS (Presentation Copy Inscribed by the Author)
by Thomas Hardy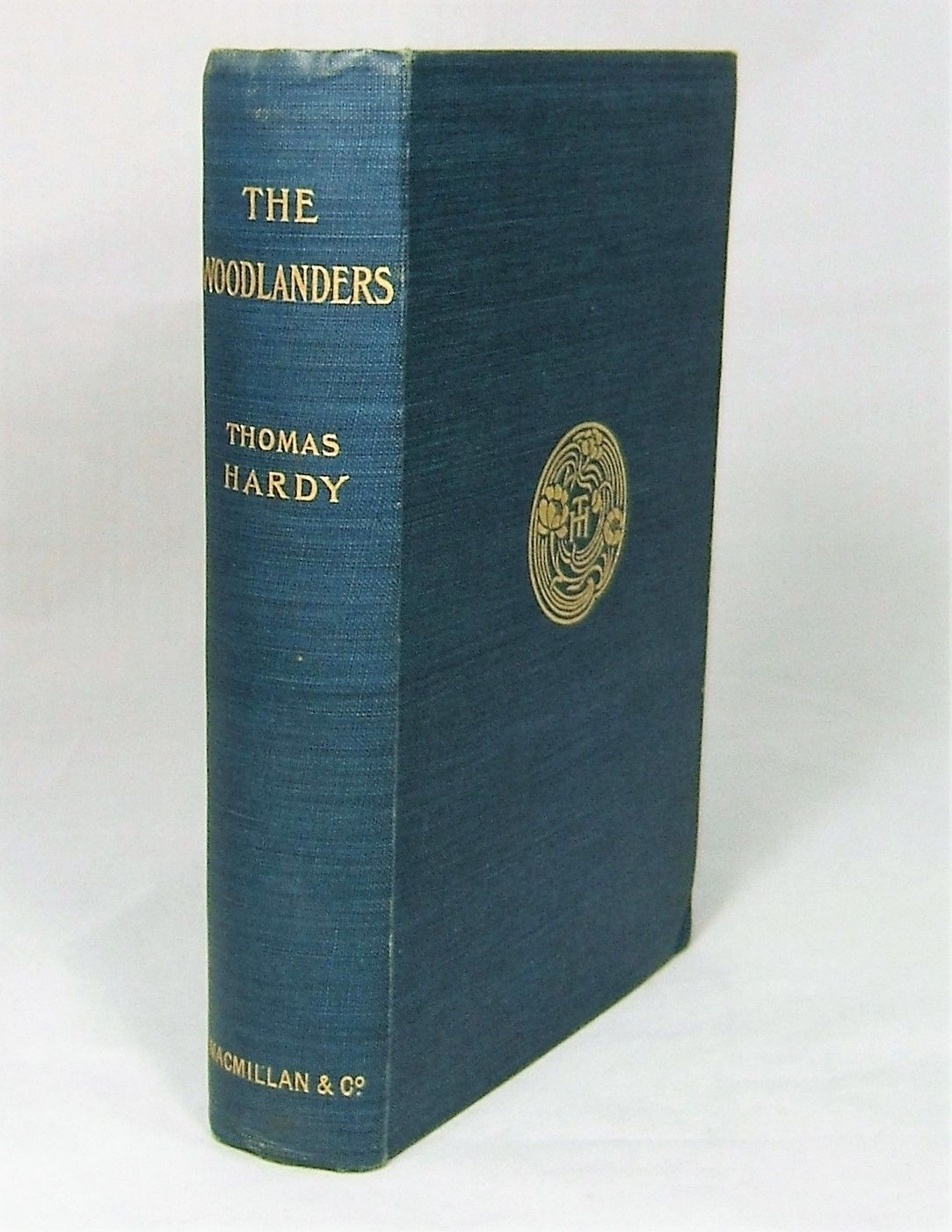 London: Osgood, McIlvaine, 1903. Hardy, Thomas. THE WOODLANDERS. With a map of Wessex. London: Macmillan, 1903. Early reprint edition in original publisher's blue cloth with gilt decoration and lettering. A FINE, fresh copy INSCRIBED by the author on the front free endpaper and dated 1907. The presentation is rather enigmatic. "For Alliance sake (I. K. H7. VI)." Hardy seems to be quoting Shakespeare's Henry VI, Part 1, Act Two, Scene Five in which an unjust death is blamed as being "for alliance sake." THE WOODLANDERS is itself filled with Shakespeare allusions, especially Hamlet, and Henry VI Part 1 is alluded to in other of Hardy's works. A mystery only partially solved and a recipient as yet entirely unknown. Purdy p. 57.. Inscribed By Author. Decorative Cloth. Fine.
Offered by Lakin & Marley.
Operation Overflight: The U-2 Spy Pilot Tells His Story For The First Time
by Francis Gary Powers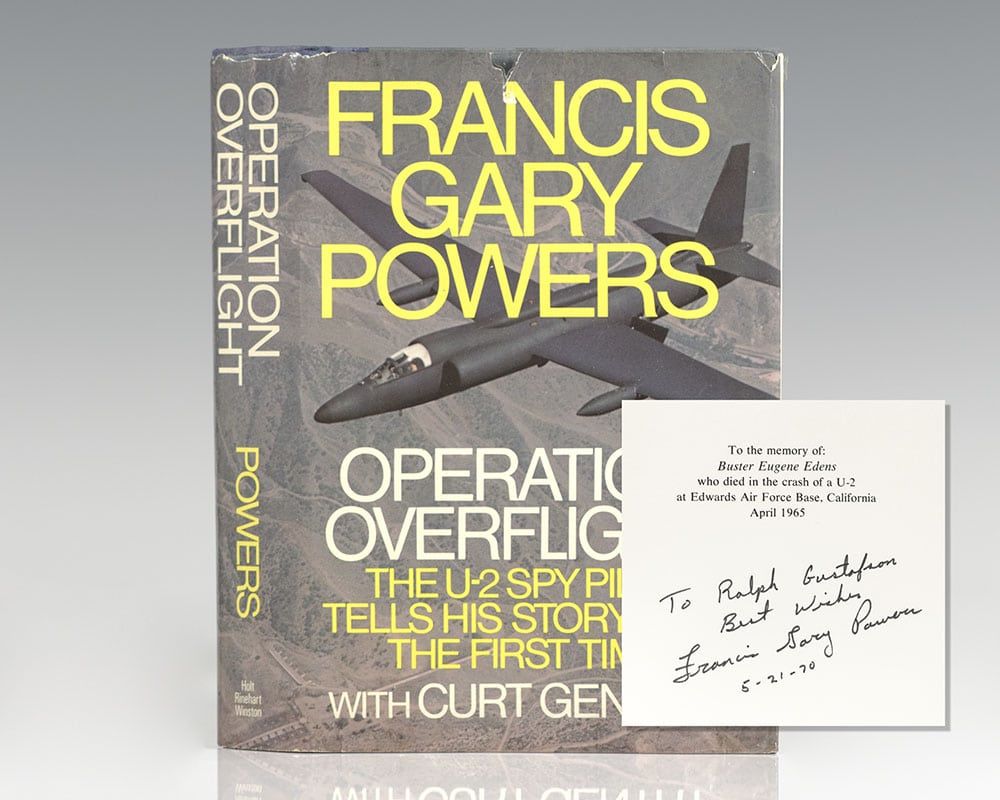 New York: Holt, Rinehart and Winston, 1970. First edition of this classic spy memoir. Octavo, original cloth, illustrated. Presentation copy, inscribed by the author on the dedication page in the year of publication, "To Ralph Gustafson Best Wishes Francis Gary Powers 6-21-70." The recipient Ralph Gustafson was a Canadian poet and author. Near fine in a very good dust jacket. Jacket design by Jay Smith. Written with Curt Gentry. Signed first editions are uncommon.
In this memoir about the notorious U-2 incident, pilot Francis Gary Powers reveals the full story of what actually happened in the most sensational espionage case in Cold War history. After surviving the shoot-down of his reconnaissance plane and his capture on May 1, 1960, Powers endured sixty-one days of rigorous interrogation by the KGB, a public trial, a conviction for espionage, and the start of a ten-year sentence. After nearly two years, the U.S. government obtained his release from prison in a dramatic exchange for convicted Soviet spy Rudolph Abel. The narrative is a tremendously exciting suspense story about a man who was labeled a traitor by many of his countrymen but who emerged a Cold War hero.
Offered by Raptis Rare Books.
THE LITERARY REMAINS OF THE LATE HENRY JAMES
by William James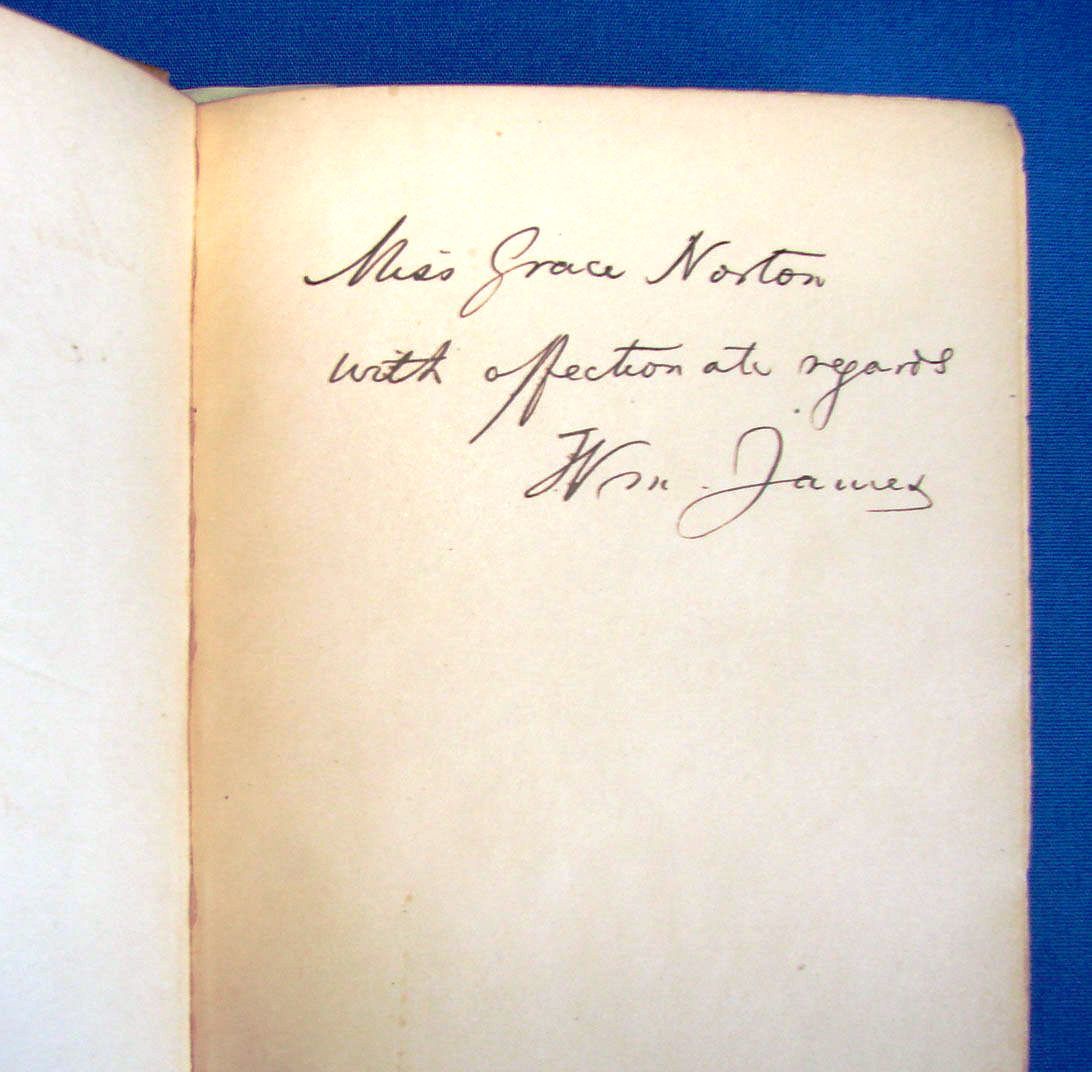 Boston: James R. Osgood & Company, 1885. First Edition. Hardcover. Remnant of a newspaper clipping of Henry James, Sr.'s obituary on the front endpaper with resulting shadow to the front pastedown. Rebacked retaining most of the original spine which is now a little dull.. Illustrated with a frontispiece portrait of the subject, the father of William and Henry James. Edited with an introduction by William James who has INSCRIBED and SIGNED the book on the front blank: "Miss Jane Norton/with affectionate regards/Wm. James." Grace Norton, sister of Charles Eliot Norton, was an expert on Montaigne and the works of other French authors. She was a frequent correspondent of both William and Henry James. Books signed by this great American psychologist and philosopher are excessively scarce.

William James, brother of the noted novelist Henry James, Jr., is generally considered to be, along with Emerson, the greatest philosophic American mind. He is best known for his book VARIETIES OF RELIGIOUS EXPERIENCE and his theory of Pragmatism, an advanced philosophy based on the doctrine that truth is based on experience and observation.
Offered by Charles Agvent.
by Wendell Berry
Austin: Cold Mountain Press, 1976. Limited edition, inscribed by Berry to Nabham. Paperback. Very good. SIGNED. 8pp. Very slim sextodecimo [19 cm] Sewn printed brown wraps, with a strip of subtle fading on the front wrap, near the spine. Number 128 in an edition of 300 numbered copies signed by the author. Signed by Berry on the limitation page. Of special interest is the fact that this copy has been additionally inscribed by the author on the title page to the celebrated nature writer Gary Paul Nabhan.
Offered by Ken Sanders Rare Books.
by Israel Joshua Singer (Inscribed by Isaac Bashevis Singer)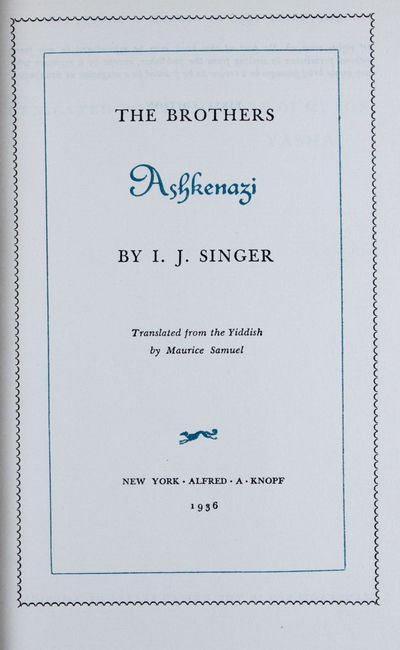 New York: Alfred A. Knopf, 1936. First English language edition. Hardcover. Octavo. 642pp. [2]. 3/4 orange leather over marble and gilt paper boards. Raised bands and gilt lettering on the spine. Marbled endpapers in orange and gilt. Yellow ribbon marker. The is the first English translation of the Brothers Ashkenazi, the forth novel from Israel Joshua Singer, brother of the famous writer Isaac Bashevis Singer. Signed and inscribed by by Isaac Bashevis Singer to Rabbi Gerald Wolpe, father of preeminent American Rabbi David Wolpe on the front free endpaper.
The first work by I.J. Singer published after his emigration to America in 1933, the novel tells the story of Max Ashkenazi and his twin brother Jacob. The plot charts Max's move away from his traditional Jewish upbringing, an into the world of secular capitalism. Among the many themes examined in the novel are industry, religion vs secularism, capitalism vs communist revolution, morality and greed. First translated here from the original Yiddish into English by novelist Maurice Samuel. Binding with some light rubbing to extremities and a few small closed tears at the head of the spine. Binding in very good-, interior in near fine condition overall.
Offered by Eric Chaim Kline Bookseller.
STRIDE TOWARD FREEDOM (Inscribed)
by Martin Luther King, Jr.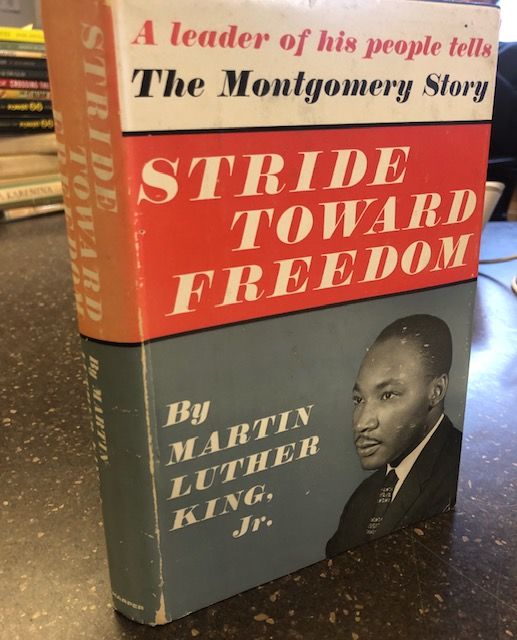 New York: Harper & Brothers, 1958. First Edition, Early Printing. Hardcover. Octavo; VG/VG-; 230 pages; Red and gray jacket spine; Book has been INSCRIBED by King "To: Mr. L.A. 'Pat' Touchae, With best Wishes, Martin L. King Jr" Some wear to jacket, including some small [1/8"] tears along the edges and some scuffing; Jacket spine is somewhat faded; minor chipping to jacket at spine crown, now covered by mylar brodart; Boards show minor edge wear; Binding sturdy; Text block slightly toned as is typical; some spotting to the outer edge of text block; SG Consignment; Shelved signed political case.
L.A. "Pat" Touchae was the mayor of Waterloo, IA, from 1950-1956.; Early printing with Harper date code of L-H indicating print date of November 1958. Shelved Dupont Bookstore.
Offered by Second Story Books.
by Robert Lowell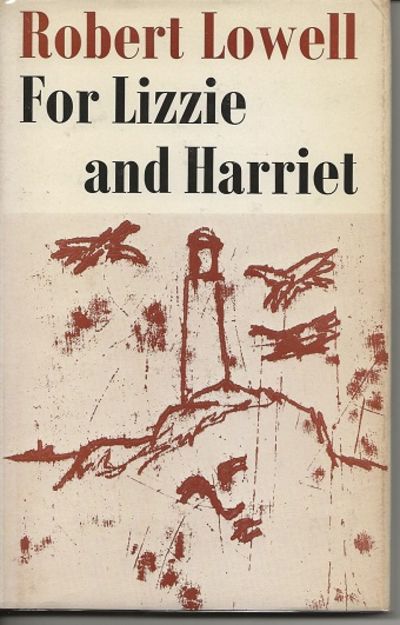 London: Faber & Faber, 1973. 1st UK edition, full tan gray linen cloth with gold embossed lettering to spine, with illustrated dust jacket. Inscribed by Lowell to his close friend and fellow author, J. F. Powers and Powers' wife, Betty. The inscription reads "For Jim and Betty / with love / from / Cal / May 1973" in blue ink on the half title page. Additionally, "with the author's compliments" slip from Faber laid in.
James Farl Powers (1917 - 1999) was a novelist and short-story writer, who won the National Book Award in 1963 for his first novel. Powers and Lowell met in 1947 at Yaddo, the artists' retreat in Saratoga Springs, New York. Powers and Lowell remained friends throughout their lifetime, exchanging letters often. They shared a strong interest in Catholicism. Provenance: from the Powers' estate, and signed in pencil by his daughter, Katherine Powers, who edited a collection of Powers' letters. Fine condition.
Offered by Jett W. Whitehead Rare Books.
(Header photo credit: The Year of the Flood by Margaret Atwood (Signed Limited Edition) Lomndon: Bloomsbury, 2009. Offered by Jeff Hirsh Books.)