The 2021 winner of the California Young Book Collector's Prize is Jessica Camille Jordan of Palo Alto, California. Her collection, "Women in Subscription Bookselling" explores the role of women book agents, who went door-to-door selling books to people in their homes, rather than in a bookstore.
A selection of Jordan's collection will be displayed virtually in conjunction with the California ABAA Virtual Book Fair (March 4 – 6), and can be found at www.abaa.org.vbf. She will also take part in a panel discussion with past winners of the prize on Saturday, March 6 during the fair. Please register in advance for this free event here...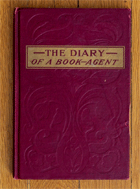 As Jessica sought for narrative accounts of the experiences of these book agents, of the approximately two dozen she has unearthed, she found that "they were predominately written by women, despite the fact that women made up a tiny fraction of the canvassing workforce." Such canvassing would have been a risky proposition for a woman given the societal norms of the day, in which the female "presence in public spaces was still a lightening rod for conversations about respectability" -- and the very essence of being a book agent was to interact with strangers, often men, as each new door was knocked upon.
Sponsored by the Southern and Northern California Chapters of the Antiquarian Booksellers' Association of America, The California Young Book Collector's Prize is open to collectors aged 35 and under who are living in California. All collections of books, manuscripts, and ephemera are welcome, no matter their monetary value or subject.
Among the prized items in Jordan's collection are the prospectuses which she can confirm were used by women book agents. "In my collection, which is comprised of 98 items related to the subscription market and 25 focused in some way on women, I have located only two: one an 1891 sample book for Daphne Dale's The Speakers' Library, which contains two testimonies urging confidence in the agent 'Mrs. Rachel Styles' and another a 1932 prospectus for The Volume Library, in which is pasted a certificate granting Miss Dorothy Holsinger the right to canvas in the Borough of Coraopolis, Allegheny County, PA."
Jordan also has a fascinating insight into the first novel sold by subscription, which is commonly believed to be Mark Twain and Charles Dudley Warner's The Gilded Age, published in 1873. However, in reading The Life of a Book Agent by Annie Nelles (published in 1867), "I was struck by her account of canvassing for a novel, Tried and True by Bella Z. Spencer... Spencer's novel, in addition to being a fascinating literary work in its own right, predates Twain and Warner's offering by seven years."
The purpose of The California Young Book Collector's Prize is to nurture the next generation of bibliophiles. The collections are judged on their thoroughness, the approach to their subject, and the seriousness which with the collector has catalogued his or her material.
As the winner of the competition she was awarded:
A gift certificate of $500 to spend at the 2021 California ABAA Virtual Antiquarian Book Fair
A year's membership to the Book Club of California
A year's membership to the Bibliographical Society of America
A year's subscription to The Book Collector
A year's subscription to Fine Books & Collections magazine
Submission details for future prizes are available from Jen Johnson (johnson rare books & archives).
Read Jessica Camille Jordan's annotated bibliography for her collection "Women in Subscription Bookselling"...
Please plan to visit the upcoming California ABAA Virtual Antiquarian Book Fair, when approximately 200 exhibitors, both domestic and international, will be offering rare books, manuscripts, and ephemera, most of which will be new material offered here for the first time. In addition, special events will be offered all three days of the fair; see what's available and sign up for updates at www.abaa.org/vbf...