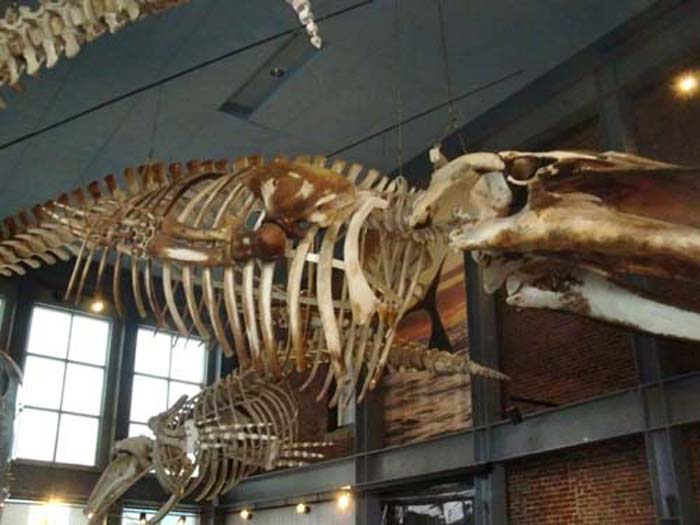 For the past five years the New Bedford Whaling Museum has been sponsoring a scrimshaw show in conjunction with their annual Scrimshaw Symposium.
This year they opened the show up to include a wider range of maritime antiques and books, and I figured "Why not?" I thought there was a fair chance that the show, which was taking place in the lobby of the museum, would be clogged with clueless tourists, but since the event only lasted for a day I knew my suffering would be limited.
Happily no suffering was involved. The show was crowded most of the day with a niche audience, knowledgeable and highly focused. I met many old friends from the whaling world, Alan Granby, in repose and made a few new ones. Most importantly, I met new customers. Their purchases were relatively modest, but their interest was deep and they were well informed. I see a happy future for us.
I'm always talking about getting out of the rut and exploring new venues, and this was a perfect example of what a brilliant idea it is – when it works. (Don't even ask me about the last Nantucket Antiques show I did, an event crawling with dandies in pink pants and neck knotted cashmere sweaters escorting pudgy ladies clutching lightship baskets. The reading habits of that crowd maxed out at 50 Shades of Grey.)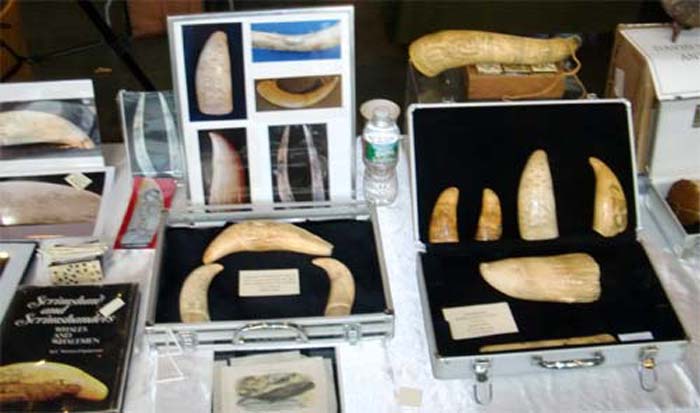 It was a good whale week for other reasons as well. On my way to the show I bought a book I've always wanted and never before managed to own. But that's kind a of a "watch what you wish for" situation, because now that I own it, I hope not to own it for too long. Along with Rockwell Kent's three volume rendition of Moby Dick (the limited edition comes housed in an aluminum slipcase, for which reason it is AKA "the Dick in a can.") this edition, illustrated by Barry Moser and published by the Arion Press, is the most magnificent rendition of Melville's classic produced in the twentieth century:

Melville, Herman. Moby Dick. San Francisco. Arion Press, 1979. Folio, 9 x 15 inches. 577 pp. This is a unique copy of an iconic work. One of 265 copies, of which 250 were for sale. This book has been described by William Everson as "a feat of craftsmanship
unexcelled in modern printing," and named by the Grolier Club as one of the 100 most beautiful books of the twentieth century. The text was set by hand in Goudy Modern, with initial letters printed in blue at the start of each of the 135 chapters in Leviathan Capitals, a special alphabet designed for the purpose by Charles Bigelow & Kris Holmes. Printed on Barcham Green's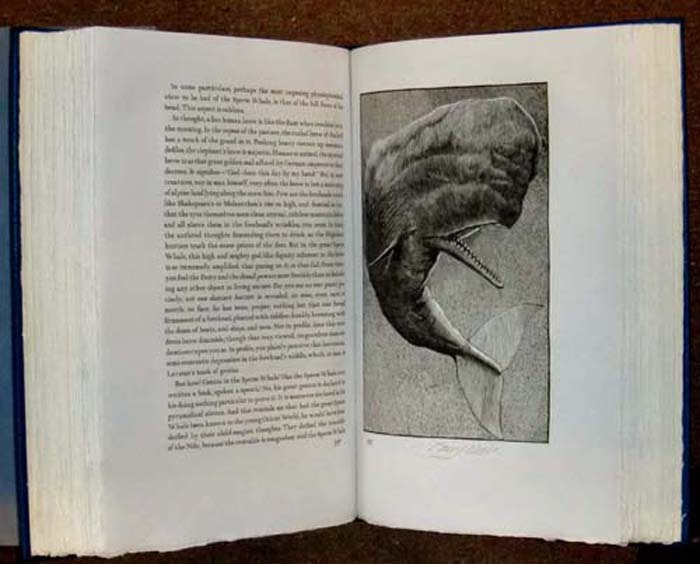 handmade paper, which is watermarked with the outline of a whale. Bound in full blue morocco with
stamped silver spine lettering. A UNIQUE COPY, signed by artist Barry Moser on title page, with a four line signed inscription on the colophon, but also SIGNED OR INITIALED BY MOSER ON EACH OF THE ONE HUNDRED BOXWOOD ENGRAVINGS that illustrate this book. (Moser was a friend of the former owner, and signed the pages as a favor to him). In fine condition, housed in blue cloth slipcase, which is sunned along the edges. $20,000
I purchased it from an old customer on my way to New Bedford, and then, once I got set up at the antiques show, the first thing I found was an intriguing whaling journal.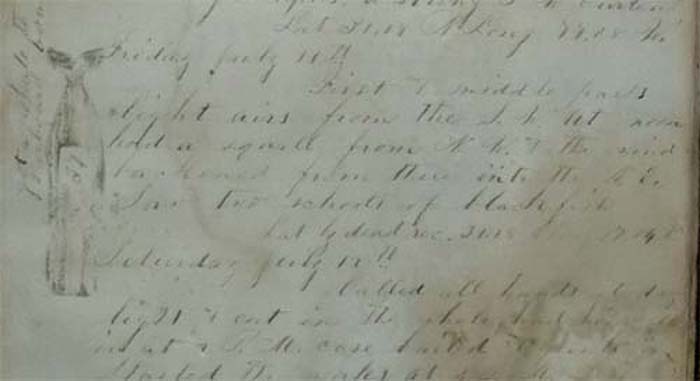 Private Journal Kept By Capt. Loring Braley, Recording Four Atlantic Whaling Voyages Aboard the Schooners Cohannet and William Wilson, 1872 - 1875. Folio, about 125 pages of manuscript entries. According to Lund "American Offshore Whaling Voyages," the Cohannet was an 83 ton schooner built in Provincetown in 1839. In the first two voyages Braley and the Cohannet sailed from Marion, Mass. to the North Atlantic in search of sperm whales. The first voyage began in January 1872, but Braley's record of this voyage commences in May and runs through to the end of the voyage on August 21, 1872. The hard working little schooner was back out again in December of the same year, on a voyage that lasted until September, 1873. (These Atlantic whaling voyages were typically much shorter than the four or five year Pacific voyages.) This voyage is recorded in its entirety. Both trips met with some success, returning a total of 418 barrels of sperm oil. The third voyage recorded by Captain Loring was in an 87 ton schooner named William Wilson. In this voyage she sailed from Marion on June 11, 1874 to the north Atlantic in search of sperm whales. She returned on October 8, 1874, with 188 barrels of sperm oil. The journal of this voyage is also complete. Like the Cohasset, she returned quickly to sea, setting out in December 1874 on a North Atlantic voyage that lasted until September 1875. This journal records events up to May 31, 1875. Captain Braley's journal is in rough shape. It is disbound and water stained throughout, with some slight loss from abrasion. I suspect the reason for the incompleteness of the first and last voyages is that these parts of the text have been lost in the course of this book's difficult career. Having said that, Loring gives us a complete record, from the middle of the first voyage through to the middle of the fourth voyage. He is an intelligent observer who provides the basics of position, sail handling, ships sighted, etc., and who does not spare us details of the whaling life. For example, on May 25th, 1873, he writes, "The starboard boat struck a 50 bbl bull about 9 am. The whale run and sounded from that time until 5 o clock in the afternoon. He wouldn't let a boat come nigher than 20 fathoms. I fired four bombs into his (?) but they didn't do any good & finally I was obliged to cut." Or, on December 20, 1874, "This morning I had some trouble with Charles Williams. He was kept on deck for going below & going to sleep. He didn't like it very well & was insolent & aggravating. I took him in hand & gave him a trouncing. I struck him 6 or 8 times." Whale kills and misses are recorded with whale stamps. Although the water staining makes reading difficult in some spots, this journal yields an intimate view of North Atlantic sperm whaling in the declining years of that fishery. No logs of the first three of these voyages are recorded. $4000
A good week, all in all. I couldn't have wished for more.