The schedule for the 49th California International Antiquarian Book Fair (Pasadena, February 12-14, 2016) has been announced, and it promises to be fascinating.
Although the main attraction of the California Book Fair is, as always, the opportunity to search through the collections and rare treasures brought to Pasadena by the more than 200 exhibiting booksellers from over 30 different countries -- and buy a few rarities to complete your own collections -- the organizers have planned a host of interesting and educational activities for the fair weekend.
Focus on Alice's Adventures in Wonderland
Lecture: Alice's Adventures in Wonderland: How One Small Girl Changed the World -- An Illustrated Talk by Chris Loker.



On February 13th, the Bibliographical Society of America will host ABAA-member and author (One Hundred Books Famous in Children's Literature) Chris Loker (Children's Book Gallery) when she talks about Lewis Carroll's landmark book Alice's Adventures in Wonderland. The lecture will be illustrated with numerous photographs showing how Alice, one of the most enduring characters of our time, has indelibly marked children's literature, illustration and popular culture. (Saturday, February 13 at 1:00 pm)

Panel discussion on collecting Alice's Adventures in Wonderland: Participants to be confirmed, moderated by Patt Morrison. (Saturday, February 13 at 3:00 pm)
A Wonderland of Books: A special exhibit at the 49th California International Antiquarian Book Fair will be a selection of rare and unique items from the Cassady Lewis Carroll Collection.
The Cassady collection includes more than 3,000 rare books, manuscripts and objects created by or about beloved children's literature author, mathematician and writer Charles Dodgson, better known by his pen name, Lewis Carroll. Donated by USC alum Dr. George Cassady, the impressive collection includes first editions, works in translation, artist books, illustrated editions of the 'Alice' books by famous artists like Salvador Dali, Barry Moser & Ralph Steadman, stage and film adaptations, Victorian-era playing cards, pop-up books, letters and manuscripts, critical and reference works on Lewis Carroll, and more.
(Serious fans of Alice may wish to read our recent article considering "Alice at 150"...)
Seminar: Rare Books 101
Presented by Katy Carter, Brad Johnson and Carol Sandberg.
Several experienced rare booksellers will provide a crash course on the essentials you need to know to start collecting. (Sunday, February 14 at 12pm)
This seminar will provide the following overview on getting started in rare book collecting:
What makes a book rare?
The different areas of collecting
Internet as a research tool for shopping
How to care for your books
The seminar will be followed by:
Discovery Day
Discovery Day is open to the public (free with paid admission to the fair). Exhibitors will offer interested individuals an opportunity to receive free appraisals of items they bring. (Sunday, February 14 at 1:30 - 3pm)
"The Book Fair is all about bringing people closer to books by giving them a chance to browse, touch and even go home with items that they might imagine could only be found in a museum or special collections library"
-- Michael R. Thompson, Book Fair Chair, the Southern California Chapter of the ABAA
Book Fair Finds
A new feature of this year's fair is the "Book Fair Finds" program, an optional program intended to encourage beginning collectors. Participating dealers will exhibit a selection of special items priced at $100 or less in one part of their booth, which will be designated by a small sign to make them easy to spot. The collecting bug often takes hold after a collector discovers their first must-have rarity, and the Book Fair Finds program aims to help sow the seeds of spectacular future collections.
---
Featured item: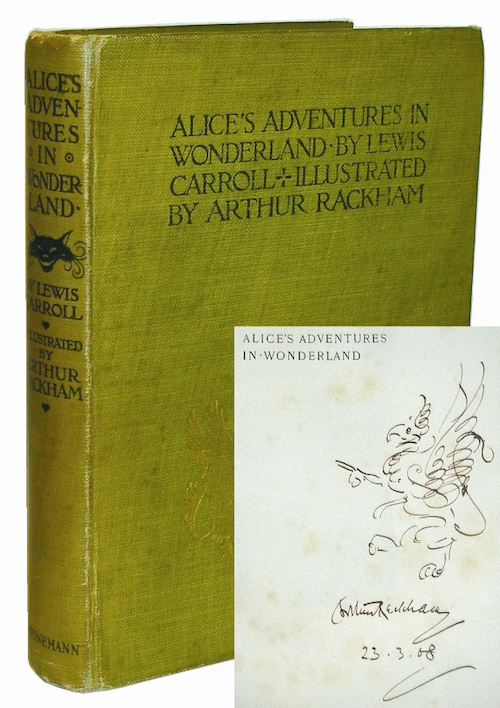 Carroll, Lewis (Dodgson, Charles). Alice's Adventures in Wonderland

London: William Heinemann & New York: Doubleday, Page & Co., 1907. Illustrated by Arthur Rackham. First trade edition. Signed by Rackham with an original pen and ink drawing of a winged Gryphon and dated 23.3.08 on the half-title page. Original publisher's cloth, housed in a gilt-decorated custom brown half-morocco fleece-lined folding box. The deluxe limited issue of Rackham's "Alice" was not signed by Rackham because he was traveling at the time of the book's publication. (Offered by B&B Rare Books, Ltd.)
See more featured items from the 2016 California Antiquarian Book Fair...
---
Book Arts
We are working with local "book art" artists and organizations to create an interactive, informative, and entertaining area at the Fair. Local libraries and universities will be exhibiting one-of-a-kind works from their collections.
Calligraphers, bookbinders, and a small press operator will once again be creating unique souvenirs for attendees to take home.
The California International Antiquarian Book Fair is recognized as one of the world's largest and most prestigious exhibitions of antiquarian books, giving visitors the opportunity to see, learn about, and purchase the finest rare and antiquarian books, manuscripts, autographs, graphics, photographs, and so much more.
Don't miss it!