More than 200 rare book dealers, including many ABAA members, from around the world are preparing to exhibit at the California International Antiquarian Book Fair in Pasadena, CA over the weekend of February 12-14, 2016. Below, we present -- in no particular order -- a selection of featured items that ABAA members are bringing to California.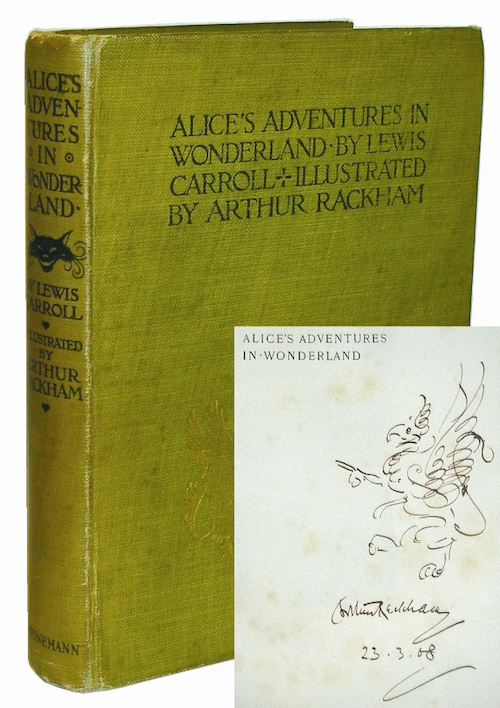 Carroll, Lewis (Dodgson, Charles). Alice's Adventures in Wonderland.
London: William Heinemann & New York: Doubleday, Page & Co., 1907. Illustrated by Arthur Rackham. First trade edition. Signed by Rackham with an original pen and ink drawing of a winged Gryphon and dated 23.3.08 on the half-title page. Original publisher's cloth, housed in a gilt-decorated custom brown half-morocco fleece-lined folding box. The deluxe limited issue of Rackham's "Alice" was not signed by Rackham because he was traveling at the time of the book's publication. (Offered by B. & B. Rare Books, Ltd.)

---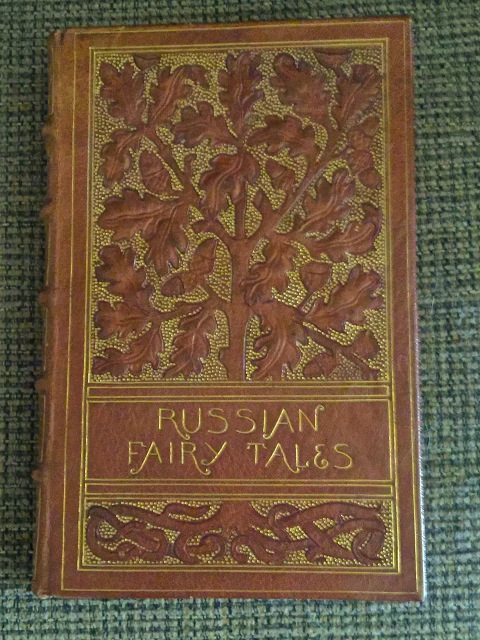 Bain, R. Nisbet (Guild of Women Binders) RUSSIAN FAIRY TALES
London, 1893, Lawrence and Bullen. Bound by the Guild of Women Binders. An exceptional example of the Guild's embossed bindings. (Offered by Green Gate Farm Antiquarian Books)
---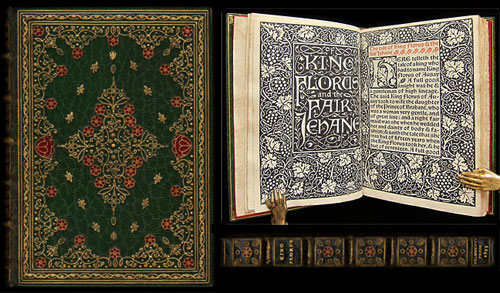 Morris, William. The Tale of King Florus and the Fair Jehane
Hammersmith: Pr. by William Morris at the Kelmscott Press, 1893. 12mo (15 cm, 5.9"). [4], 96, [2] pp. Lovely example of a Kelmscott small-format press production: the first of a series of four medieval French romances both translated and printed by Morris, this one about the lovely and virtuous but cruelly defamed Jehane, who regains her good name by masquerading as her husband's squire. Morris printed a total of 365 copies, 350 of which were on paper, as is this example; the opening double-page spread features one of his unmistakable white-on-black grapevine borders, and the subsequent black-letter text is highlighted with decorative capitals and with subject headings printed in red. Binding: Stunning signed binding by Leonard Mounteney, exhibition finisher for Rivière & Son: full green levant morocco, covers and spine lavishly gilt-tooled with red morocco floral onlays. Board edges with gilt roll; inside, gilt dentelles and doublures of red watered silk. Top edge gilt. Peterson, Kelmscott Press, A21; NCBEL, III, 568. Uncut copy. Binding as above, spine slightly darkened with rubbing to raised bands; in later and thoroughly fresh marbled paper–covered slipcase. Original blue paper wrappers bound in. A jewel to be treasured. (Offered by The Philadelphia Rare Books & Manuscripts Company, LLC)
---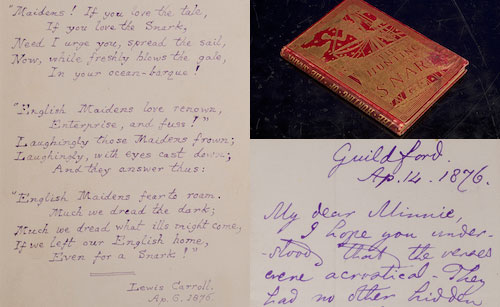 CARROLL, Lewis. The Hunting of the Snark. An Agony, in Eight Fits. With Nine Illustrations by Henry Holiday.
London: Macmillan and Co., 1876. First edition, One of 100 Copies Specially bound for Lewis Carroll in red cloth, decorated in gilt. Inscribed in purple ink by Lewis Carroll on the half-title to The Drury Sisters. Additionally with a fine als., from Carroll to Minnie Drury. Small octavo (7 3/16 x 4 7/8 inches; 182 x 123 mm.). [xiv], 83, [1, imprint], [1, 'Turn Over], [1, advertisements] pp. Original red cloth, covers pictorially stamped in gilt, spine lettered in gilt, black coated endpapers, all edges gilt Frontispiece with original tissue guard. Inner hinges expertly and invisibly repaired. Together with (pasted onto front free-endpaper): CARROLL, Lewis. An Easter Greeting to Every Child who Loves "Alice." [London: 1876]. First edition, first issue. Sixteenmo (5 1/8 x 3 7/16 inches; 131 x 87 mm.; inner border measurements 4 3/10 x 2 1/2 inches; 109 x 64 mm.). 4 pp. Inscribed on top margin of first page "Minnie" in Lewis Carroll's distinctive 'purple ink'. Watermarked "E. Towgood Fine".
"Charles traveled much by rail, and these journeys often provided new child friends. Never shy in railway carriages, he sought out and engaged fellow travelers in conversation and games, particularly families with children. He met the three Drury sisters on a railway journey, and we have an account of the meeting: "He took off his grey and black cotton gloves, opened his bag and found inside it three puzzles. He had made them himself... and he gave one to each of them to find out. When they were tired of this game he produced three little pairs of scissors and papers so that they could cut out patterns. There were many other surprises in that wonderful bag. No journey could ever have passed more quickly. The little girls were disconsolate when the train slowed down and they reached their destination." The copy of Alice that Charles subsequently sent the Drury sisters bears a verse inscription recalling the railway journey". (Morton N. Cohen. Lewis Carroll. A Biography, pps. 174-175 & 468). (Offered by David Brass Rare Books, Inc.)
---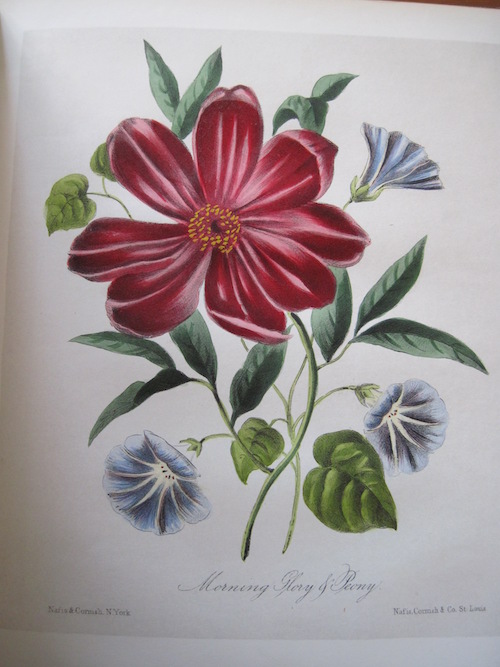 PHILLIPS, Alfred A. THE BOUQUET FOR 1847: BEAUTIFULLY EMBELLISHED.
New York: Nafils & Cornish, 1847. 4to. Publisher's stamped gilt cloth, all edges gilt. 104 pages, 10 chromolithographic plates with hand-colored highlights. A scarce ornamented gift book edited by Alfred Phillips. OCLC only records three editions from 1846 to 1848 ever published under this title. Phillips also published it under another title, Flora's Gem, or the Bouquet for all Seasons, also published at the same time, and our volume includes a colored plate with another title leaf The Fairy Bower. All copies are scarce and uncommon in the trade with no copies of this edition listed in auction records for more than twenty-years. Phillips edited a collection of poems on floral themes. This volume includes poems by Benson J. Lossing, Mrs. Sigourney, and Hariette Beecher Stowe, among others. Ten brightly colored plates each highlighted by hand. Stereotyped by Vincent Dill, Jr. Some staining in upper gutter of last half of text not affecting text or print images. (Offered by The Bookpress, Ltd.)
---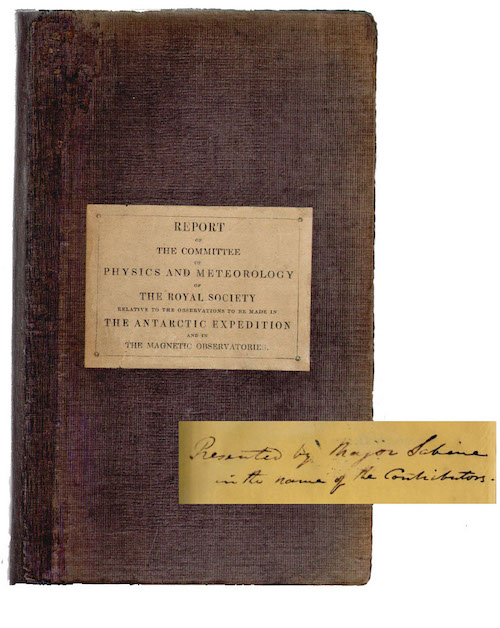 Report of the Committee of Physics and Meteorology of the Royal Society Relative to the Observations to be Made in the Antarctic Expedition and in the Magnetic Observatories. London: Richard and John E. Taylor, 1840.
This scarce manual was developed to direct and aid scientists on the British expedition to the Antarctic led by John Clark Ross in 1839-34. They were to investigate fluctuations in the earth's magnetic field (an important issue in navigation), and the book includes blank forms for recording daily observations of magnetometers and meteorological instruments. This copy is inscribed by Edward Sabine (1788-1883), a member of the Committee that prepared the report. An astronomer and geophysicist, Sabine was a leading advocate for the establishment a series of geomagnetic observatories around the world--the project that attracted government support for the expedition. A rare book, with only one appearing at auction in the last 50 years. (Offered by Walkabout Books)
---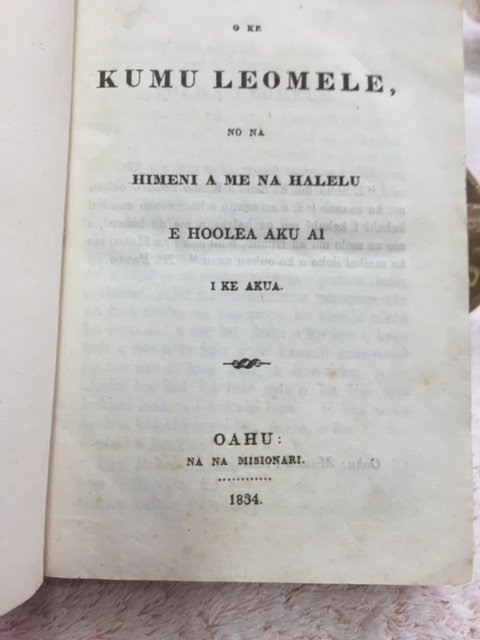 First Printed Music in Hawaii: O ke kumu leomele, no na himeni a me ha halelu e hoolea aku ai i ke Akua
Oahu, Honolulu. Publisher: Na na Misionari, 1834. 2 vols. bound in one and paged continuously (360p.), music, 19th-century marbled boards with rebacked half-leather. Page 57 is the added t.p. for the second part: Na himeni Hawaii, me na leomele; oia ka lua o na hapa i ke kumu leomele, with imprint: Oahu: na na Misionari i Pai, 1834. The first section covers rules for understanding hymn notation, and the second includes the actual musical scores for two to four voices. Bingham (1789-1869) founded the Kawaiahao Church in Hawaii. He later issued the book in 1837 with an introduction signed "Binamu" (i.e. Bingham), but that edition lacked the music. (Offered by Hackenberg Booksellers)
---

[ORIGINAL DISNEY ILLUSTRATIONS.] Taylor, Deems. Walt Disney's Fantasia.
New York: Simon & Schuster, 1940. 153pp. Quarto [33 cm] gray cloth with the title stamped in blue on the front board and backstrip. Good. Crayon scribbles to rear board and endsheets and pastedowns. Lacks the uncommon jacket. Hinges going. A wonderful copy of the book that was published to accompany the movie, that is signed by thirteen people (including Walt Disney) that all worked at Walt Disney studios in the 1940s. All of the inscriptions are to Jodie [Ferguson] Brudge, who was a secretary at Disney Studios, and upon her leaving (to get married, raise family, etc.) she asked those that she worked with to inscribe her copy of Fantasia, and several did, and included some really lovely illustrations and many include warm and heartfelt inscriptions. (Offered by Ken Sanders Rare Books)
---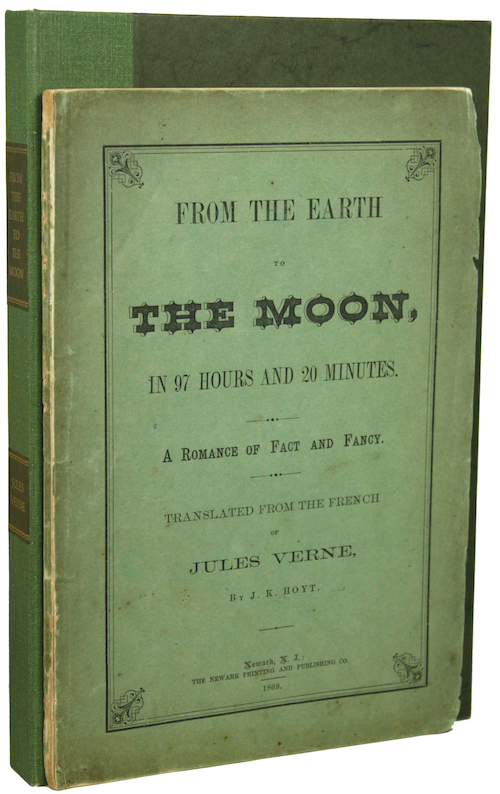 Verne, Jules. FROM THE EARTH TO THE MOON: PASSAGE DIRECT IN 97 HOURS AND 20 MINUTES. From the French of Jules Verne. Translated by J. K. Hoyt. Newark, N. J.: The Newark Printing and Publishing Company, 1869. Large octavo, pp. [1-3] 4-84, printed in double columns, inserted frontispiece, original green wrappers printed in black. $37500

First edition in English. Verne's third book, DE LA TERRE Á LA LUNE: TRAJET DIRECT EN 97 HEURES (1865), was first published in book form in English as FROM THE EARTH TO THE MOON: PASSAGE DIRECT IN 97 HOURS AND 20 MINUTES ... by the Newark Printing and Publishing Co. in the latter half of 1869 as a paperbound book following its publication in seventeen installments over a two-month period commencing June 10th in the NEWARK DAILY AND WEEKLY JOURNAL OF NEW JERSEY. This edition of FROM THE EARTH TO THE MOON was the second book by Verne to be published in English, preceded only by the D. Appleton and Company edition of FIVE WEEKS IN A BALLOON, published in New York 13 March 1869. Anatomy of Wonder (1995) 1-93 and (2004) II-1180. Taves and Michaluk V003. Myers 26 ("This will probably rank for all time as the most rare of all Verne editions!"). 30 mm chip from lower spine end and 15 mm chip from upper spine end, tiny chips from front corner tips, 10x10 mm v-chip from back wrapper at spine fold, several stains and some soiling to wrappers, a very good copy, internally clean and tight. A legendary rarity, the Library of Congress holding one of the several known copies, another found by us a few years ago and sold to a private buyer. This is the Larry Solomon copy which he acquired from J & S Graphics sometime in the 1970s. (Offered by John W. Knott, Jr., Bookseller)
---
Antoine de Saint-Exupery, Le Petit Prince
The rarest (and the only first) edition of the Prince. Number 119 of a scant war-time limited edition of only 260 copies printed in America from the author's original French manuscript. This, the 1943 American French language edition, is the only edition taken from the original French manuscripts (both holographic & typewritten) and as such the only editio princeps. One might (though Saint-Exupery certainly wouldn't) excuse Woods' bowdlerized translation of the original manuscript (e.g., rendering of "tippler" for what should have been translated as "drunkard," and substitution of "charming" for what should have rendered as "ravishing"), but not the grossly inaccurate translation of the author's French "ami" for the English "sheep:" "Il était une fois un petit prince qui ___ avait besoin d'un ami" ("Once upon a time there was a little prince who ___had need of a friend") into "Once upon a time there was a little prince who ___had need of a sheep." Consider as well the mysterious (though less egregious) translation of "hanneton" (a beetle) as a "giddy goose" falling on the papers of the Businessman and her description of baobab trees as "large as castles" whereas the original French is (& is purposefully intended to be) "grands comme des églises." Chip to head of darkened spine jacket (see image). Other than minor archival strengthening of jacket, no ownership marks, no paper burns, no inserts, no labels, no sophistications, no repairs, no additions, no alterations. Publisher's faded "119" limitation penned to jacket spine. (Offered by Old Florida Book Shop)
---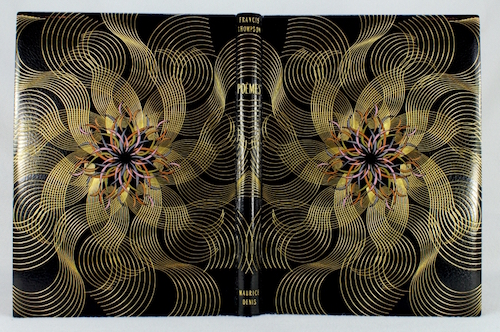 (BINDINGS - BONET). THOMPSON, FRANCIS. POÈMES.
(Paris: Ambroise Vollard, 1939) 387 x 286 mm. (15 1/4 x 11 1/4"). 130 pp., [4]. Translated into French by Elisabeth M. Denis-Graterolle. No. 11 OF 35 COPIES printed on Imperial Japon (from a total edition of 260, 240 of them for sale).
MAGNIFICENT MIDNIGHT BLUE MOROCCO, EXTRAVAGANTLY GILT AND DELICATELY INLAID, BY PAUL BONET (stamp-signed on front turn-in and dated "1946" on rear turn-in), each cover with a starburst of inlaid morocco ribbons at center in shades of lavender, periwinkle blue, olive green, and rosy brown, this central design the point of emanation for 22 radiations (each comprising 10 parallel wavy gilt fillets), these undulating lines intersecting and filling the covers and the flat spine with an intricate design, salmon pink suede doublures and endleaves, all edges gilt. Original printed paper wrappers preserved. In the original (just slightly marked) leather-lined, morocco-trimmed chemise and matching slipcase. With 69 lithographs by Maurice Denis, 13 of these full-page and in color, two of the headpieces in color; WITH AN ADDITIONAL SUITE OF THE 13 PLATES in black and white at the end, preceded by three plates printed with thumbnails of the engravings. For the binding: Bonet "Carnets" 766. A FLAWLESS COPY. (Offered by Phillip J. Pirages Fine Books & Manuscripts)
---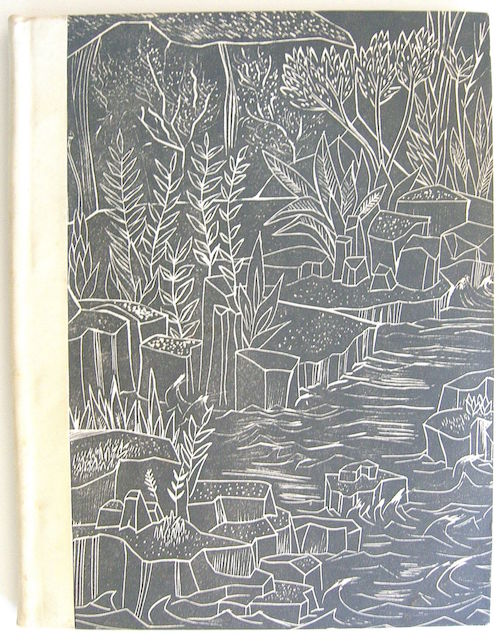 EVERSON, William. A Privacy of Speech. Ten Poems in Sequence, with Block Print Decorations by Mary Fabilli.
Berkeley: The Equinox Press, 1949. Hand-bound by the poet in quarter vellum and decorated paper over boards, spine lettered in gilt. Vellum a bit stiff and slightly rubbed at the base of the spine, corners very slightly rubbed, still bright and clean. One of 100 copies printed, set in Centaur and Arrighi types and printed by hand on Tovil handmade paper, and signed by Everson on the colophon. Everson's first major effort at hand-printing and binding, about which he later said, "many mistakes, for one learns in binding, as in printing- and in printing, as in life- that for every perfection there is an imperfection, and he may no more attain the one than he may escape the other." He also wrote later, "though it was a flawed book, it was nonetheless a consummate attempt at perfection, perfection for its own sake, the sake of sheer attainment, which was the end of self-realization." Despite his laments, the book is a gorgeous production, a high spot of twentieth century fine printing. With illustrations by his then wife Mary Fabilli (who had earlier illustrated Robert Duncan's first book). With an ALS in Everson's hand on Equinox Press letterhead, January 12, 1950, addressed to Frank Schwabacher, San Francisco businessman and collector. A beautiful copy of a scarce and important book. (Offered by Triolet Rare Books)
---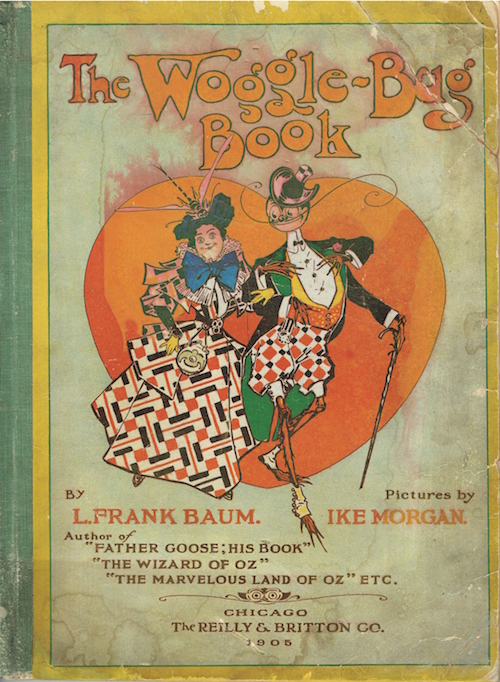 Baum, L. Frank. The Woggle-Bug Book
Chicago: Reilly & Britton Co., 1905. 1st ed. with 1st State cover. color illustrations (by Ike Morgan), 48p. Paper covered boards backed in green cloth. First state cover with background field in gray-green. 39cm. Corner reattached on front; the covers are otherwise intact but with some staining, spotting, wrinkling and other wear. A minor bit of gnawing on bottom edge and Contents generally sound although there are a few edge tears, a bit of soiling and some minor offsetting. The corner of the title-page is discolored where the corner of the cover had been detached. Now protected in a green cloth box with a color photocopy of the title-page mounted on front. Woggle-Bugs apparently did not appear in any of the standard published Oz books. Their existence was revealed by Baum in "Queer Visitors from the Marvelous Land of Oz, a weekly series of 27 stories that appeared in various Sunday newspapers in 1904 which were not collected and published as a book until 2009. Our book recounts the non-Oz adventures of Mr. H. M. Woggle-Bug after he becomes separated from his companions. See Bibliographia Oziana, by Greene and Hanff at pages 78-80 (in the Revised 1988 edition). (Offered by McBlain Books)
---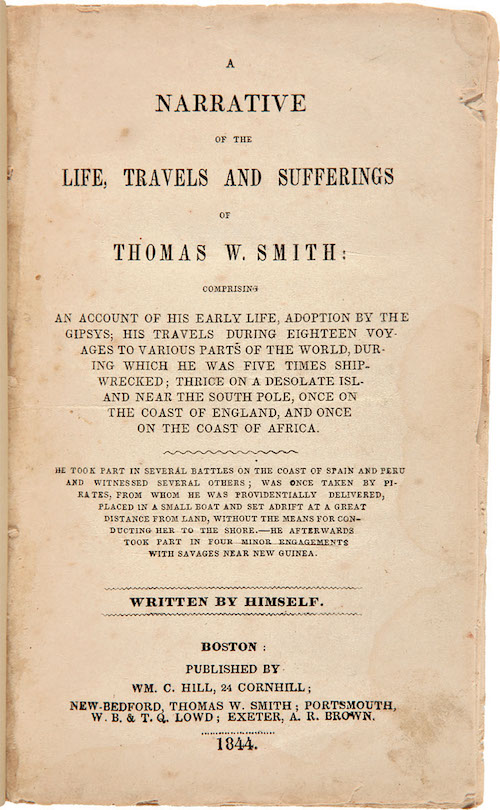 Smith, Thomas W.: A NARRATIVE OF THE LIFE, TRAVELS AND SUFFERINGS OF THOMAS W. SMITH: COMPRISING AN ACCOUNT OF HIS EARLY LIFE, ADOPTION BY THE GIPSYS [sic]; HIS TRAVELS DURING EIGHTEEN VOYAGES TO VARIOUS PARTS OF THE WORLD, DURING WHICH HE WAS FIVE TIMES SHIPWRECKED; THRICE ON A DESOLATE ISLAND NEAR THE SOUTH POLE, ONCE ON THE COAST OF ENGLAND, AND ONCE ON THE COAST OF AFRICA. Boston. 1844. 240pp. Modern half calf and green cloth, gilt leather label. Moderate scattered foxing. Very good.
Smith was born of respectable British parents, but after his father died he was sent to work as an errand boy at age seven, and not unlike other young men in his situation, he soon found himself at sea. He participated in seven whaling voyages to the Pacific from 1816 to 1832, as well as numerous other sea adventures all over the world, including the South Pacific, the Atlantic coast of South America, Africa, and the Antarctic regions. Rosove notes that the work has been missed by many bibliographers because it is "so rare and little known."
Besides whaling, Smith took part in hunting elephant seals on South Georgia and the South Sandwich Islands in 1816-18, and whaling and sealing on the South Shetland Islands in 1820. This visit, only a year after the discovery of the islands, is the earliest account of sealing there, and an important early Antarctic narrative, with harrowing tales of surviving on penguin hearts and livers and contesting territory with other sealers.
Smith also describes a voyage from London to Cape Horn, then to Juan Fernandez and the Galapagos, Easter Island, and points in South America including Colombia and Panama. Later, in New Zealand, he describes scrapes with natives, witnessing battles between the Whorowrarians and Kivakivians. He also visited Japan, Guam, and other Pacific islands. He gives details of whaling activities, including advice on "the most expeditious way of killing a whale" (pp.228-229). Smith made further whaling voyages to the Pacific Ocean in the 1820s aboard the British whalers Spring, Grove, and Hibernia. He ended up trying to do good in New Bedford, but debt and a lung ailment prevented him from achieving his dream of becoming a minister. (Offered by William Reese Company)
---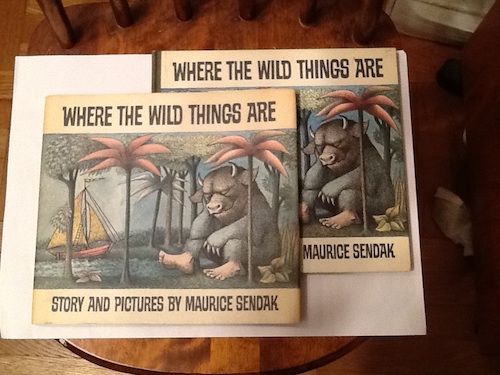 Where the Wild Things Are by Maurice Sendak
It is a lovely clean & tight copy of the true First Edition in the Dust Wrapper (with all points and no affixed medal). This copy is made extra special because it is inscribed to Suzanne Glazer - someone who formerly worked in publishing. She had a huge fan club of writers and illustrators. This copy of "Wild Things" is one of the best copies I have seen. (Offered by Enchanted Books)

---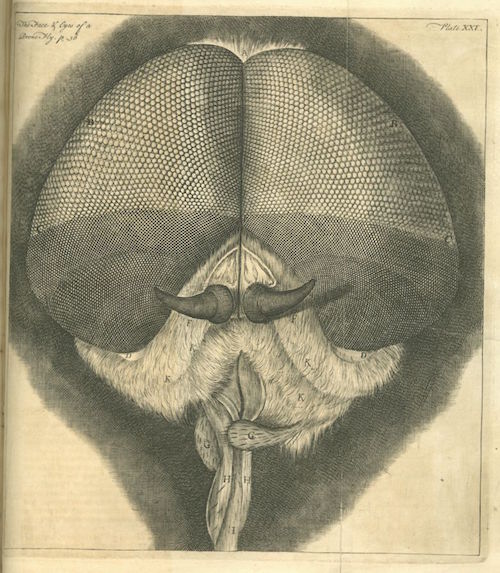 Robert Hooke. Micrographia Restaurata...
London, 1745. Folio. 2nd Edition of Micrographia edited by Henry Baker. New Spine. Complete with 33 engraved plates. Few tears repaired. Bookplate for St. David's College in Lampeter with Thomas Phillips name as donor. (Offered by Antiquariat Botanicum)

---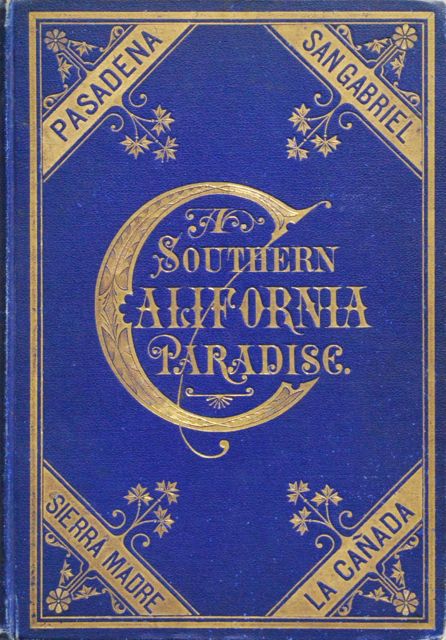 FARNSWORTH, R. W. C. (1872-1955), editor. A Southern California Paradise, (In the Suburbs of Los Angeles.) Being a Historic and Descriptive Account of Pasadena, San Gabriel, Sierra Madre, and La Canada; With Important Reference to Los Angeles and All Southern California, and Containing Map and Illustrations.
Pasadena: R. W. C. Farnsworth, 1883. Ownership signature of Seth Sackett, Hermosa, La Plata County, Colorado" on first blank leaf. Very Good. (Offered by John Howell for Books)

---
Lysons, Samuel (1763-1819). Reliquiae Britannico-Romanae, containing figures of Roman Antiquities discovered in various parts of England.
London: printed by T. Bensley for Cadell & Davies, etc., [1801-]1813-1815. 3 parts in one volume, large folio, 3 additional colour-printed and hand-finished engraved vol. titles, engraved dedication, 7 engraved part titles, 6 of which color-printed and finished by hand, 4 engraved leaves of lists of plates color-printed and with hand-finished vignettes, 111 engraved plates, of which 99 finely hand-colored or partially hand-colored, 12 either plain or printed in monochrome colour, 37 double-page or folding; 10 pp. of letterpress text at the end. Contemporary russia, rebacked, gilt supralibros unidentified. The Lysons family copy, later the Jeudwine copy with his bookplate. (Offered by John Windle Antiquarian Bookseller)

---
SHAKESPEARE, William. The Tempest.
London: William Heinemann Ltd., [1926]. Illustrations by Arthur Rackham. 4to. Vellum spine with gilt lettering and cream paper over boards, dust jacket. xiv, 185pp. Color frontispiece + 19 tipped-in color plates, extra color plate. A tight and quite handsome copy of this sumptuous edition limited to 520 numbered copies (this #300) signed by Rackham -- this being one of those (#261 through 520) intended for sale in the U.S. The "Sea-nymphs hourly ring his knell" color plate preceding the title page is not present in the trade edition. Very scarce, especially in the rarely-seen dust jacket. (Offered by Main Street Fine Books & Manuscripts, Inc.)
---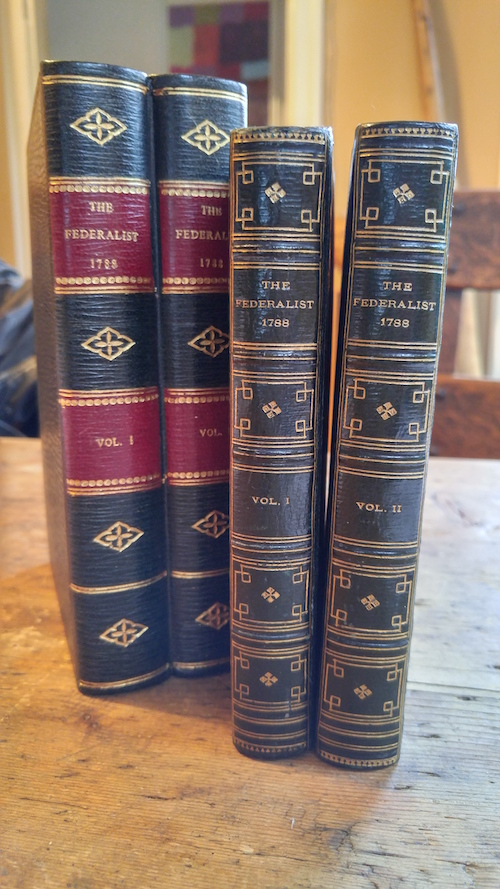 HAMILTON, Alexander, James MADISON and John JAY. The Federalist; A Collection of Essays, Written in Favour of the New Constitution, as Agreed upon by the Federal Convention, September 17, 1787.
New-York: Printed and sold by J. and A. M'Lean, 1788. First edition. Two twelvemo volumes (6 5/16 x 3 5/8 inches) . vi, 227, [1, blank]; vi, 384 pp. Late nineteenth century half navy morocco over cloth, spine gilt and lettered in compartments, marbled endpapers, top edges gilt. Lacking the blanks as is often the case, tiny piece of the lower corner of the text block of first volume absent (about 1/16 of an inch). Housed in a full morocco clamshell case. Aside from very mild toning to page edges, a remarkably clean and bright copy, handsomely presented. (Offered by Nat DesMarais Rare Books)
---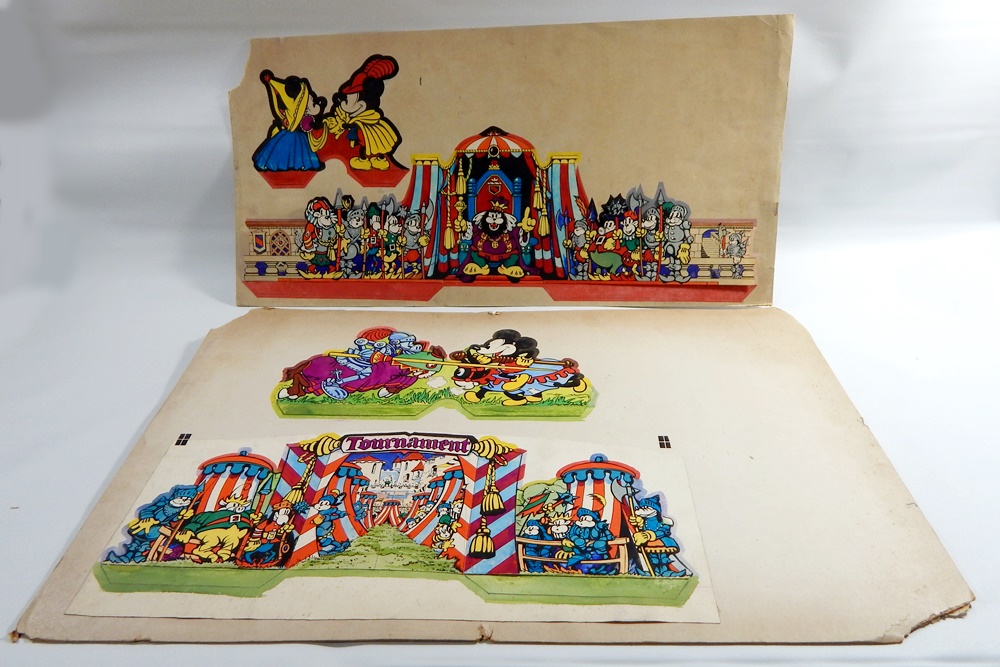 Disney, Walt, MICKEY MOUSE IN KING ARTHUR'S COURT: ORIGINAL ARTBOARDS
(Burbank), n.p. (Walt Disney Studios), ca. 1933. Seven artboards with artwork used in preparing the British edition of "Mickey Mouse in King Arthur's Court" after the success of the 1933 American edition. The cover and Pop-Up pages from the American edition published by Blue Ribbon Books were removed, affixed to boards or heavy paper, and reworked with new color and details, added by hand, using gouache and watercolor paint.
The lot includes seven artboards, with the front and back cover, inside fly-page double spread, and Pop-Up art for all four two-page spreads. The Pop-up book was published by Dean & Son, London, in 1934. The spine has been reworked, and the "Pop-up" description on the front board has been changed to "Scenic". The artwork is in good to very good condition, with a couple of later
minor repairs and some wear and corner loss to the boards to which the artwork is affixed. Housed in a new cloth-backed portfolio. Unique. (Offered by Thorn Books)
---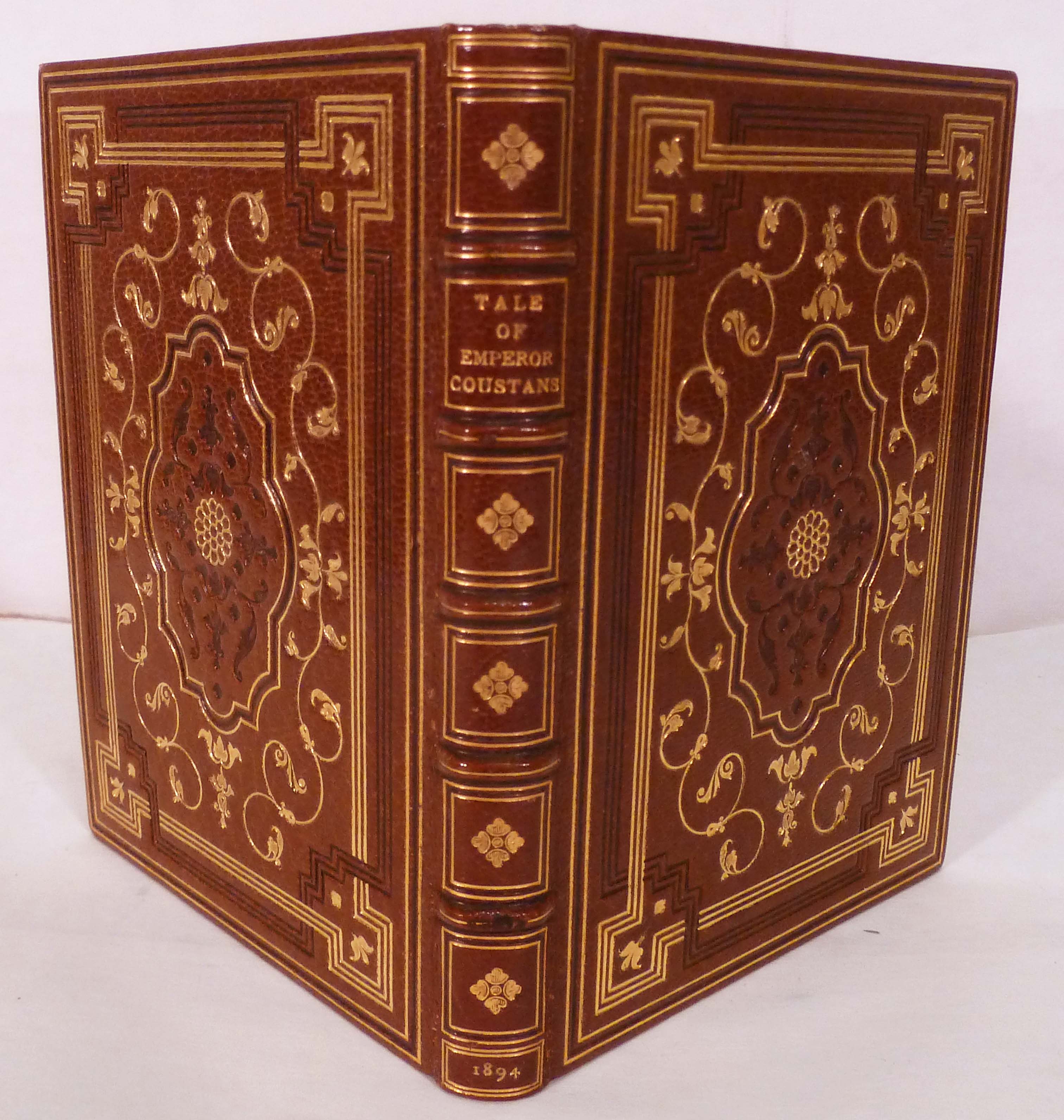 Morris, William. The Tale Of The Emperor Coustans And Of Over Sea.
Upper Mall, Hammersmith: Kelmscott Press, 1894. 130 pages. 4.5 x 11 cm. Limited edition, one of 525 copies. printed in Chaucer type in black and red with wood-cut title page, borders and initials. A medieval French tale translated by Morris. Full "cafe-au-lait" crushed morocco with an exceedingly handsome design in the French style, impressed on the side in gilt and in blind. With a geometric border of gilt and blind lines interlaced, gilt paneled back, inner dentelles, doublures of red levant with end-leaves of ribbed brown silk -- Bound by Lortic. PETERSON A26. Fine. Aeg. Housed in repaired brown cloth box. (Offered by Roy Young Bookseller, Inc.)

---

The Nonesuch Edition of Dickens' Works.
(London: Nonesuch Press, 1937-1938). Complete 24 volume set, including the woodblock volume, accompanied by 3 prospectus volumes issued by the press: "A Prospectus and a Portrait", "A Note on the Format" & "Retrospectus and Prospectus". Arguably the best and most visually impressive set issued to date with the text from that receiving the last emendations by the author, the Charles Dickens edition, and with minor writings (e.g., LIFE OF OUR LORD) not included in other sets; the Nonesuch Edition also had the most complete collection of Dickens' letters available at the time of its publication. Each set issued came with one of the original steel engravings, or a [more scarce] woodblock engraving. This set comes with the woodblock engraving "Nell and the Waxworks", from The Old Curiosity Shop. VG+ condition. (Offered by Tavistock Books)
---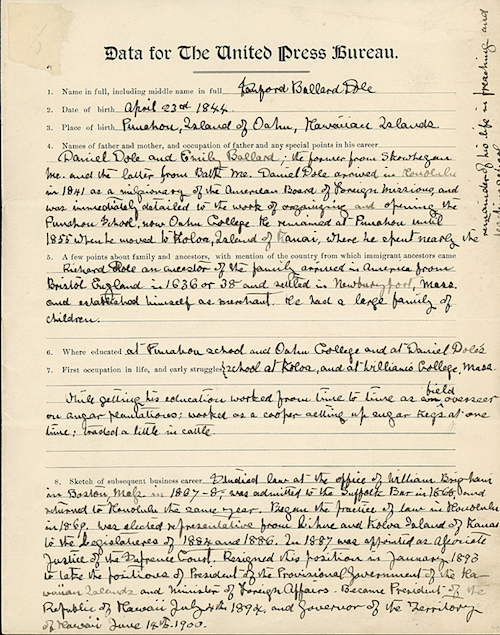 A remarkable autobiographical statement by Sanford B. Dole, the first and only president and also the first Governor of the Territory of Hawaii. Prepared for The United Press Bureau, almost certainly during his tenure as the first Governor as his last entry is dated in 1900. Partly printed with answers entirely in the hand of Dole. 11" x 8 1/2". 2 pp on pages one and three of a four-page form. Signed twice with his full name at the beginning and then again at the end.

Autograph material of Dole is very scarce with little coming to the market in the last twenty years. Quite a significant and rare piece of Hawaiiana. (Offered by Scott Emerson Books)
---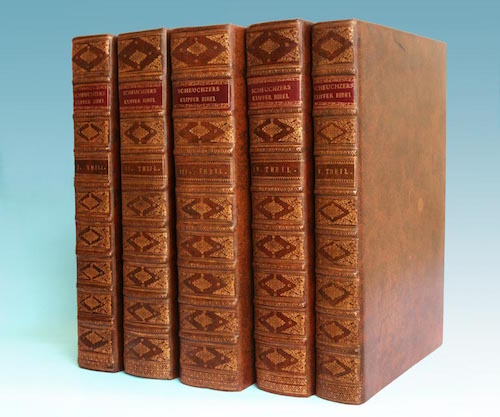 Kupfer-Bibel; In Welcher Die Physica Sacra, Oder Geheiligte Natur-wissenschaft Derer In Heil. Schrifft Vorkommenden Natürlichen Sachen Deutlich Erklärt Und Bewährt
Johann Jakob Scheuchzer
Erste - Vierdte Abtheilung incl. Of Vorbericht and Verzeichnis der Auctorum bound in five volumes, all regular and extra plates present as specified in Nissen, I. -V. Theil: Vol. I: 28 leaves, 276 pp; Vol. 2: 4 leaves, pp 277-672, 1 leaf; Vol. 3: 5 leaves, 572 pp, 1 leaf; Vol. 4: 1 leaf, pp 573-1140, 1 leaf; Vol. 5: 5 leaves, first one separated but present, pp 1141-1426, 40 leaves.
A beautiful presentation of a rare and important set, revitalizing the splendor of Baroque chalcography. In a retrospective binding of mottled calf. Full gilt spine with titles tooled on red Morocco, head bands sewn in German style colored linen on double core. Tooled in gold fillet wheels with repeating floral design. A Very Good+ presentation indeed. (Offered by Books Tell You Why, Inc.)
---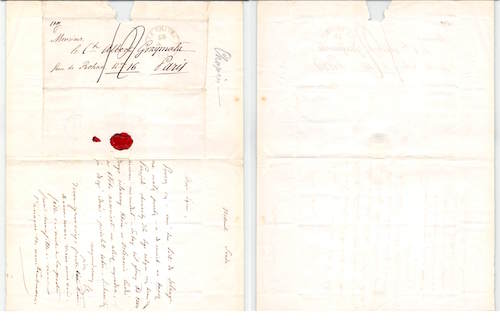 Rare letter jointly written by Frederick Chopin and Georges Sand to Woycheck Grzymala. (Offered by James Camner Autographs)
---
Wilson, Charis; Edward Weston; Cole Weston. Edward Weston: Nudes (SIGNED, with original photograph).
Millerton, NY: Aperture, 1977. First Edition, Limited to 350 copies, SIGNED by Charis Wilson. Complete with the accompanying original platinum photograph "Nude, 1920" (with titled tissue guard) printed by Cole Weston. SIGNED, titled and dated in pencil by Cole Weston with credit stamp to Edward Weston on the reverse of the mount. Illustrated with reproductions of Weston's sensuous nudes. The book has 116 pp with 51 black and white plates on hand-selected sheets. Folio, gilt-lettered light brown cloth in matching slipcase. Fine copies of both the photograph and book (faint stain to slipcase); scarce thus. (Offered by Carpe Diem Fine Books)
---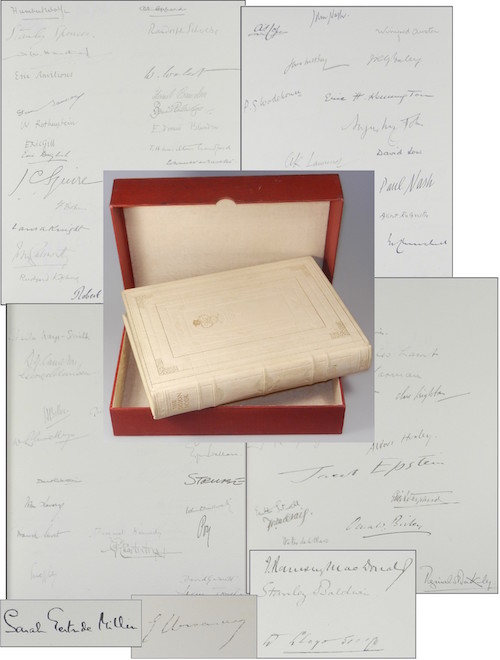 This is the beautiful and rare limited, finely bound issue of the 1929 first edition of The Legion Book, signed by 89 individuals comprising a stunning constellation of leading lights in British literature and arts, including all of the contributing writers and illustrators, as well as four prime ministers. The Legion Book was commissioned by the Legion's patron, H.R.H. The Prince of Wales (later Edward VIII and, after his abdication, the Duke of Windsor), with sale proceeds dedicated to the Legion. The 85 contributing artists were among the most talented British subjects in their fields, including Winston Churchill, Rudyard Kipling, P.G. Wodehouse, Aldous Huxley, Vita Sackville-West, G.K. Chesterton, Hilaire Belloc, Augustus John, Eric Kennington, and John Nash. (Offered by Churchill Book Collector)
---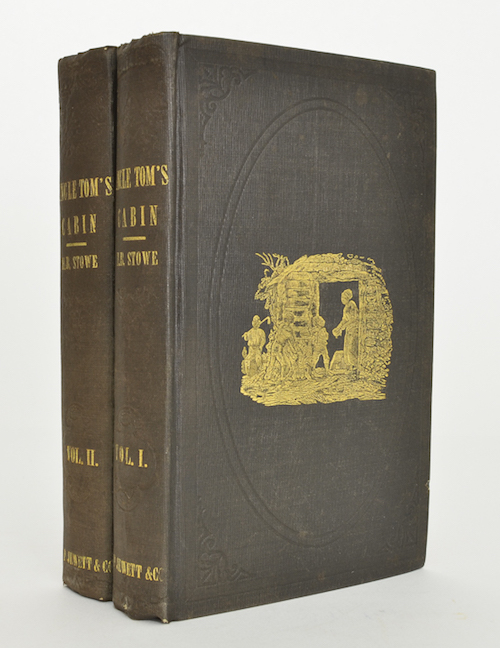 Uncle Tom's Cabin; or, Life Among the Lowly (with laid in signatures)
by Harriett Beecher Stowe
Boston: John P. Jewett & Company, 1852. First edition. A Fine set, each book with a small inscribed card laid in.
Perhaps the most influential social novel in American history. In 1850, Congress passed the Fugitive Slave Act, which mandated that escaped slaves had to be returned to their owners upon capture, even if they were discovered in a free state. Stowe began her book as a protest to this law – and it would go on to become the most popular novel of the 19th century. (Offered by Whitmore Rare Books)
---

THOMSON, John. Antiquities of Cambodia. Illustrated by Photographs Taken on the Spot. Edinburgh: 1867. Illustrated with 16 original albumen prints, including two panoramic views spread over two full pages with three photos each, plus facsimiles illustration. Oblong folio, three-quarter black morocco over green cloth, lettered in gilt, all edges gilt . Covers a tad rubbed and rear cover a little spotted. Photographs still strong and bright. John Thomson was born in 1837 in Edinburgh, Scotland. He was educated in Edinburgh and studied chemistry at Edinburgh University. Thomson moved to the Far East in 1862, settling first in Penang and then in Singapore. In October 1864 Thomson visited India, travelling via Ceylon (now Sri Lanka). The following year, Thomson, growing bored of studio work, set out for Siam (now Thailand). From Siam, Thomson went on to Cambodia. He returned to Singapore in May 1866 and then returned to Scotland. He remained in Scotland for a brief period, presenting papers and publishing some of his work. In 1867 he travelled to the Far East once again, visiting Singapore, Vietnam and then Hong Kong. He remained in Hong Kong, making valuable contacts and establishing a studio. Within a few years though Thomson was travelling once more, this time exploring China. After making an extensive photographic record of China, Thomson went on to Formosa (now Taiwan) and then back to China. In 1872 Thomson briefly returned to Hong Kong and then sailed back to England. Thomson set himself to publishing his work, producing a number of volumes. In 1886 he was appointed tutor in photography to explorers by the Royal Geographical Society. Thomson married Isobel Petrie in November 1868 and they had six children. He died in October 1921. The Antiquities of Cambodia was his first publication of his photographs in 1867 and he continued to publish his works until about 1898. (Offered by Randall House Rare Books)
---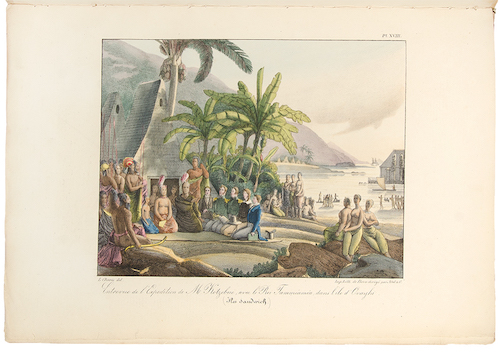 CHORIS, Louis (1795-1828). Vues et Paysages des Régions Equinoxiales, recueillis dans un voyage autour du Monde...avec une introduction et un texte explicatif. Paris: Paul Renouard, 1826. Folio (16 5/8 x 11 1/4 inches). Half-title. [6], 32pp. 24 hand-coloured lithographic plates by F. Noel or F. Bové after Choris. Expertly bound to style in half red straight grain morocco over period red paper covered boards, spine gilt.
Rare: one of only fifty large paper copies of this important series of views of the Pacific and the west coast of America.
A large paper copy with the plates hand-coloured. This copy without the 2pp. letterpress letter to the "empereur de toutes les Russies", dated 1827. According to Forbes this letter "does not appear in every copy.
"In July 1815 Choris, at the age of 20, joined Otto von Kotzebue's expedition on the Rurik as the official artist. This was the first Russian circumnavigation devoted exclusively to scientific purposes and several well-known scientists contributed greatly to its success. Choris made a great many drawings during this voyage. In 1822 he published Voyage Pittoresque autour du monde ... Despite his using many of his drawings in that work, Choris found 24 subjects among the remaining drawings which he published 4 years later in [the present work]" (Lada-Mocarski).
The plates are of subjects from the Atlantic and Pacific and include five of the coast of Brazil, three in Chile, eleven in the South Pacific and Hawaii, and the remainder in Kamchatka, the Marianas, Manila, the Cape of Good Hope and St. Helena. "Choris' drawings are original and faithful pictorial representations of the subjects he drew" (Lada-Mocarski). (Offered by Donald A. Heald Rare Books)
---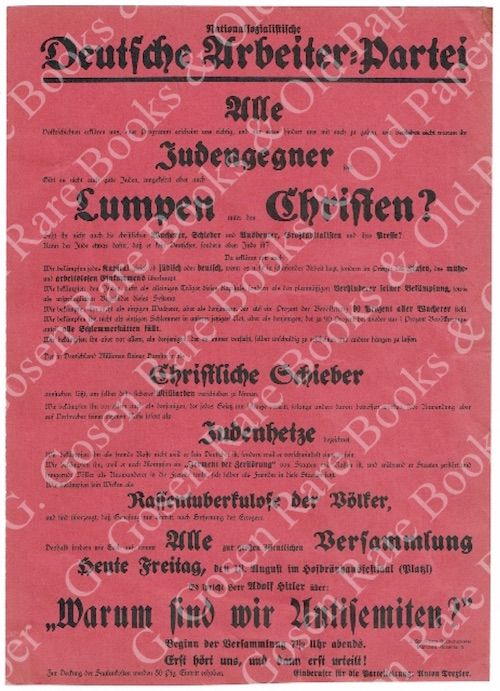 Broadside Announcement of Adolf Hitler's First Speech to the Newly-Formed NAZI Party, on August 13, 1920
Hitler, Adolf and Drexler, Anton, "Warum sind wir Antisemiten?" A broadside, 29.5 cm x 21 cm, printed by J. Schreiber in Munich, dated August 13, 1920.
The first speech Adolf Hitler gave in public immediately after the formation of the NSDAP (Nationalsozialistiche Deutsche Arbeiter – Partei) in Salzburg, August 7 – 8, 1920, a speech given in the Hofbrauhausfestsaal, in Munich, August 13, 1920. This first speech, "Warum sind wir Antisemiten?" ("Why are we Antisemites?") predates Mein Kampf by five years and marks the genesis of the Holocaust thirteen years before he came to power in 1933. (Offered by G. Gosen Rare Books & Old Paper)
---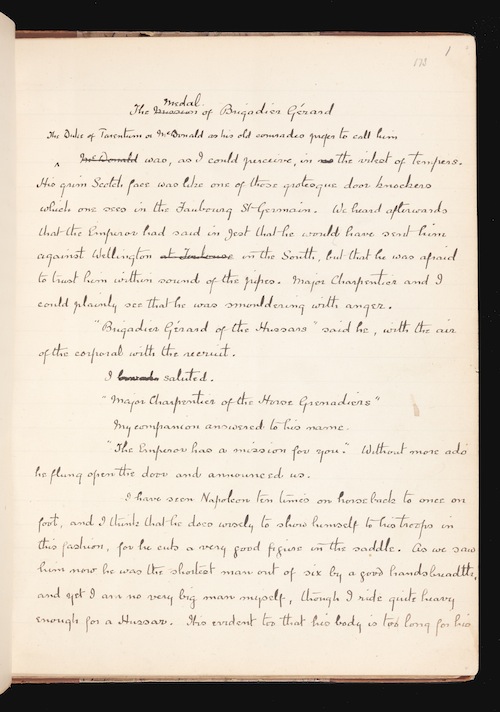 ORIGINAL HOLOGRAPH MANUSCRIPTS OF FIVE BRIGADIER GERARD SHORT STORIES
DOYLE, Sir Arthur Conan. The Medal of Brigadier Gerard. Original holograph manuscript, 41 pages written on rectos only on ruled paper, revised and corrected, signed at the end "A Conan Doyle, 12 Tennison Road, South Norwood"; 7 x 9 inches, bound in contemporary three-quarter calf and marbled paper over boards, marbled endpapers, with a printed half-title; presentation inscription on a preliminary blank: "Presented to Herbert F. Gunnison with the warm regards of Irving Bacheller"; with the bookplate of Herbert Foster Gunnison on the front pastedown. [Together with:] "How the King held the Brigadier", original holograph manuscript, 26 pages, folio & 8vo, revised and corrected, and signed at the end "A Conan Doyle, Belvedere Hotel, Davos Platz"; [Bound with:] "How the Brigadier slew the Brothers of Ajaccio", original holograph manuscript, 24 pages, folio & 8vo, revised and corrected, and signed at the end "A Conan Doyle, Belvedere Hotel, Davos Platz, Switzerland"; [Bound with:] "How the Brigadier came to the Castle of Gloom", original holograph manuscript, 21 pages, folio & 8vo, revised and corrected, and signed at the end "A Conan Doyle, Belvedere, Davos Platz"; [Bound with:] "How the Brigadier played for a Kingdom", original holograph manuscript, 23 pages, folio, revised and corrected, and signed at the end "A Conan Doyle, Belvedere Hotel, Davos Platz, May 31/95"; the four manuscripts bound together in contemporary three-quarter calf and marbled paper over boards, marbled endpapers, 8 ½ x 13 ½ inches, with a printed half-title; presentation inscription on a preliminary blank: "Presented to Herbert F. Gunnison with warm regards of Irving Bacheller"; with the bookplate of Herbert Foster Gunnison on the front pastedown.
"The Medal of Brigadier Gerard", here first titled "The Mission of Brigadier Gerard", with the word "Mission" crossed out and the word "Medal" written above, was written in 1894 and is the first short story in Conan Doyle's Brigadier Gerard saga. In their account of Conan Doyle's serial publications, his bibliographers Green and Gibson give both the English title "'How the Brigadier Won His Medal'", and the American title "'The Medal of the Brigadier'", as the story was originally published in the separate English and American issues of the Strand magazine in 1894. Green and Gibson also note that the first American periodical publication was by a Newspaper Syndicate [abbreviation "N.S.", G & G, p. 404], referring to the Bacheller Syndicate. As noted above, the present manuscripts were given by Bacheller to his friend and fellow journalist Herbert Foster Gunnison. Irving Bacheller (1859-1950), author, journalist and editor, began his career as a journalist in Brooklyn in 1882, but a few years later founded the first modern American newspaper syndicate, the Bacheller Syndicate, to provide literature and other articles to Sunday newspapers. Among the authors whose work he represented were Arthur Conan Doyle, Stephen Crane, Joseph Conrad, and Rudyard Kipling. In the 1890s, Bacheller began to write fiction and gave up his career in journalism to pursue literature, becoming a best-selling author with such works as Eben Holden (1900), D'ri and I (1901), The Light in the Clearing (1917), and A Man for the Ages (1920).
The present collection represents five of the eight short stories that appeared in The Exploits of Brigadier Gerard and an extraordinary opportunity to acquire a significant portion of one of Conan Doyle's most impressive creations. The manuscript of "The Medal of Brigadier Gerard" is in fine condition; the binding lightly rubbed; the other manuscripts, which have been assembled using revisions written on separate pieces of paper, usually of a smaller size, or cut down to a smaller size, and inserted or taped to the original drafts, are in very good condition, with a few tears and stains; the front hinge of the binding is cracked, and the top panel of the spine is detached (but retained).
Provenance: By descent from Herbert F. Gunnison (1858-1932), a Brooklyn newspaperman associated with the Brooklyn Daily Eagle, where he worked from 1882, eventually becoming its President in 1924. (Offered by James S. Jaffe Rare Books)
---
For more information about this year's California International Antiquarian Book Fair, visit www.cabookfair.com...