On Black Friday, I got an email from Barnes & Noble trumpeting their (discounted) signed books! The most notable thing about the email -- besides their rather dubious claim to have the greatest selection of signed books "in the world" 1 -- was that this was their primary marketing message, the pitch they were pinning their financial hopes on: signed books were going to make their Black Friday a success.
This email highlighted for me something that I've noticed growing over the past few years: a new emphasis on signed books, a new belief in the value of an author's signature.
To put this in context, six years ago I worked for a small publisher and spent my time calling on bookstores trying to get them excited about our books. Occasionally, we would have a novel with breakout potential, and an additional challenge would then be to get it picked by a store's first edition club. At the time, you could count the bookstores with first edition clubs on one hand, and have fingers left over.
Today, independent bookstores in the US are starting first edition clubs with gusto, and any store worth its salt appears to have at least one and sometimes several focusing on different genres.
Why this sudden burst of interest in encouraging book collecting at trade bookstores?
Why organize your holiday marketing around your selection of signed books?
Quite simply, it's an opportunity to provide something that big internet retailers cannot. First edition clubs typically emphasize literary quality, and the chance to build a meaningful library. Most stores emphasize proper first edition/first printings, and with the eager help of publishers many are able to secure signed first editions. In contrast, if you order a new book from an online behemoth you have absolutely no way to ensure you get a first printing -- never mind the good chance your book will arrive all banged up. 2 As Sarah Goddin, manager of Quail Ridge Books in Raleigh, NC says, signed books are "something that give [physical bookstores] an edge."
---
By Ann Patchett (Signed, First Edition)
New York: Harcourt Brace & Company. (1997). First. First edition. Fine in fine dustwrapper. Signed by the author. Although not marked in any way, this copy is from the distinguished modern first edition collection of Bruce Kahn. (Offered by Between the Covers Rare Books)
---
Catherine Bock manages the first edition clubs at Parnassus Books in Nashville, TN, which is co-owned by the writer Ann Patchett. Bock reports that "when the store started [Patchett] had the idea that she would have a first edition club." Parnassus learns of likely new books from their sales reps, and Bock assigns staff members to read the potential picks. They're particularly pleased to have championed Philip Klay's Redeployment when it was an unknown short story collection last year: "We picked Redeployment before it had any buzz. We were really happy when that won" the National Book Award. So good old-fashioned taste and literary judgement can't be overlooked as one factor driving public interest in these first edition clubs.
Asked why their first edition club has proven popular, Bock commented that "people are in it to improve the quality of their personal library," although they do have some more dedicated collectors who "ask the books not be signed with sharpies, etc." Goddin concurred, and added that although many members are simply looking for a good read, Quail Ridge do have some serious collectors "who go through our events calendar and order the copies they want months in advance."
The fact that Quail Ridge already had a popular and established events program gave Goddin a clue that there was an under-served market for signed, first editions. "Because we do so many events with high profile authors, we started getting orders from people out of state and even out of the country for signed, first editions, so that opened our eyes." As Parnassus is also a popular store on the book-tour circuit, about two thirds of their first-edition-club authors are able to sign the books at events in the store, ensuring members can have some influence over their desired inscription and enjoy a brief meeting with the author.
---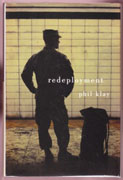 Redeployment (Signed, First Edition)
By Phil Klay
NY: Penguin Press, 2014. First edition, first prnt. Signed by Klay on the title page. Quater cloth with spine lettering and tan paper-covered boards. First issue dustjacket (no awards notice). (Offered by Revere Books)
---
It's worth a brief digression at this point to mention the issue of fake autographs. While you can attend an event by a living author and watch them sign your copy, there is a risk of encountering fake signatures for sale when the author is dead or reclusive -- Harper Lee, J.K. Rowling, and Ernest Hemingway (among others) are frequent targets. ABAA dealers guarantee the authenticity of all signed books they offer, but some "signed" books listed on eBay or other unregulated online exchanges may be untrustworthy. Some online sellers offer so-called Certificates of Authority, but ABAA members feel these are not worth the paper they're printed on.
First edition clubs that order their books directly from the publisher are more likely to have authentically signed copies, but once the secondary market comes into play (that is, once the books are 'used') then things becomes more dicey. The best advice is not to purchase books indiscriminately for the sake of a signature, but instead to collect books you love. If moved to own a signed copy, be sure to buy from a trusted ABAA-member dealer or have the author sign the book in front of you. 3
Quail Ridge has started three first edition clubs, one each for fiction, young adult fiction, and picture books because Goddin noticed that the store was "getting a lot of orders from Canada and out of state" for young adult author events in particular. So the staff realized "that age group feels passionately about their authors." Bock observed that their young-adult first-edition-club "members treat it as more of a book club than a collecting club," which suggests that the social nature of the clubs and the chance to discuss books and meet authors is a factor. Whether this is a sign that younger readers are learning to collect and care for signed books for their own sake is another question.
---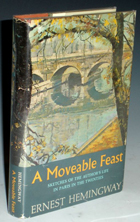 A Moveable Feast (First Edition)
New York; ((1964): Charles Scribner's Sons. First Edition. Octavo. 211pp., bound in 1/4 rust cloth over gray marbled paper covered boards printed in gilt, spine lettering gilt, a very nice, sharp cornered copy in unclipped pictorial dust jacket rubbed along flap folds, minor light chipping spine ends, small tape mend to underside of jacket. A very good copy. (Offered by Alcuin Books & Autographs.)
---
ABAA members who straddle the world of new and antiquarian books, such as Strand Book Store in NYC and Weller Book Works in Salt Lake City, have also been emphasizing the appeal of collecting with clubs and social events.
Weller Book Works offers new, used, and rare books in a single building, and host a monthly Collectors' Salon to showcase rare books and discuss the pleasures and challenges of collecting.
Owner Tony Weller has observed the increased emphasis on signed books over recent years, but the commoditization of signatures makes him "skeptical of the enduring value of contemporary autographs." He feels the mass merchants have turned "what used to be frosting on a good author's cake into a shallow promotional tool running through CostCo and Walmart with signings for popular authors." 4
Noting that their Salt Lake City small market size means the store has difficulty getting publishers to send them touring authors, which negatively impacts their ability to offer a wide variety of new signed books or author events, Weller feels the store is not in a position to offer first edition clubs similar to stores in other cities. However, the store has been able to benefit from the general upsurge of interest in signed books through the prominence and friendship of one of their local authors, Brandon Sanderson, who Weller calls "the wunderkind of science-fiction and fantasy of our time."
Sanderson is supportive of the store due to long-term friendship with the Wellers, "so every time he has a new book we have an advance sale of 500 copies that we offer though our website. He hand-numbers these and we ship them all over the world. This is because of his loyalty to us that we have the opportunity." Sanderson will also personalize copies pre-ordered before the release, adding an opportunity to differentiate this batch of books from the many other copies he signs.
As in other cities, the book market in Salt Lake City has suffered from the negative effects of internet sales, and when the economic downturn arrived around 2008, Weller had to downsize the store to remain in business. The idea for the collectors' salon arose after this period, when Weller realized he met so many "interesting people because of the book trade, and wanted to create a monthly gathering." He recalls that the event is partly "a way to enjoy the people I meet in books, but also it was an attempt to create an intellectual fervor and excitement that might" drive an increased local interest in rare books.
However, although Weller fells this has "created a few new collectors," the group has not yet reached the critical mass he hoped.
---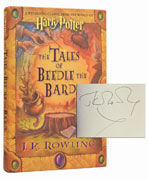 Tales of Beedle the Bard (Signed, First American Edition)
By J.K. Rowling
New York: Children's High Level Group / Arthur A. Levine Books, 2008. First American trade edition. Fine. A Fine copy in the publisher's original illustrated boards. Slightest pushing to the spine ends, otherwise unworn. No dust jacket, as issued. Signed by the author on the half-title. (Offered by Whitmore Rare Books)
---
Strand Book Store enjoys a very different market in New York City, and has launched its own first edition clubs, finding success by focusing on some of the store's traditional areas of speciality. We asked Carson Moss (Buying Manager) and Darren Sutherland (Rare Books Manager) about their program and they replied by email:
What was the inspiration for your first edition clubs?
We have had stock signings for years, and, more recently, publishers have made a greater effort to sell signed stock to their independent retail accounts. Our customers showed tremendous interest in that special feature, and we see the ability to position readers one step closer to the author as a hallmark of an independent bookstore's value. Plus, while we recognized there are numerous trade fiction first edition programs on offer, few of them attempt to cover the art/photography or YA fields, which are strong categories for us.
Do customers ask about book collecting or first editions often?
Yes, our Rare Book Room is one of the largest in the country. It's a great place for people to learn about collecting, and get started on their own library. We regularly help nascent collectors find their initial purchases. Due to our size, we are able to highlight first editions at all price points, and customers are often surprised at how accessible some collectible purchases can be.
Are customers looking to collect for value or literary status (award winners, etc.) or some other reasons?
Book collecting is a very personal pursuit, so people collect for all sorts of different reasons: financial value, favorite authors, favorite past-times. The most important piece of advice for any collector, novice or expert, is collect what you love. In terms of selection for our subscription programs, we aim to choose exceptional works which will remain relevant years down the line. While the longevity is of course a guessing game, we ask, most importantly: does the book excite us as readers?
How do you ensure first edition/first printings?
We arrange our selections with the publisher ahead of publication date, and always specify we need first printings. Copies are then inspected by staff before they are signed by the author/artist.
Book collecting offers people a chance to explore and develop their passions on so many different levels. Different titles naturally lend themselves to different storylines, but the scarcity of a signed book, to the general public, is always an attraction. The opportunity to handle a book also handled by its author often has serious appeal to a passionate reader.
---
So, although the use of signed books as a marketing strategy is plain to see, the success of the initiative appears to vary from city to city. There has always been an interest among serious readers in owning copies of books signed by their favorite authors, and online ordering now makes obtaining them easier than ever. However, few stores seem to go the extra mile to differentiate their signed offerings, like the batch of early copies Brandon Sanderson signs and numbers for Weller Book Works.
Will all these new first edition clubs exist in two years time, or will the new book trade have moved onto some other marketing tactic? Will the long-term effect of this emphasis on signed copies negatively impact the enduring value of contemporary autographs, as Tony Weller fears, or will the provenance of the individual signed copies become even more important? Will the increased prominence of signed books and the social aspect of first editions clubs actually increase the interest in collecting books? Only time will tell.
Footnotes:
1. Do Barnes & Noble have signed books by Charles Dickens or Virginia Woolf, documents signed by Winston Churchill or Margaret Thatcher, or letters written by Abraham Lincoln or Jacqueline Kennedy? Of course not; but ABAA members have many! (Return to article...)
2. I ordered a book from ABAA-member Oak Knoll Books recently, and when it arrived it took me five or six minutes to free the volume from the multiple layers of protective cardboard, tape, and padding. The book was in immaculate condition. (Return to article...)
3. Just to complicate matters further, digital technology now makes it possible for publishers to print a scanned signature in the book, so every copy printed appears to be signed. The last three volumes of Robert Jordan's epic Wheel of Time series were completed by another author (actually, wunderkind Brandon Sanderson, who Tony Weller discusses above) after Jordan had died, and the publisher decided to include Jordan' scanned signature as a gesture to convey that the finished books had the full blessing of Jordan. Despite the best intentions, numerous copies described as "Signed by Robert Jordan" are listed on internet marketplaces, without any mention that this is a scanned signature. ABAA members would never make this mistake. (Return to article...)
4. Book industry newsletters regularly run stories of authors signing three-, four-, or even five-thousand copies of their books in a single afternoon, which reminds me of a rye joke by Hugh Grant's character in the film Notting Hill, "If you can find an unsigned one, they're worth an absolute fortune!" (Return to article...)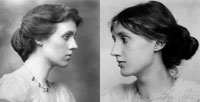 If you are interested in collecting signed books...
Read "The Intrinsic Value of Associational Material," in which ABAA member Sunday Steinkirchner of B & B Rare Books details the thrill of acquiring some of Virginia Woolf's books from her sister Vanessa Bell's personal library.
---