Meet the latest members of the Antiquarian Booksellers' Association of America.
New Full Members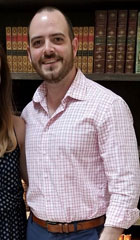 Starting as a hobby collector nearly twenty years ago, Reagan Bisharat, of Reagan's Rare books, has built a business out of his passion. Reagan's Rare Books is a purveyor of antiquarian books and ephemera dating primarily from the 18th, 19th, and early 20th century. Specializing in fine leather and decorative cloth bindings, Reagan has hand selected each piece in his inventory. Subject matter includes History, Literature, Theology, Biography, Travel and Exploration, as well as Americana.


Timothy J. Stevenson, Carlson and Stevenson (Manchester Center, VT)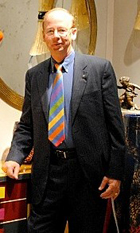 As an antique dealer since 1976, Timothy Stevenson started out knocking on doors in Vermont and nearby New York State. All manner of interesting and saleable material was found almost everyday. A Vermont town turned up the Rev. Lemuel Haynes' library from a direct descendant -- the first Afro-American minister in the U.S, he held forth in Manchester, Vermont. He ministered to the Boorn Brothers in the famous murder case that ended requiring a body for a murder trail. The material was sold for the family to a historical society where Haynes also ministered.
Stevenson's interest in antiques became centered on School Girl Art of the period 1780 to 1840. Stevenson and his wife were invited to shows in Boston, Charleston, Chicago, Washington, D.C., Houston, San Francisco, Nantucket, and West Palm Beach. Along the way they discovered material that led to his application to the ABAA. They also find and frame original art from unpublished children's stories; material which has opened new markets. Stevenson has also put together a good collection of Suffragette material for the joint 100th anniversaries in England and the U.S. of the Right to Vote. He hopes to bring this material to ABAA shows along with other ephemera.

Change of Entity
F.A. Bernett Books henceforth will be Bernett Penka Rare Books.
"F. A. Bernett (Boston) and Penka Rare Books (Berlin) have joined forces and are now operating as one -- Bernett Penka Rare Books.
In 2019, we celebrate the seventy-fifth anniversary of the firm, while also looking ahead with excitement to many new projects, catalogs, and book fairs. We will continue to specialize in important rare books and visual primary source material in the fine and decorative arts, architecture, design, social history, and related fields, and Philipp will help further expand our focus on German, Russian, and East European materials. With a presence in Berlin in addition to our office in Boston, we will be better able to serve the needs of both our American and European customers." -- Peter Bernett, Philipp Penka, Erika Hapke, and Melissa McCaffrey (Bernett Penka Rare Books)