Where do you start with a place like Vegas? Bally's Hotel and Casino is hosting the 2014 Moose International convention and dealing with a chronic shortage of aquatic plant life, willow shoots, and other forage. Hairy guys with backwards baseball caps. Old men and their leisurewear. Fatties in mobile chairs work away, tethered to slot machines. A Bally's credit card at the other end of the line drips the money in and out. The tether prevents the card from being stolen, lost, or forgotten. Sorry, sir, no photographs. What is the plural of Moose ? Do the International Moose employ it?
There is a convention in noir cinema – someone has slipped the detective a mickey, or the alcoholic is in the middle of a lost weekend, or an innocent party has received a life altering shock. "Sorry, honey. I'm leaving you for a Moose." The movies represent this state of psychic distress by means of flashing lights, carnival midway noises, and squirming, spinning shapes. Everything is out of focus.
Voices come in and out, layered with hallucinogenic visuals and shreds of pop songs. Places and times jam together like a freeway pileup.
This is the lobby at Bally's Las Vegas Hotel and Casino. The mickey is optional, but the lights, noises, voices, and ghastly visuals surrounding me leave no doubt that I'm in someone's grade B detective flick, or lost weekend, or that the life altering shock is Las Vegas itself. A line in one of my aural hallucinations croons, "It's just too marvelous, too marvelous for words." A museum of American excess.
There used to be water here. It was The Meadows. But now the place insistently refers to someplace else – Treasure Island, New York,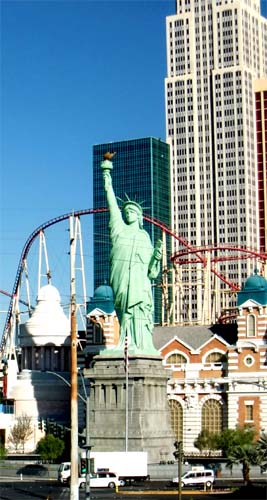 ancient Egypt
or Rome,or the Circus. Or Margaritaville,
a few blocks south of Bally's, eager to remind us that "It's Five O'clock somewhere." Idi Amin, Pol Pot, Joe Stalin, Heinrich Himmler – all the bad ones. They'll be reborn as busboys in Margaritaville on the 24/7/365 shift, with the soundtrack of Jimmy Buffet's greatest hits – all three of them - playing over and over forever. At least there are no joggers. It's 102 Fahrenheit on the street. Strange flowers come out at night.
Up in the Skyview Room on the 26th floor all is quiet and cool. The 400 attendees at the 55th annual Rare Books and Manuscript Librarian's Preconference drift in between plenary sessions and meetings, for coffee or drinks, and to view the goods on display at the Booksellers Showcase. Forty of the country's best book dealers stand patiently by their booths, hoping to chat, waiting for the inevitable flicker of interest. The Bookseller's Showcase is a cooperative venture between the ABAA and RBMS – a chance for booksellers and librarians to get to know one another. The event is the brainchild of past ABAA president Sarah Baldwin and, in my opinion, it is one of the major benefits of membership in our organization. If institutional sales are a part of your business, doesn't it make sense to meet the people who make the decisions about what to buy? Wouldn't it be helpful to know them by name or even, heaven help us, have a first name relationship with one or two of them?
The event seems to get better every year. Or maybe I'm just getting more comfortable. I used to feel like a pimply kid on the sidelines at a junior high school dance. Now I feel like one of the chaperones. I'm certainly getting older, but the librarians, especially this time around, seem to be getting younger.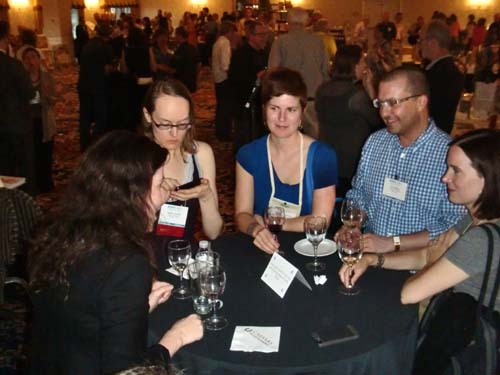 Unlike the book trade, most jobs on the library side have a finite span. Turnover is inevitable. And with the younger faces come new ideas about collection development. The Corning Museum of Glass wants information on lighthouse optics. I'd never thought of them as customers before, but why not? And on it goes...
Informed sources tell me this was one of most heavily attended RBMS preconferences in the past fifteen years. Las Vegas? Who would have guessed? Another greybreard floats the story that the ALA held an RBMS preconference in Vegas in the 1970s, but that the librarians spent all their money on the first night and missed meetings the next day. Supposedly they vowed never to return. So much for institutional memory.
Vegas is a safer place now. The credit card is tethered to your lapel, and the "muddy line between/The things you want/And the things you have to do" - (Cheryl Crow, Leaving Las Vegas) has been cleaned up, dried out. In fact the whole place now exudes a Disneyish vibe, ripe with the infantilization of American culture that marks our era. Being "bad" means you can smoke indoors and walk around with a beer wherever you want. Coors Lite. Kinda silly, actually. Right, Cheryl?
I'm leaving Las Vegas
And I won't be back
No I won't be back
Not this time
Here's a rather unusual item that caught the interest of several librarians at the Ten Pound Island Book Co. booth. This British warship was blockading Boston Harbor during the War of 1812, waiting to do battle with the Constitution. She wound up capturing the wrong ship, but didn't complain:
Manuscript. "The Following account explanatory of the encounter with the French frigates Atalante and Terpsichore, of 44 guns each, and of the capture of the latter ship, on the 3rd day of February, 1814, by His Majesty's Ship Majestic." Folio sheet, approximately 14 x 16 inches. The "Majestic", a razeeed fourth rate frigate, was one of the British ships charged with blockading Boston Harbor in hopes of doing battle with the US frigate "Constitution". This broadside pertains to "Majestic's" capture of the French ship "Terpsichore", which was first thought to be the escaping "Constitution". Printed by "Gardner, Printer, Portsea." No mention of this event appears in Clowes. Worldcat shows only NYHS holding a copy of this broadside. Laid down on linen. A few spots near the top of the sheet, otherwise in very good condition. $3000