The ABAA admitted a number of full and associate members at the end of 2019. Please welcome these new members below:
Full Members

Alexander Akin, Bolerium Books (San Francisco, CA)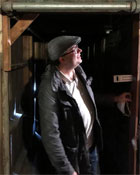 Alexander Akin, the son of two labor activists, made his first international trip at the age of 15 to North Korea – an eye-opening visit that sparked an enduring interest in Asian history. He began part-time at Bolerium Books doing various tasks for store credit while finishing a Ph.D. in Chinese history. After a teaching stint, during which he discovered that academia pays even worse than the book trade, he returned to Bolerium full-time in 2011 and became a co-owner in 2013. Melding his academic interests with his activist background, he has expanded the bookstore's purview to include Asian language books and ephemera, while also cataloging materials related to labor and radical history. He has published a number of articles in the fields of East Asian cultural exchange and numismatics, and is finishing a book for Amsterdam University Press on the place of cartography in China's late 16th-century publishing boom.

Karen Austin, Austin's Antiquarian Books (Wilmington, VT)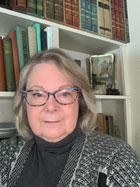 Karen Austin left her career in retail buying and management in 1983 when her husband Garry convinced her that the antiquarian book business was a much more pleasant way to make a living. After opening their first store, Snug Harbor Books, in Wells, Maine in 1980, they went on to open two more in the area, and also ran auctions and book fairs. In 1994, attempting to find a place to have a shop yet be closer to their aging mothers, they found their way to the resort town of Wilmington, Vermont where they ran a shop together until Garry's death in 2019. After his passing, Karen applied for membership in the ABAA to honor him and to continue the warm relationships they enjoyed with their colleagues in the trade.
While Karen's interests tend toward natural history, prints, and the art of the book, the shop will always represent a general antiquarian selection. She will continue the business on a smaller scale from their Wilmington home, combining a chance and appointment business with their two websites; austinsbooks.com and TheodoreRooseveltBooks.com.

Stephen Gertz, Booktryst (McMinnville, OR)

Stephen J. Gertz began his trade career in 1985 as a rare book scout and dealer. He later became manager and head cataloguer at William Dailey Rare Books in Los Angeles, was Executive Director of David Brass Rare Books in Calabasas, CA, and Cataloger-Researcher at Phillip J. Pirages Fine Books McMinnville, Oregon. An ABAA Associate Member for 13 years, and a member of The Bibliographical Society of America, Steve is a former Vice-Chairman, Chairman, and member of the Executive Board of the Southern California Chapter of the ABAA. His writing has been published by Feral House, The Disinformation Company, the Los Angeles Times, Huffington Post, Seattle Post-Intelligencer, Fine Books & Collections, L.A. Review, The Journal of the Arthur Rackham Society, and various online magazines. He is the publisher of the Booktryst blog, the most popular rare books blog in the world, and has published three books under the Booktryst imprint.
Michael Jennings, Neatline Antique Maps (San Francisco, CA)



Michael Jennings received his Ph.D. with honors in Near Eastern Languages and Civilizations from the University of Chicago. His dissertation — "Beyond the Walls of Jericho: Khirbet al-Mafjar and the Signature Landscapes of the Jericho Plain" — explored the relationship between landscape and settlement in Jericho from the Hasmonean to early Islamic periods. An interest in urbanism and urbanization has led Michael to investigate cities throughout the Mediterranean and Near East.
Michael is an expert in both Geographic Information Systems (GIS) and traditional topographic survey and has served on the board of the Center for Digital Archaeology at UC Berkeley and the W. F. Albright Institute of Archaeological Research in Jerusalem. All these interests have merged in the form of Neatline Antique Maps, which features maps, sea charts, and atlases from around the world published between the 15th and 20th centuries.
Teri Osborn, McBride Rare Books (New York, NY)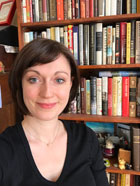 Teri Osborn graduated with a Master's of Library Science from Indiana University in 2005, having specialized in rare books. She began her career as a rare book librarian at the American Antiquarian Society in Worcester, Massachusetts, moving to the University of Alberta in Edmonton, and finally landing at the William Reese Company in 2008. She spent nearly a decade in the Americana Department, half of it as the senior associate and as an Associate Member of the ABAA. In 2018, after the loss of her employer and mentor of ten years, she founded McBride Rare Books with her partner, James McBride. McBride Rare Books specializes in Americana with an emphasis on the eclectic and unusual -- archives, ephemera, photography, and rare imprints.

Carol Sandberg, Michael R. Thompson Rare Books (Los Angeles, CA)
Carol Sandberg entered the antiquarian book business in 1974, shortly after receiving a Master of Library and Information Science degree from UCLA. She began as an employee of Heritage Book Shop in Los Angeles, and joined the ABAA as an associate member shortly thereafter. After working at Heritage for eleven years, she joined the firm of Michael R. Thompson Rare Books as a full partner with Michael and Kathleen Thompson in 1985. In 2017, Kathleen died, and in 2018, Michael died, and the firm has become a sole proprietorship, with Carol as the owner.
She has served twice as secretary (in the 1980s and the 2000s), twice as vice-chair, and once as chair of the Southern California Chapter for the ABAA. She has also been a member of many book fair committees including the current Southern Chapter committee, planning the upcoming California Antiquarian Book Fair. She is a member of the Grolier Club, the Zamorano Club, and the Book Club of California and serves on the advisory board of the California Rare Book School.
Specialties of Michael R. Thompson Rare Books include the history of ideas, western philosophy, history of science, early printed books, fine press books and artist's books, illustrated books, women's studies and feminism, and education and children's books. Our firm also has a long history of working with libraries in their collection development. In recent years, Carol has spent increasing time performing appraisals of rare books, manuscripts and archives for tax and insurance purposes. She is a Candidate member of the American Society of Appraisers and a member of Q.E.D. Appraisal Group, LLC.
After 45 years in the antiquarian book business and a long tenure as an associate member, Carol is proud to become a full member of the ABAA.

Kent Tschanz, Tschanz Rare Books (Salt Lake City, UT)
Kent Tschanz's focus largely centers around the history of Mormonism and its people (the more unusual the better – polygamy, Deseret alphabet, Danites, etc.); the history of the interior West – including the exploration of, the indigenous peoples, and National Parks; and outdoor activities (primarily skiing/snowboarding, hiking, and rafting/canoeing). When not working Tschanz and partner Katie Tschanz are exploring the West: by car, on foot, or on a boat. Kent Tschanz is an active member of the Utah Westerners, The Friends of the Marriott Library, and the Bonneville Elementary PTA.

Associate Members

Miranda Garno Nesler, Whitmore Rare Books (Pasadena, CA)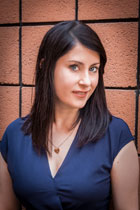 After a decade as a professor of literature and gender studies, Miranda Garno Nesler joined the book trade first as a private collection development manager and instructor at the Sotheby's Institute and then, beginning in 2017, as a specialist with Whitmore Rare Books. As the shop's Director of Women's Literature and History, she oversees the development of a more diverse inventory, serves as the liaison to institutional clients, and assists with public outreach by hosting lectures and seminars related to Whitmore Rare Books' holdings. When she's not in the shop or traveling, you can find her volunteering as a rescue horse trainer or down the street with her coach at the local boxing club.
Jonah Rosenberg, Pryor-Johnson Rare Books (New York, NY)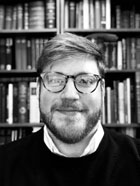 Before joining Pryor-Johnson Rare Books in 2015, Jonah Rosenberg received his A.B. from Brown University (Classics: Greek & Latin) and his D.Phil from the University of Oxford (St. John's College; Classical Archaeology). He taught and continues to teach Classics and art history. Jonah is a long-term dabbler in letterpress printing, pottery and figure-drawing. His collections are similarly scattered, with pockets of interest in Classics, cookery, Louis MacNeice, and Evelyn Waugh. As a bookseller, he is devoted the encouragement and nurturing of young collectors, purse be damned. Outside of books, Jonah is involved with the Center for Contemporary Opera and has been a member of the International Council of Museums since 2010.

Change of Entity
-- These members have changed their business name or started an additional business.

P. Scott Brown, Downtown Brown Books, LLC (Portland, OR)
-- was previously "Eureka Books."

Brian Cassidy, Type Punch Matrix Inc. (Silver Springs, MD)
-- now has two business entities: "Brian Cassidy, Bookseller" and "Type Punch Matrix."

Larry O'Shaughnessy, Classic Editions (Lebanon, NJ)
-- was previously "Franklin Books."

Members admitted earlier in 2019