Who killed the book?
I did. I killed it when I bought a computer. My relationship with the computer has taken over – certainly it's a major distraction. And, I cannot go back. My addiction to the computer was very clear to me when the electricity went out last month during a terrific wind storm, toppling a majestic tree in our neighborhood, being close to downtown Carlsbad. Computer – dead – no electricity – all was dark, so we lit a candle and opened a book – to read from the printed page. I selected a copy of Robert B.M. Binning's, A Journal of Two Years' Travel in Persia, Ceylon, London, 1857. I turned to this book as it is anecdotal and I read it aloud to my wife. I wanted to share something of what Binning had to say when he traveled to Persia in the mid-nineteenth century, especially as he describes Shiraz, the poet Hafiz and describes Persian culture. There are many things learned from reading: the language of the past was much more colorful than now. Writers have taken on a new form of writing, just as movies seem to take fully advantage of bigger explosions, longer fight scenes, more blood and perceived gore. Many movies today are extensions of video games: "Mad Max Fury Road" was exactly like that – not a video game, but it could have been. The details in books are truer than what is depicted as history on the big screen.
It's just like our mail box – so long a form of communication and now seemingly dead. When was the last time you hand-wrote a letter and pressed pen to paper? If it isn't for a birthday card or a thank you note it might be so distant that I can't recall when the last letter was written. Oh – but you correspond by e-mail do you? "So do I," I said. But remembering my book and the mailbox, it occurs to me that the art of letter writing is also nearly a lost art. One might also think of the form of the letter, the skill of a calligrapher's pen. To write with elegance: it is lost too. Remember applying a melted wax seal to the back of an envelope and sealing it with your wax-stamp? A thing of the past…
I just catalogued a book on typography – another lost topic. Oh yes, we have 'type' in the computer. I never select the default Times Roman but I do wonder where all the letter forms are that I was exposed to through books – where have they gone? The types that were used to set the texts of so many great books: Garamond, Goudy, Baskerville, etc. I use Garamond in my own catalogs. Instead of those elegant letter-forms, I have a weird assortment of useless typefaces that do not require sorting when used. But who will even buy a book on typography now? And is there anyone with a letterpress working today?
Last Sunday we took in Fareed Zakaria's GPS news program. He is a fresh voice in the TV wilderness. He was eloquently stating how disinformation has now become such a huge problem in our media – he was himself attacked on-line. One person writes something to disparage another, saying whatever they want to say, and it becomes viral on-line. People may see through the falsehood as being out of character for Zakaria – ever the gentleman and sage – and we also know that we live in a time of 'shocking news' bits each and every day – so someone made fiction of a totally false story to hurt him, making another in a long line of shocking news stories. The old ways of fact checking are still being done, but it is harder to get the word out there before the damage is done. Things – including lies – spread all too quickly. No one can clean up the mess and no matter how false the damage was done.
So who killed the book? Myself and so many others. It was about 1983 when I bought my first computer. Now I am several computer-generations away from that old Atari machine, then an IBM, a PC, now I have the world's university libraries accessible from my PC, a mountain of real books, endless news and clients are out there somewhere in the internet universe. I do wonder which is better? When was the last time you wrote a letter, called your bookseller or bought a book? I am so glad I bought that copy of Binning's book and I am reading it today.
---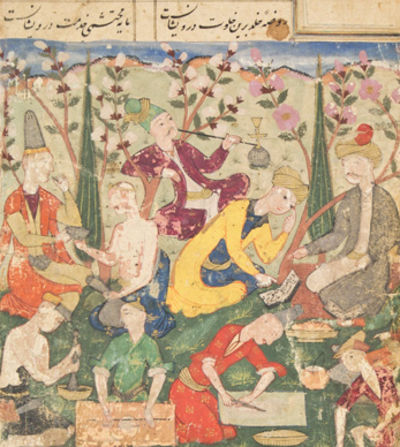 [Bound volume containing 22 mounted leaves of Islamic Illuminations and Miniatures]
by Hafiz
Polychrome gouache gilt on paper, trimmed and laid down. Some rubbing to miniatures, occasional areas of loss. 1 vols. 4to. Late nineteenth century red leather leporello album, borders ruled in blind. Some flaws at folds of leaves. Bookplate of Lewis Einstein. Polychrome gouache gilt on paper, trimmed and laid down. Some rubbing to miniatures, occasional areas of loss. 1 vols. 4to. Smoking & Hawking in Persia. Provenance: from the estate of Lewis Einstein (1877-1967), American diplomat and historian, whose posts included a long residence in Ottoman Turkey at the turn of the twentieth century. Beautiful selection of leaves from an illuminated manuscript book of Persian verse. (Offered by James Cummins Bokseller, Inc.)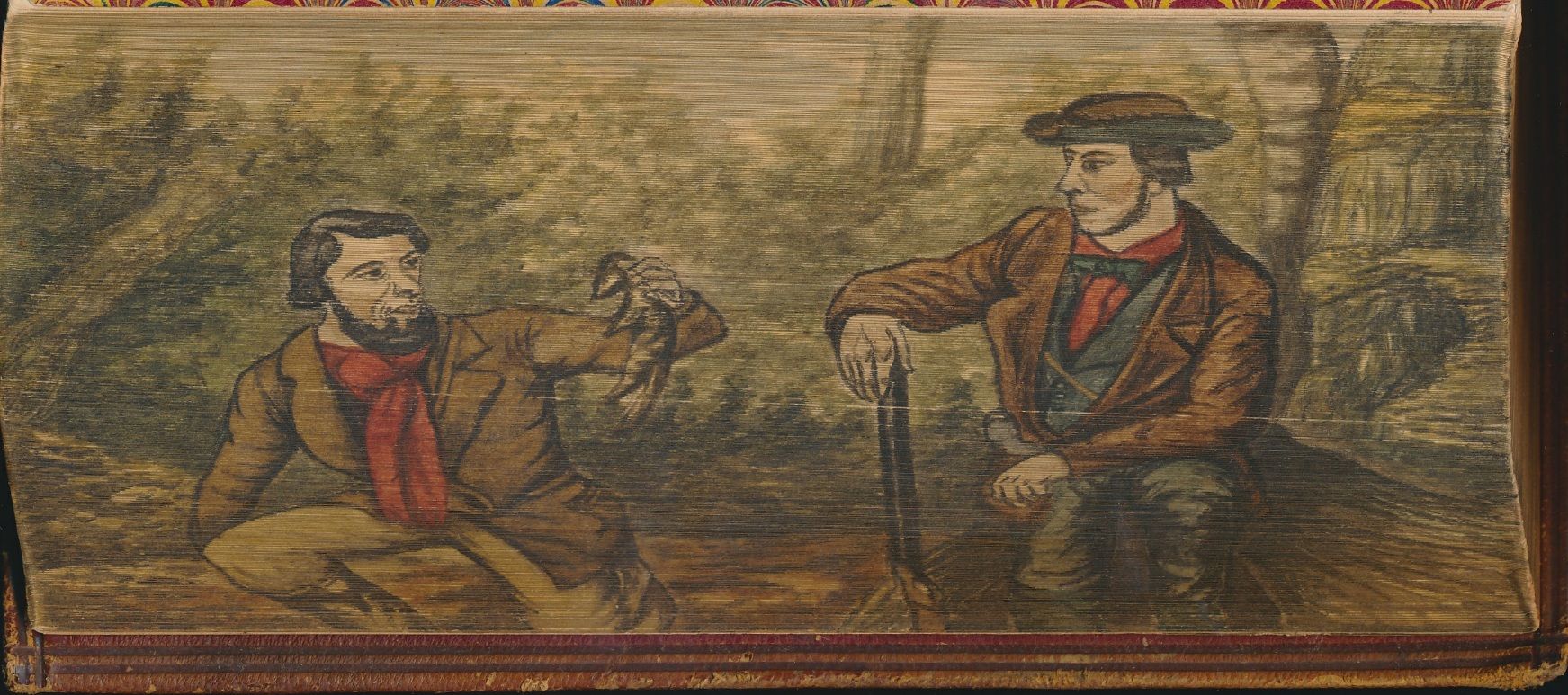 Many Thoughts of Many Minds; selections from the writings of the most celebrated authors from the earliest to the present time. Compiled and arranged by Henry Southgate.
London:: Charles Griffin. 1867. hardcover. 8vo. xxxviii, 682 pp. Index to subjects. Original full brown morocco. stamped in darker brown, gilt corner devices, four raised bands,. a.e.g.; light edge wear, corners showing, some scuffs to outer edges.. Early ownership signature of Gerald Beach.. With a fore-edge painting (estimated date of painting: 1985) showing two trappers in the woods (one holding a captured and killed ferret or similar creature). Probably an American artist (considering the scene painted); unsigned. (Offered by Jeff Weber Rare Books)
---
Notes
MAD MAX: an apocalyptic story being end of all things and looking for a new beginning.
"Bile, venom and lies: How I was trolled on the Internet," Washington Post, January 14, 2016.
---