A selection of rare books and print ephemera newly listed or catalogued by members of the ABAA.
Micky Maus: Die Größte Jugendzeitschrift Der Welt (First Edition/First Printing)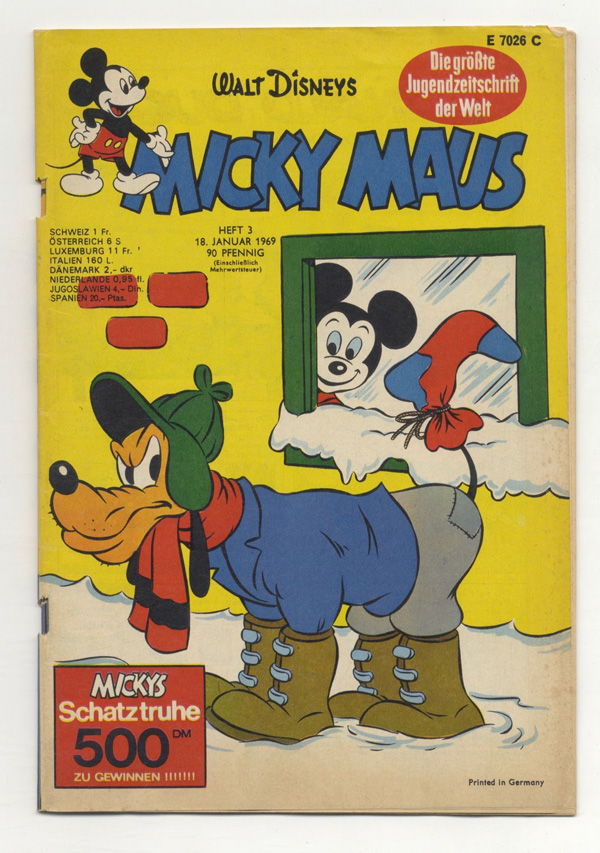 Schweiz, Österreich, et al. Very Good+. 1969. First Edition; First Printing. Hardcover. First edition/first printing Micky Maus magazines in overall very good+ condition. The seven issues each have some light soiling. Heft 15 has slightly looser binding and some foxing to the covers and Heft 8 has some edgewear including a tear that can be seen on the outer corner of the pages. Otherwise lovely collectibles; Issues of Micky Maus magazines from 1969 including the titles Heft 3: 18. Januar; Heft 8: 22. Februar; Heft 10: 8. März; Heft 11: 15. März; Heft 12: 22. März; Heft 13: 20. März; and Heft 15: 12. April.
(Offered by Books Tell You Why, Inc.)
The Blind Men and the Elephant
By John Godfrey Saxe (Book design and binding by Carol Schwartzott)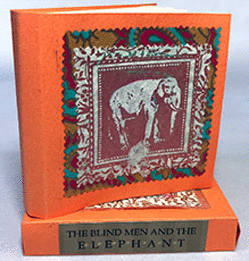 Niagara Falls, N.Y.: Lilliput Press, [1994]. Offset edition of 500. Letterpress edition of 100.
Offset Edition: 2.8 x 2.8" accordion-fold flutter book. Printed offset with hand-colored illustrations. Bound in paper wraps with elephant illustration on front cover. In matching paper slipcase with paper title label on spine and elephant illustration on cover. Book design and binding by Carol Schwartzott. Signed and numbered by the artist.
Letterpress edition: 1.5 x 1.5" accordion-fold flutter book. Bound cloth with patterned end-papers. Card slipcase with image of elephant on front. Laid in clear acrylic snap case. Book art, design, and hand-colored illustrations by Carol Schwartzott. Numbered and signed by the artist. These are artist proof copies.
American poet John Godfrey Saxe (1816-1887) based "The Blind Men and the Elephant" on a fable from India. He used it as a means to put forth a little of his own view of the world.
Carol Schwartzott: "I found some wonderful tiny boxes at Pier I. They were made in India and one had an Elephant on it, and the other a Camel. I bought all they had! I then proceeded to create a tiny book that would fit inside. I hand-printed (letterpress) and then hand-colored 100 of each of these, but only 25 or so were the 'specials' placed inside of those tiny boxes that I re-painted and gilded. I liked ' The Blind Men and The Elephant' so much that I actually printed another edition offset."
(Offered by Vamp & Tramp, Booksellers) These items are featured in the new catalog"March 2018: Collecting Under $100" from Vamp & Tramp, Booksellers, and are not listed on abaa.org.
The Holy Bible, containing the Old and New Testaments. . . Stereotype Edition
Cambridge:: Printed by J. Smith, 1817, 1816., 1817. 2 volumes. Small 12mo. [iv], 600; 601-821, [1], [2]; 250, [2] pp. Original crimson blind- and gilt-stamped straight grained morocco, all edges gilt. Within slip-case bound in red cloth, gilt-stamped back "Foredge Paintings" [likely the box dates from the time of the fore-edge painting]. With two lovely fore-edge paintings painted on the fanned edges; not labelled, but the scenes are of British churches.
Provenance: Carnegie Book Shop, New York [Dec 14, 1965] – sold to: Roland S. Bond, Dallas, TX. Probably this is the Louis H. Silver [d.1963], Chicago, copy, sold at Parke-Bernet Galleries, Nov. 16, 1965 [sold to Carnegie Book Shop, NY]. The volume was described as "one vol. bound in 2, which was an oversight as the 2nd title is deep within the second vol. Silver was a lawyer, engineer and Chicago hotel owner [Gold Coast Hotels] who was a trustee of the Newberry Library. The bulk of his collection was purchased through his agent, the noted bookseller John F. Fleming, and brought a reported (NYTimes May 15, 1964) price of 2.75 million dollars. / The University of Texas, Ransom Center reports: "In June of 1963, Silver was diagnosed with terminal cancer and enlisted Fleming's help in selling his substantial library. Silver had very specific demands for the sale—his library was to be sold en bloc and he should receive no less than $2.2 million for it. Fleming made contact with several auction houses, but on October 27, 1963 Silver died before any action towards a sale could be completed. Silver's estate, represented by Clarence A. Beutel and Silver's wife Amy, wanted the search for a buyer to continue according to Silver's specifications. / On November 15, 1963, the University of Texas at Austin expressed interest in the collection. Fleming began negotiations with Dr. Harry Ransom, Chancellor of the University of Texas at Austin. Within a month, Ransom had $2.75 million in cash for the sale. Silver's estate, though, was feeling hesitant about the sale. The first problem was that they did not want to pay Fleming his $200,000 commission. The second was that they felt pressured to keep the Silver Library in Illinois by selling it to the Newberry Library instead. In the end, that is what the estate chose to do. On May 13, 1964 the Newberry Library bought the Silver Library for $2.75 million. / Under Illinois law, Fleming, as a property broker, should have earned his commission when he produced a ready, willing, and able buyer. There is no requirement that a sale with that buyer must occur. Since Fleming produced his buyer, he requested his commission. When the Silver estate refused, Fleming filed a lawsuit in Illinois on August 6, 1964. The estate was granted summary judgment and the case was dismissed. The court found that since many of the books were damaged and the University of Texas did not examine the books prior to agreeing to buy them, it would not have actually been willing to commit to the sale. Fleming appealed to the Seventh Circuit Court of Appeals. In John F. Fleming, Incorporated v. Beutel (395 F.2d 21), the appellate court remanded the case after finding that the lower court was incorrect in granting summary judgment. The appellate court ruled that when one was dealing with older books, some damage was par for the course, and so the buyer would have been willing to go through with the sale. However, rather than continue the court battle, Fleming settled out of court for $92,000 on December 17, 1968. / The Newberry Library took possession of the Silver Library, and, against Silver's wishes, discarded one third of the books as surplus and auctioned them."
(Offered by Jeff Weber Rare Books)
Pictorial Film Publicity Herald for Little Women (1933)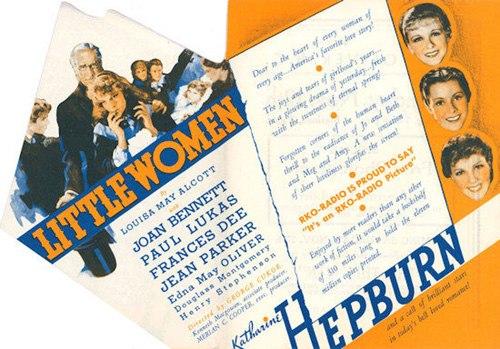 [Cincinnati]: [Printed by Hennegan for:] RKO Radio Pictures, 1933. [4]pp. Color pictorial folding herald (17 x 13.5 cm folded). About fine. An uncommon and striking pictorial herald for the 1933 film adaptation of LITTLE WOMEN, produced by Merian C. Cooper. directed by George Cukor, starring Katharine Hepburn, Joan Bennett, Edna May Oliver, et al, based on a screenplay by Sarah Mason, Victor Heerman and a stable of uncredited script doctors. The upper panel is diecut in the form of an illustration of the original Roberts Bros. edition of the novel, which folds back to reveal the details. The rear panel is imprinted for a showing at a theatre in Oliver, British Columbia, to be followed in a few days by The Thin Man.
(Offered by William Reese Company)
The Life And Adventures Of Nicholas Nickleby
by Charles Dickens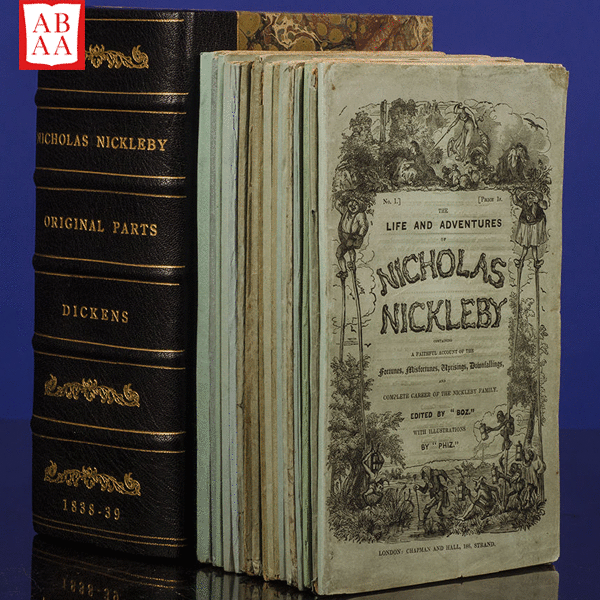 London: Chapman and Hall, 1839. Nicholas Nickleby in the Original Monthly Parts. The Life And Adventures Of Nicholas Nickleby. With Illustrations by Phiz. London: Chapman and Hall, 1839. [i.e., April 1838-October 1839]. First edition, very early issue in the original monthly parts, twenty numbers bound in nineteen. Octavo (8 7/8 x 5 1/2 inches; 225 x 140 mm) . [i-vii], viii-x, [xi], xii-xiv, [xv], xvi, [1], 2-624. Thirty-nine engraved plates by Phiz and the famous frontispiece portrait engraved by Finden after Maclise.
Set collates complete, lacking just two advertisements - the very rare "Joseph Amesbury Patent Supports" folded advertisement at the back of part III, and the equally rare and fragile "Hill's Seal Wafer's" advertisement at the back of Part XIX/XX. Parts II and VIII contain the two 18 page "Mechi's Catalogues" and part XIX/XX. does have the Valentine Fox Specimen Illustration facing page 6 of the Tyas's Poular Publications 12 page advertisement at rear. Text with thirty-six of Smith's forty-one first issue internal flaws (including all of the major points: "visiter" and "latter" uncorrected in Parts IV and V.). First state of frontispiece in part XX and all further plates mostly first state, including the first four in parts I & II (typically in second state), with the imprint of Chapman and Hall and first states of plates 16 (part VIII) and 29 (part XV).Publisher's green printed wrappers with all wrappers correct. The wrappers are generally quite bright, although some have been expertly rebacked. The plates are remarkably clean with the bare minimum of foxing which almost always affects this title (with the exception of the two plates in part XIII which are a little foxed in the margins). A wonderful set of this early title in the original parts. Chemised in a quarter black morocco over marbled boards slipcase, spine with five raised bands, decoratively tooled and lettered in gilt in compartments. Armorial bookplate of Parkhurst (not the prison on the Isle of Wight) on front paste-down of chemise.
The last complete set in the original parts that appeared at auction was the Kenyon Starling/William Self copy which did have all of the advertisements (Christie's New York, April 2, 2008, lot 58. That copy brought $17,500 including auctioneers premium. Nicholas Nickleby was originally published in twenty numbers, bound in nineteen monthly parts, the last part as a double number from April 1838 through October 1839. The first edition in book form was made up from these parts. "It was the novelist's intention to expose in this story the terrible abuses practiced in the cheap boarding-schools of Yorkshire, and, in order that he realize their true character, he determined to investigate for himself the real facts as to the condition of those notorious seminaries, Accordingly, at the end of January 1838, he and 'Phiz' started on this memorable journey, in bitterly cold weather, and, visiting several schools in the locality, they came into direct contact with the proprietors. One of these was William Shaw, the identical schoolmaster who, some years previously, had been heavily fined for what was represented at the trial as gross maltreatment of his pupils" (Kitton, Dickens and His Illustrators, p. 75). It was Shaw upon whom Dickens based the infamous Squeers. Having made an enemy of his uncle Ralph, Nicholas was sent as an usher to Dotheboys Hall, where Wackford Squeers starved and maltreated forty students under the pretense of education. "The character of Mrs. Nickleby was largely founded upon that of Dickens's mother… [The title character] was founded on Dickens's brother-in-law, Hanry Burnett, a music teacher at Manchester" (Hayward, The Dickens Encyclopedia, p. 115).."H.K. Browne prepared 39 illustrations for this novel, as well as the cover for the monthly parts, while the portrait frontispiece was engraved by Finden from a painting by Maclise. Because of the the large monthly circulation of the parts, Browne etched as many as four plates, in some cases, of each illustration, and all of them were printed in the initial issue of the parts. Many of the plates from 'Miss Nickleby introduced to her uncle's friends' (page 175) onward contain Arabic or Roman numerals which indicate the order in which they were etched. Most of the numerals are located in the lower right corner, and occasionally in the left. Hatton and Cleaver state that the numeral for Plate 31 ('Mysterious appearance of the gentleman in the small-clothes,' p. 487) appears on the front of the mantleshelf…The first state of the frontispiece and the first four illustrations contain the imprint of Chapman and Hall. The first state of the frontispiece always appears in the monthly parts; the first four illustrations were issued with and without the imprint in the parts, but the plates without imprints did not appear in the earlier issues of the monthly parts, and may, therefore, be termed 'second states''' (Smith I, 5).Hatton and Cleaver, pp. 131-160; Smith, Part I, 5; Eckel p.64.
(Offered by David Brass Rare Books)
To view more titles newly listed on abaa.org, click here...
To persue the latest catalogs of rare books and print ephemera from ABAA members, click here...