Meet the latest members of the ABAA.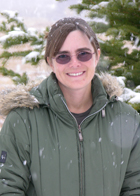 Andrea Peacock is an author and former newspaper journalist who took up bookselling when she and her husband built a new house and didn't have enough room for all their books. She teamed up with Marc Beaudin and in 2011 launched
Elk River Books,
an open shop in the small town of Livingston, Montana, which sits along the big bend of the Yellowstone River. After a few years, she tired of selling $7 paperbacks to tourists, and attended CABS on a friend's recommendation. That changed everything. They moved from their tiny storefront into an enormous building in Livingston's arts district, and refocused on antiquarian and collectible books. She took classes at Rare Book School, and began specializing in works by the Montana Gang and "outdoor literature"—a catchall that includes adventure, Western and Native American history, hunting and fishing, natural history and anything else fun that comes in the door.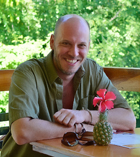 Marc Beaudin is a poet, publisher, and theatre artist living in Livingston, Montana -- dubbed "America's finest open-air asylum" for multiple reasons. In 2011, he added "bookseller" to his stack of hats with the founding of Elk River Books with co-owner and cousin Andrea Peacock. He specializes in outdoor literature, Montana authors, poetry, and work by and about James Joyce. His latest book, a travel memoir called
Vagabond Song: Neo-Haibun from the Peregrine Journals
, was called "a jazzy, freewheeling, rollicking road trip into the beating heart of the Eternal Now" by
Montana Quarterly
, but his hitchhiking days are done, and he now lives in an actual house instead of a tent, tepee, or truck bed, with his wife, four step-children, three chickens, Diego the dog and Frida the cat. He believes the Brahms'
Violin Concerto in D
is more powerful than all the guns, smokestacks, and coal trains in the world. (Photo credit: Ronda Peterson)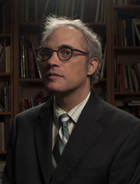 William S. Cotter entered the trade as a restorer of early manuscripts and printed books in 2000, and as such has had the privilige of occasionally glimpsing the anatomies of books few ever see. The spine of an early French coutume lined with a fragment of a 13th-century Hippocratic Oath; a headband core made of a rolled printed sugar wrapper; a slender silver knife hidden in a carved slot in the limewood board of a Czech Bible. It is a similar mystery and potential for surprise that has addicted Cotter to the profession of bookselling, where he continually seeks out the compelling, the curious, the atypical, the enigmatic—early books with histories and personalities that magnify, and sometimes transcend, the texts their pages contain.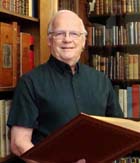 Daryl Hill caught the book bug working in New York City in 1968 with a visit Leo Weitz's shop. His new passion led him to every other like establishment he could find. In 1969, he returned to his native Omaha to marry Joan, his college sweetheart. Joan, a
Summa Cum Laude
graduate of the University of Nebraska and a leading children's librarian, quickly took up his collecting. Throughout moves to Illinois and California and the arrival of three children, Joan built a superb collection. She started dealing books in 1984 and proudly joined the ABAA in 1994 as proprietor of
The Literary Lion
. When Daryl retired from his day job in 1999, he joined her in the business. Joan passed away in 2017. Daryl has been accepted as an ABAA member, working to carry on her tradition of excellence in finding and conveying the best in books and illustrator art.