So, you need a gift for a booklover. The key questions to consider are a), has the person already started collecting books in a focused way, and b), what topics are they interested in? If they have not, and you are trying to spark the collecting bug, then an elegant copy of a tried and tested classic might be in order. If they already have interests and niches they've begun focusing on, then you'll need to do some sleuthing to determine what they already have.

Once we have an idea about the recipient, we can get to work.

A Word of Caution!
Giving a book to a person who's enthusiastic about a particular subject or author has its pitfalls: the person may already have the book you are thinking about giving, or may have rejected it for some reason. The more you know about the recipient's tastes and collection-thus-far the better.
---
The Edible Woman (First Edition)
by Margaret Atwood
Toronto, Montreal: McClelland and Stewart Limited, [1969]. Octavo, boards. First edition. The author's first novel. Very slight spine lean, a fine copy in very good or better dust jacket with touch of wear at edges, 20 mm closed tear and associated wrinkle at bottom edge of front panel, and small bookstore price sticker at lower fore-edge of rear flap. An attractive, superior copy. (Offered by L.W. Currey, Inc.)
---
Signed Editions
But say the person loves Haruki Murakami, the modern Japanese author often spoken of as a future contender for the Nobel Prize. It's easy to find inexpensive copies of almost all of Murakami's works, but maybe a signed edition of one of his novels would make a great gift. Putting Haruki Murakami in the Author field of the ABAA search and checking the "Signed" box under "Show Only" yields over two dozen results (at the time of writing). You can make sure you haven't missed any by doing a couple variations on this search – not checking the "Signed" box but putting signed or inscribed or autographed in the Keywords – these might lead to additional results.
---
Blind Willow, Sleeping Woman (Signed)
by Haruki Murakami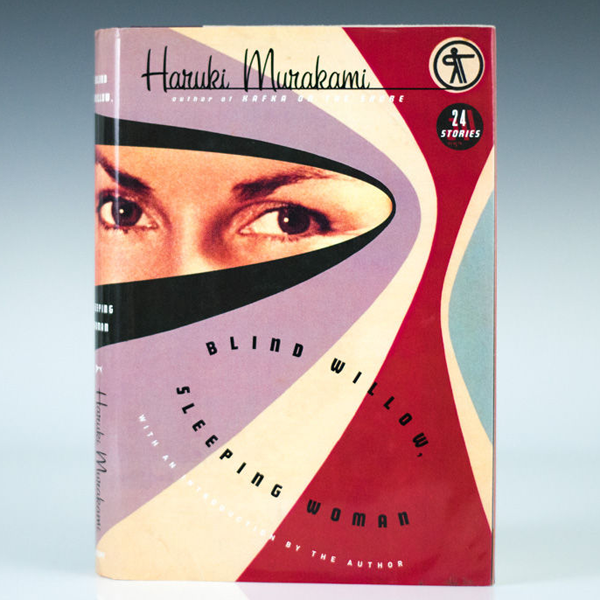 New York: Alfred A Knopf, 2006. First edition of this collection of twenty-four stories by Haruki Murakami. Octavo, original half cloth. Signed by Haruki Murakami on the title page. Additionally signed by the dust jacket illustrator, Chip Kidd on the back flap. Fine in a fine dust jacket. Translated from the Japanese by Jay Rubin. "Everything I write is a strange tale," Haruki Murakami says in his preface to this collection. Admittedly, his fusion of Eastern and Western elements of story and reality to create a uniquely surreal landscape of human and otherworldly experiences may be a little too strange for some readers. In addition, he asks more questions than he answers about his protagonists and their unusual situations. Yet those accustomed to his weird ways will find a lot to enjoy here, including many of his most popular New Yorker pieces. While it's clear that many of the stories are sketches made in preparation for the grand artistry of his novels, most, if not all, stand very well on their own. (Offered by Raptis Rare Books)
---
ABAA Code of Ethics
One way that the ABAA distinguishes itself when it comes to signed items is that all ABAA members are bound to a strict code of ethics and standard of business practice; all ABAA members' items come with an implicit guarantee of authenticity, so that buyers can be confident that signed items bought from ABAA members are not phonies. My personal experience is that online auction platforms, and other used book websites that list items from multiple vendors, are peddling thousands of items with fraudulent signatures and forged inscriptions, and no serious attempt is made to police these hucksters, even those who have long track records of offering bogus material.
Just yesterday, someone came into our shop and offered us a first edition of Jack London's White Fang signed by London on the title page. The person had bought it on one of those online auction sites, and the seller had provided a COA (Certificate of Authenticity) with it. The COA looked like a college diploma, with a gold seal, and was signed by some guy in Los Angeles who claimed to have been in the book business for thirty years, yada-yada-yada. Googling him and his business led to zilch: he didn't exist. The signature was done in ball point pen (invented decades after London died). It was so clearly a fake, it wouldn't have deceived a ten year old.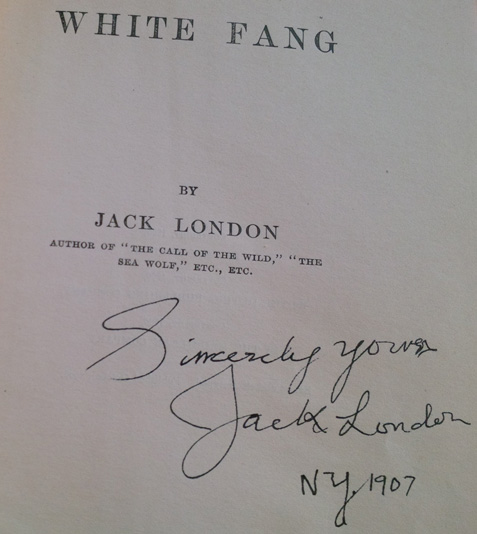 A rule of thumb: if it comes with a COA, that's reason alone not to trust it. If I, as an ABAA dealer, tried to sell this London as a signed copy, I'd be tossed out of the organization. (I bought it from the fellow, just to have an example around of the kind of trouble people can get into if they don't deal with a trustworthy vendor.)
Search by Price Range
Or say the person loves Jane Austen, but first printings of her works are out of your price range. Another way to use the ABAA site is to establish price parameters, or enter other terms that might yield the perfect gift. In the case of Austen, there might be an edition of one of her novels in a fine binding, that is, a book rebound in leather by one of the binders who specialize in this, such as Riviere, Bayntun, or Sangorski & Sutcliffe. Putting Jane Austen in the Author field, establishing a price range, and further narrowing the results by putting in Keywords such terms as leather or fine binding or morocco or one of the binders' names mentioned above might give you a not-overwhelming number of items to choose from.
---
by Raymond Chandler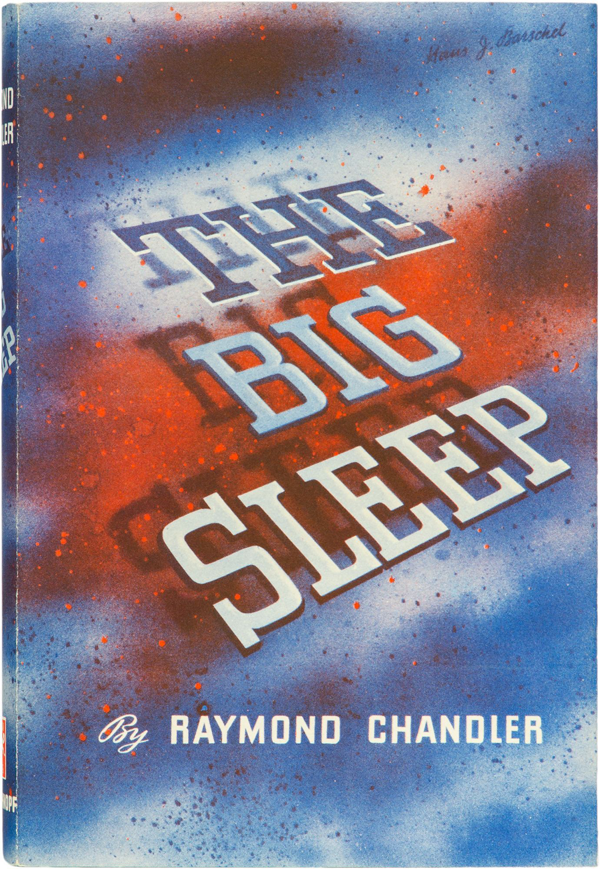 New York: Knopf, 1939. First Edition. cloth. Near fine/Fine. 1st edition of his first book. Near fine in a fine dust jacket, a crease on the back, but fresher than an Italian bachelor, luminous and pristine, with lively colors (whites on the spine are bright white), a fugitive from the law of averages. Here is a dust jacket that glows in places that other jackets don't even have places, one that could only be brighter if it had an arc of blue electricity around it, ideal for an old elephant hunting the youngest leaves at the top of the tree. In contrast, for half our price, you can buy one in a very good jacket (repaired ones should be even cheaper), but copies that are not fine will prove common forever, and deliver all the lasting pride of a Thanksgiving Day trash bag torn open in a winter wind. And don't fall for spangled online descriptions praising other Big Sleep jackets as being in fine condition compared to this one, because the itch to hedge such narratives spurs more lies than taxes, sex, diets, profiles, and resumes, but our copy is all good chi. Welcome to the high ground. Breathe the clean air in the biblioctosphere.
The Big Sleep introduces Philip Marlowe (the detective), patient as a sorrow and solitary as an oyster, poking around a rootless L. A. run by The Combination, in the days before SoCal took itself seriously, half a sleepy town, half an emerging metropolis, filled with all the risks and none of the monitoring still commonly met with in adolescent cities. The Big Sleep also introduces Raymond Chandler (the writer), polished and subtle, skilled beyond his genre of choice, and able beyond even his mainstream peers. He sets the novel in his present, during the depression, so money influences all the action, and everybody is disillusioned and cynical, including Marlowe, but Marlowe owns his morality, a white cavalier alone in the noir, and Chandler's control of symbolism pictures him (in the beginning) posed as a knight in a stained glass window, and later (in action) with a knight's move on a chess board. And there are contrasts, like the deserted oil fields with rusted pumps, the very oil fields that made General Sternwood his millions, analogized against the luxury of his home, grand and gaudy, which has come out of the oil fields, although the place from which the money came is a ruin. And Chandler can paint too, and does so with an ambiance that is thick and shady and corrupt, but still familiar, and there is foreshadowing ("It was going to rain soon. There was pressure in the air already"), so the reader is inclined to guess where events are going but seldom gets it right. And then there are his characters, who all get double crossed, but behave believably, and his lovely tropes, sarcasm's, and rhetorical devices, and most obvious of all, is the complexity of his plot line, wherein sequence flows from necessity, though not all the loose ends get tied in resolution (Who killed the Chauffeur?). And at any point in the story someone, or something, new may enter from stage left with potent impact. (Offered by Biblioctopus)
---
Using ABAA.org for Research
Nothing beats going into a bookshop and asking a knowledgeable clerk for recommendations. The better the clerk the more intuitive and informed his/her questions will be that will guide you to a great gift. But here, too, the ABAA's website can serve as a viable substitute. Say your husband is interested in calligraphy. There are three ways the ABAA website can help you find a book for him:
On the homepage of the ABAA up toward the top there are a number of menu options: Browse & Shop | About the ABAA | About Antiquarian Books | Booksellers | Events. Click on Booksellers and this leads you to the booksellers page, where you can search by state, region, or specialty. Clicking on specialty gives you a long list to choose from: clicking on Calligraphy in that list leads to results of a few booksellers, any one of whom you can contact by phone or email to get further advice on a good calligraphy book.
If, instead of Booksellers, you click Browse & Shop, you will be directed to a page that has search capabilities as well as a list, down the left column, of featured categories. Hovering your cursor over "Art, Design & Decorative Arts" yields a further menu of narrower options on the right; moving your cursor to the right you can click on Calligraphy, and then click below that, View Selected Topics. This will direct you to results that have photos or images attached to their descriptions. To get further results, you can unclick "Items with Photo" – the last item in the Refine Search column on the left and you will see considerably more results.
Finally, on either the homepage or the Browse & Shop page you can put calligraphy or some variation thereof in the keywords and see what turns up.
Buying for the Serious Collector
What if you are trying to buy a gift for a seasoned collector? We find it's best to steer the giver away from books in this case, unless the collector has made some noises about not being able to find a certain book or edition. Buying a random "first edition" of a Hemingway novel for a person who has been collecting Hemingway for decades is going to inevitably result in a poor gift exchange experience: the wan smile, followed by, "Across the River and Into the Trees…wow…that's really nice…uh, it'll make a nice third copy to have in case my other two get stolen…"
(Incidentally, NEVER give Across the River and into the Trees to a Hemingway lover. I read it recently and it is the worst book of his published in his lifetime by a long shot, the story of a hard drinking, macho American army guy with a bad heart in post WWII northern Italy and his obsession with a teenage girl in Venice. It's so stupid. And the sex scene in a gondola is all too creepily revealing of Hemingway's weird fantasy life. Ugggh.)
However, if the seasoned collector has given you some clues as to what to look for, here the ABAA website can help as well. Perhaps he is looking for the "first state" of Sun Also Rises. You are not quite sure what that means. There are two ways the ABAA can help, first, there is a glossary of book terms, under About Antiquarian Books, where you can click on "State" and find a definition. Or, you can put "Sun Also Rises" into the search box under Title and first state in Keywords The results will inform you that "stopped" is spelled with three p's on p. 181, line 26 of the first state, and corrected in later states. You will find a range of prices for the first state and that will guide you in your gift giving.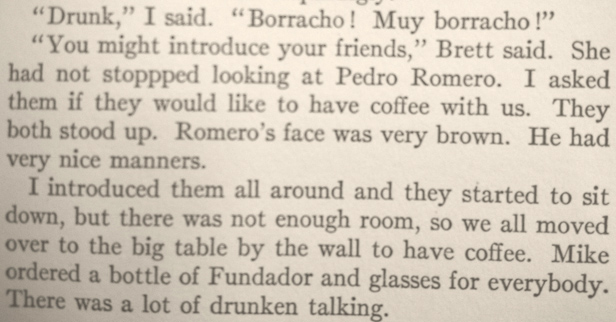 The Sun Also Rises, pg 181.
And he will open up the package and take out the novel. "Yes, this is a good copy. It is the first state and that is good."
"Yes," you will say. "I found it on the ABAA website from a very good bookseller. Do you love me?"
"I love you very much. You are good and true. The bookseller is good and true, too."
---
by Herman Melville (Illustrated by Rockwell Kent)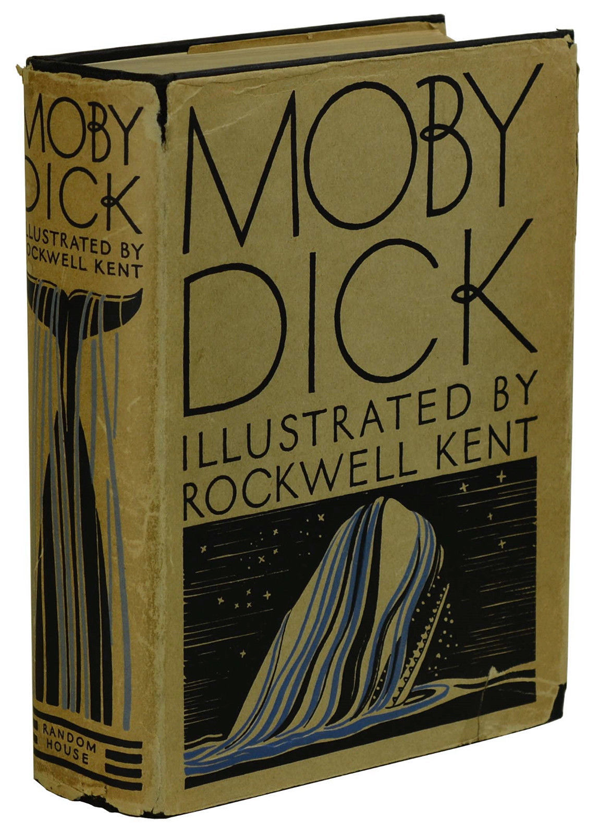 New York: Random House, 1930. First Thus. Hardcover. Very Good. First edition thus. Near Fine with bump to top corner of boards, pages toned. Silver stamping rather bright and fresh, with just a hint of rubbing. Dust jacket with spine toned, a bit of chipping and loss, rubbed at folds, with tape and mending tissue repairs made from the verso with the front flap formerly completely detached and mended, else Very Good. A lovely example of Melville's classic illustrated by Rockwell Kent, uncommon with bright silver stamping and in the dust jacket. (Offered by Burnside Rare Books)
---