Regarded as one of the world's largest and most prestigious exhibitions of antiquarian books, the California International Antiquarian Book Fair gives visitors the opportunity to see, learn about, and purchase the finest in rare and valuable books, manuscripts, autographs, illustrations, vintage photographs, and much more.
Preview some of the most-unusual, rarest, and most-beautiful rare books and other items that members of the ABAA will be exhibiting at the fair below. The fair tales place in Oakland, CA over the weekend of February 10-12, 2017, and, as always, all items are subject to prior sale!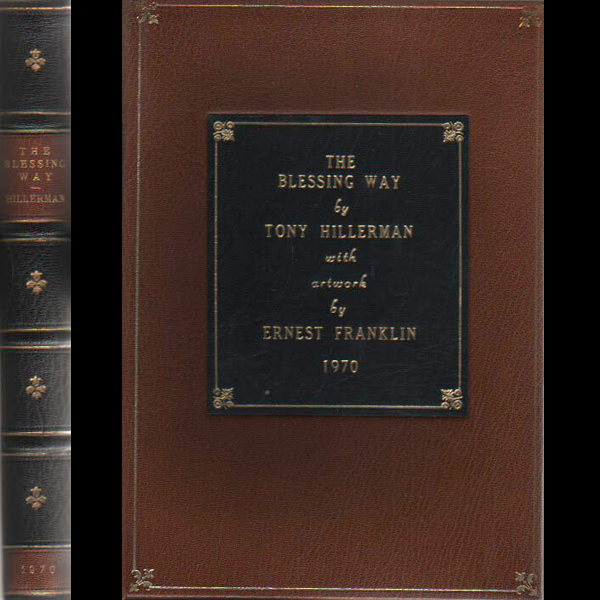 Hillerman, Tony. The Blessing Way.
NY, Harper & Row, 1970, first edition. This is the ultimate copy of Author's First Book, it is an Inscribed Presentation/Association Copy of the highest order, inscribed by Hillerman to Navajo artist Ernest Franklin who went on to create a cottage industry wherein he illustrated many of Hillerman's titles in an after-market situation where individuals brought him copies of Hillerman's books for Franklin to illustrate, the vast majority of such books include just one illustration by Franklin, this one has 30 (!) illustrations by Franklin in addition to Hillerman's doubly signed inscription ("with my thanks to/Ernie Franklin/for showing me/what Leaphorn/looks like/TH"), the inscription is on the title page, Hillerman has additionally signed his full name under his printed signature on the title page, Joe Leaphorn is the Navajo tribal policeman created by Hillerman with this book (and who appears in many of his subsequent books) who solves the mysteries that Hillerman created, there is one small black ink drawing, 18 quarter-page black ink drawings, one full-page black illustration, and 10 full-page color illustrations, the book has been re-bound in full black leather with four raised bands on the spine, with gilt rules and decorations on front and back covers, spine with gilt rules, decorations, a title/author panel in gilt, and date of publication panel also in gilt, now housed in a custom clamshell case. Fine. (Offered by James M. Dourgarian, Bookman Booth 709)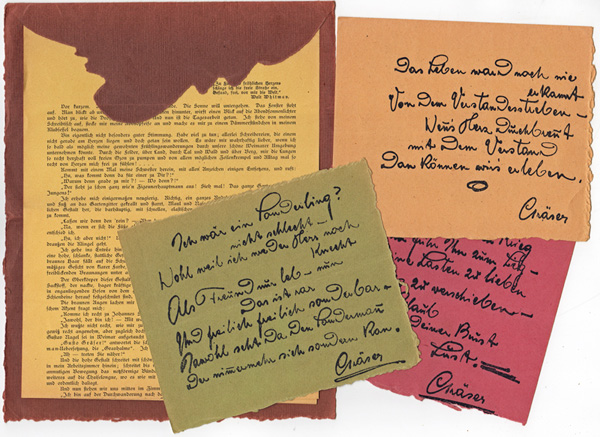 Archive of Four Publications by Gusto Gräser, Guru to Herman Hesse, the model for Hesse's masters & forerunner of the Hippies. ca. 1910-20.
Three cards on colored heavy craft paper with Grasner's poetry and a brown craft paper portfolio, with a tipped in offprint: "Gusto Gräser von Johannes Schlaf (Weimar)." Any publications by Grasner prior to 1930 are rare. (Offered by Kaaterskill Books, Booth 106)
MUYBRIDGE, Eadweard James (1830-1904). Panorama of San Francisco from California St. Hill.
San Francisco: Morse's Gallery, 1877. Folding albumen photographic panorama mounted on eleven panels, (7½ x 87¼ inches overall), backed with cloth, caption title, photographic credit, and publisher's imprint printed on center panel. (Old staining to the panels below the photographic prints). Original gilt cloth binding (some old dampstaining to the lower edge of the covers), cloth chemise, half morocco and cloth slipcase, spine gilt.
One of the landmarks of 19th-century American photography, and an iconic image of San Francisco. This remarkable panorama dramatically shows the growth of San Francisco nearly thirty years after the onset of the Gold Rush. In the 1870s, San Francisco audiences were hungry for panoramic displays, and the rest of the country was intrigued by San Francisco, the largest city in the West. Muybridge satisfied all appetites by providing a 360° degree view of the city, creating what Rebecca Solnit calls "an impossible sight, a vision of the city in all directions, a transformation of a circular space into a linear photograph." David Harris calls Muybridge's San Francisco panorama "one of the supreme conceptual and technical achievements in the history of architectural photography." (Offered by Donald A. Heald Rare Books, Booth 301)
Bowles, Paul. Archive of Paul Bowles Letters. Written to Patrick Eddington of Salt Lake City, Utah (Winter 1978 to Spring 1985)
1978-1985. This archive is comprised of thirty-one letters written by Paul Bowles to Patrick Eddington of Salt Lake City, Utah. Twenty-eight TLS (typed letter, signed) and three ALS (autograph letter, signed), typed/written on 8.25" x 10.75" single sheets of onion skin (format consistent, except in a few cases,). Letters with return address (printed or typed) and dates (typed) at top right. Each letter signed in ink by Paul Bowles. Some letters have corrections and added content in Bowles' hand. All of the letters but one are accompanied by their original addressed and postmarked envelopes (standard 5.75" x 4.5" international size). Some additional material is present, including five small photographs, and some xeroxed sheets of copied artwork. A detailed write-up is available upon inquiry. (Offered by Ken Sanders Rare Books, Booth 804)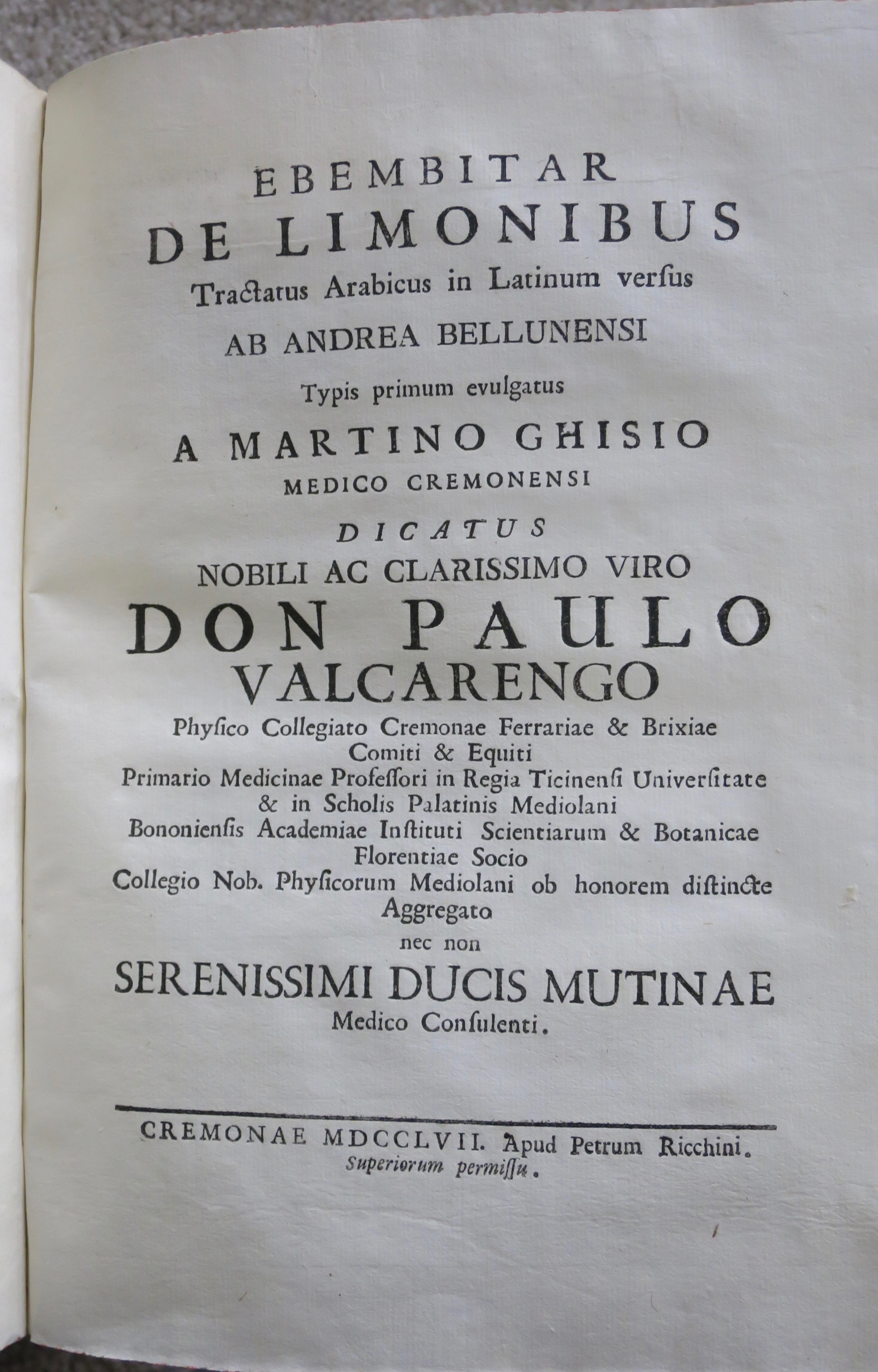 GHISI, MARTINO RICCHINI. (1715-1794). De Limonibus… Cremonae: Apud Petrum Ricchini, 1757.
Edited and corrected text of A. Bellunensis's Latin translation. Very Scarce! (Offered by Antiquariat Botanicum, Booth 208)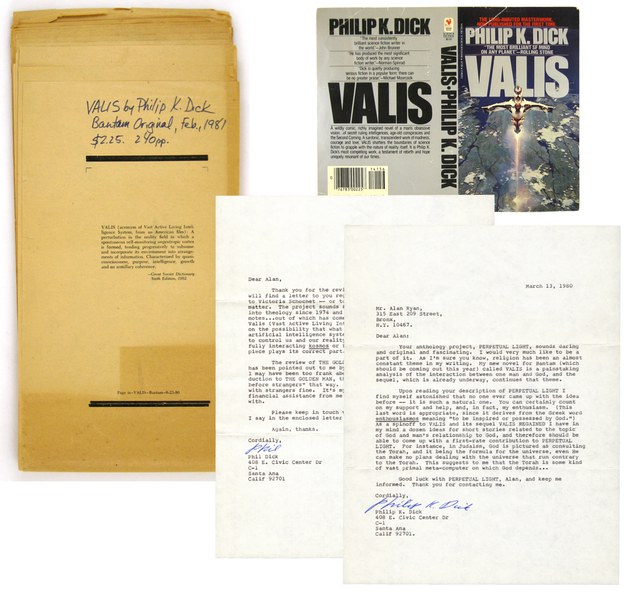 Dick, Philip K., Galley Sheets for VALIS, with Typed Letters Signed.
1980. Long galley sheets for Dick's novel VALIS (Vast Active Living Intelligence System), with two typed letters signed to Alan Ryan, fellow science fiction writer and editor of the religiously-themed speculative fiction anthology Perpetual Light. Both letters are dated March 13, 1980, with one being for private reading, thanking Ryan for his review of Dick's The Golden Man and discussing VALIS; the second being for Ryan to show to others, espousing enthusiasm for his planned anthology. The VALIS galley sheets for this 1981 Bantam paperback original are dated 6-23-80: approximately 68 sheets of 25" in length, age-toned with minimal edge wear, in a custom folding chemise and slipcase. Casual inspection revealed one textual difference from the published version. Near fine; the letters are folded in thirds, else fine. Also laid in is a very good copy of the proof of the Bantam covers, which differs from the final version by virtue of the absence of the Bantam logo on the front cover. A very scarce issue of the book that would become the capstone to Dick's literary career. Long galleys such as these are seldom produced in more than a couple of copies, and very seldom turn up for books that were issued as paperback originals. It's ironic that Dick's culminating novel, which transcends science fiction's usual boundaries, would be issued as a paperback original: Dick had so many books issued as paperback originals in the 1950s and 60s, before his books came to be regularly published in hardcover, that the Science Fiction Writers of America named an award after him, the Philip K. Dick Award, for the best SF novel issued as a paperback original. Dick spent the last several years of his life striving for recognition as more than a science fiction writer, and VALIS could have been that break-out novel, had it not reverted him to his former identity as a writer of paperback originals. A rare issue of a major Dick novel, along with two very revealing letters to a fellow writer and colleague. As far as we can tell, unique. (Offered by Ken Lopez, Bookseller, Booth 1015)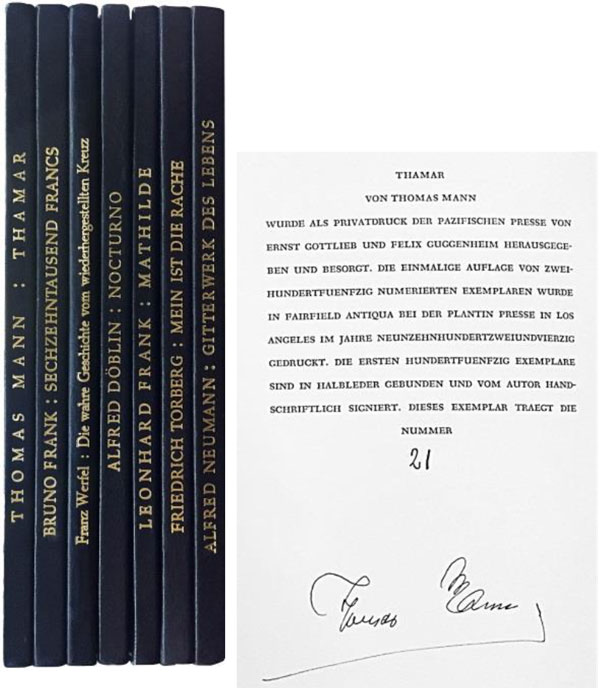 SUPPORTING IMMIGRANTS TO CALIFORNIA
COMPLETE SET OF THE FIRST PUBLICATIONS OF THE PAZIFISCHE PRESSE
THE SIGNED SUBSCRIBER'S EDITIONS
PAZIFISCHE PRESSE. Seven volumes. Each bound in the original publisher's cloth-backed boards, author and title in gilt on spine; uncut. Set number 21 of the 150 Subscriber's editions printed and signed by the author on the colophon. Each volume is a superb copy, like new. Original editions of the first seven books published by the Pazifische Presse, the only publisher who settledon the west coast after emigrating from Nazi Germany. Each of the first seven volumes (of a total of eleven books ultimately released) were printed at Saul and Lillian Marks' Plantin Press in Los Angeles. All of the authors lived in the Los Angeles area, many working for the major film studios. Thomas Mann received the 1929 Nobel Prize in literature. The books include: 1. MANN, Thomas. Thamar (1942); 2. WERFEL, Franz. Die wahre Geschichte vom wiederhergestellten Kreuz (1942); 3. FRANK, Bruno. Sechzehntausend Francs (1943); 4. FRANK, Leonhard. Mathilde (1943); 5. NEUMANN, Alfred. Giterwerk des Lebens (1943); 6. TORBERG, Friedrich. Mein is die Rache (1943); and 7. DÖBLIN, Alfred. Nocturno (1944). (Offered by B&L Rootenberg Rare Books, Booth 103)
19TH-CENTURY PHOTO-ALBUM WITH 90 ALBUMEN PRINTS FROM THE FRATELLI ALINARI
Alinari, Leopoldo, Giuseppe, and Romualdo (Photographs by). Florence. NP: NP , ND (ca 1880). Original photograph(s).
Oblong folio (16 x 20 1/2"). [83] leaves. 19th-century quarter blind-stamped cloth over floral decorative wooden panels, with light green lettering to front cover.
Striking 19th-century photo-album containing 90 albumen prints (including 81 mammoth plates) by the celebrated Fratelli Alinari.
The photographs are mounted on heavy cardstock and are essentially pertaining to the art, historical monuments and landscape of the stunning city of Florence, Italy.
Of the 90 albumen prints, the first 57 depicting various views and monuments are mammoth plates, with size varying from 10 1/4 x 13 1/2" to 12 1/2 x 17". Some faint scratches to covers. Offsetting and foxing along edges of endpapers. Sporadic foxing to fly leaves, and along edges of plates (not affecting the albumen prints). The margins of plates 3-18-49, and 56 have been expertly repaired. Binding in overall good to good+, interior in good to very good, albumen prints in very good condition. g to vg . Hardcover.
Founded in Florence in 1852 by Leopoldo Alinari and his brothers Giuseppe and Romualdo, "Fratelli Alinari" is the oldest firm in the world working in the field of photography, the image and communication. The birth of photography and the story of the company go hand in hand in their development and growth, as attested by the immense Alinari owned fund of 4,000,000 photographs collected in the Alinari Archives. (Offered by Eric Chaim Kline Bookseller, Booths 912 & 913) )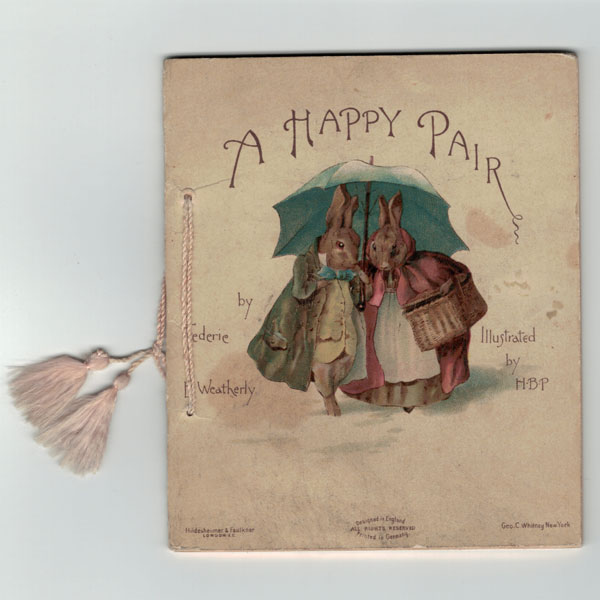 This 1890 greeting card contains Beatrix Potter's first published illustrations, which accompanied a poem by Frederick Weatherly, and is one of just a handful of copies that survive. It is especially rare in undamaged condition with the original pale rose silk tassels wholly intact. Weatherly was also the author of the lyrics to `Danny Boy'. Beatrix Potter, of course, later gained immortal fame with her Peter Rabbit stories. Only one copy at auction in the last twenty-five copies was comparable to our copy, fetching $31,250 in 2012, and a copy has fetched as much as $55,000 (with ink spots, the tie-holes pulled, and the spine ends splitting). (Offered by Mac Donnell Rare Books, Booth 908)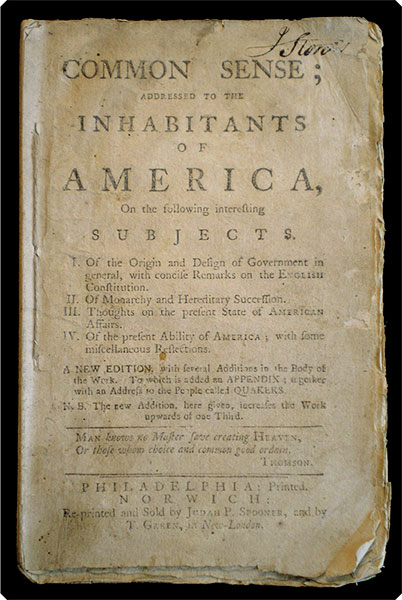 "Nothing But Independence . . . Can Keep the Peace of the Continent"
Paine, Thomas. COMMON SENSE; addressed to the inhabitants of America.
The longer and scarcer edition of two printed at Norwich, CT, in 1776; an uncut copy with original stitching of "the most incendiary and popular pamphlet of the entire revolutionary era." In a quarter red morocco clamshell case, spine nicely gilt. (Offered by Philadelphia Rare Books & Manuscripts Co., Booth 416)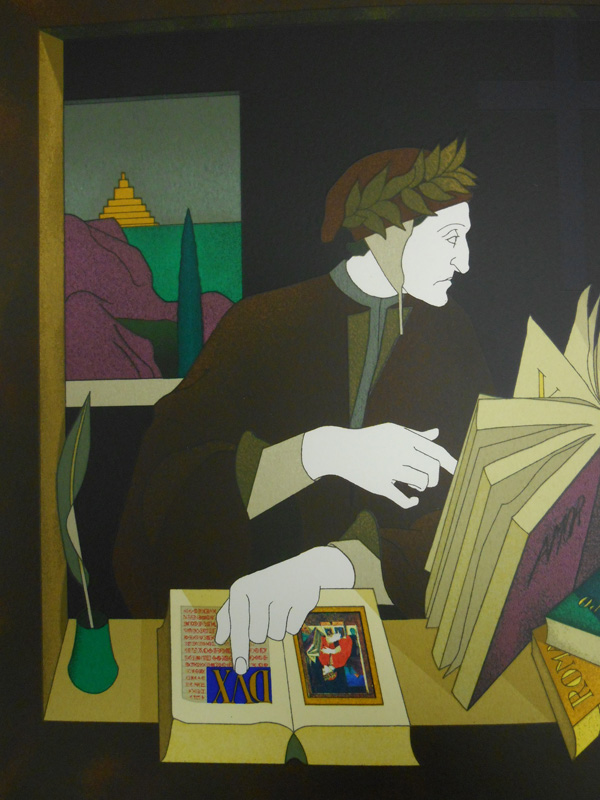 Dante Alighieri, artwork by Tom Phillips. Dante's Inferno.
London: Talfourd Press, 1983. Published in two large folios (unbound sheets), each in its own clamshell box, this no. 90 of 100 copies (out of a total edition of "approximately" 185). Considered one of the greatest artist books of the twentieth century, Tom Phillips' version of Dante's Inferno is comprised of 138 illustrations worked in intaglio, lithograph, and silkscreen, and took seven years to make. (Offered by Swan's Fine Books, Booth 712)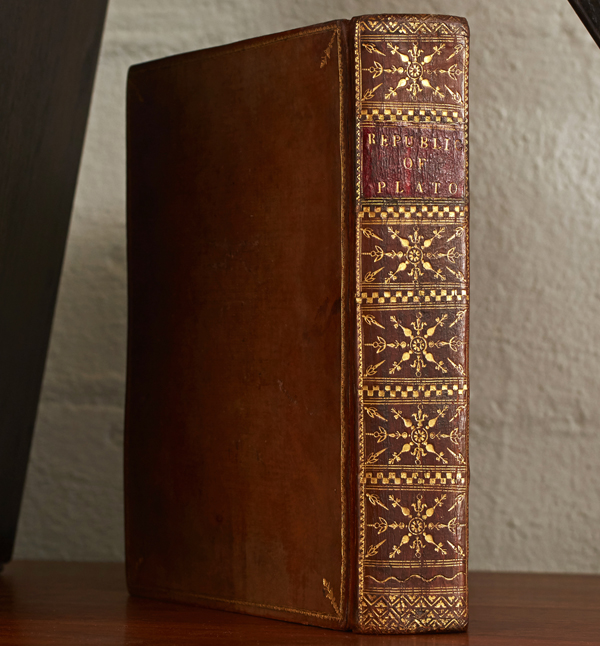 Plato; Spens, Henry (translator). The Republic of Plato. In Ten Books. Translated from the Greek by H. Spens. With a Preliminary Discourse Concerning the Philosophy of the Ancients by the Translator. Glasgow: Robert & Andrew Foulis, 1763.
Quarto, contemporary calf, boards ruled in gilt with decorative cornerpieces, rebacked with original spine laid down, spine compartments elaborately decorated in gilt, red morocco spine label lettered in gilt, marbled endpapers. Complete with final leaf of publisher's advertisements. Bookplate of Dunnichen Library to front pastedown, shelfmarks to front fly leaf, inscriptions reading "From the Author to G. Dempster / 18th Nov 1784" (pencil) and "From the Author to George Dempster / 18th Nov 1784" (ink) on second front fly leaf. Closed tear to second front fly leaf, expertly mended.
First edition in English, presentation copy, of Plato's Republic, translated by Scottish classicist Henry Spens "to stir up the youth to the study of the Ancients," and published by the Foulis brothers at the University of Glasgow. (Offered by Honey & Wax Booksellers, Booth 903)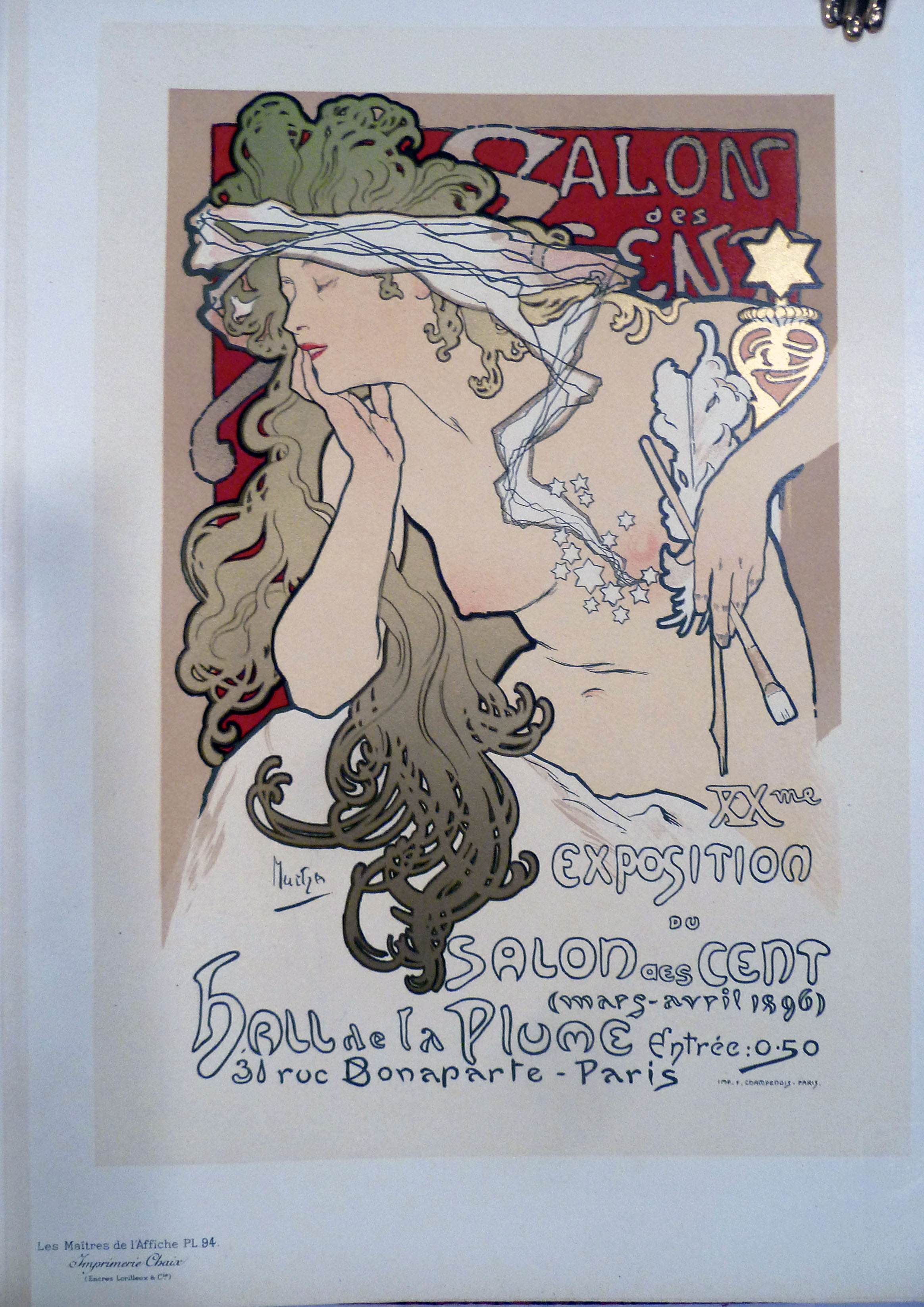 Marx, M. Roger (Preface). Les Maitres de l'Affiche Publication Mensuelle contenant la reproduction des plus belles Affiches illustrees des grands artistes, francais et etrangers.
Paris: Chaix, 1896-1897, 1900. First edition. Folio, 41 x 32 cm. Our copies, Vols 1-2, and 5 contain 140 fine color lithographs after posters (of 148). Four text pages by Marx in year 1896. Volume one complete with Plate Nos. 1-48, plus the original cover design by Cheret. Four text pages by Marx in year 1897. Plate Nos. 49-100 (lacking plates 49-52), and with a Cheret bonus plate. Year Volume 5 with Plate nos. 193-240 (lacks193-196) with three bonus plates, by Paul Bertha, Leander and Cheret. Artists in this series include Steinlen, Mucha, Toulouse-Lautrec, Bonnard, Forain, Grasset, Meunier, Louis Rhead, Dudley Hardy, Beggarstaff, Edward Penfield et al. Under the artistic direction of Jules Cheret, the father of poster art (1836-1932), the prints were published as a monthly subscription. In addition to the four prints disseminated every month, there were 16 bonus plates each originally designed by noted artists, each lithograph with Maitres de l'Affiche blindstamp (LUGT 1777c). The varied selection of prints were sold in packages of four and delivered monthly to subscribers. On sixteen occasions during the selling period between December 1895 through November 1900, the monthly package included a bonus of a specially created lithograph. Maîtres de l'Affiche (Masters of the Poster) refers to 256 color lithographic plates used to create an art publication during the Belle Époque in Paris, France. The collection, reproduced from the original works of ninety-seven artists in a smaller 11 x 15 inch format. Plates bright and fresh, two bookplates inside front cover pastedown in all three volumes, raised bands, spine lettered in gilt, backstrips rubbed at extremities. Quarter brown morocco and marbled boards. Very good. (Offered by Roy Young Bookseller, Booth 511)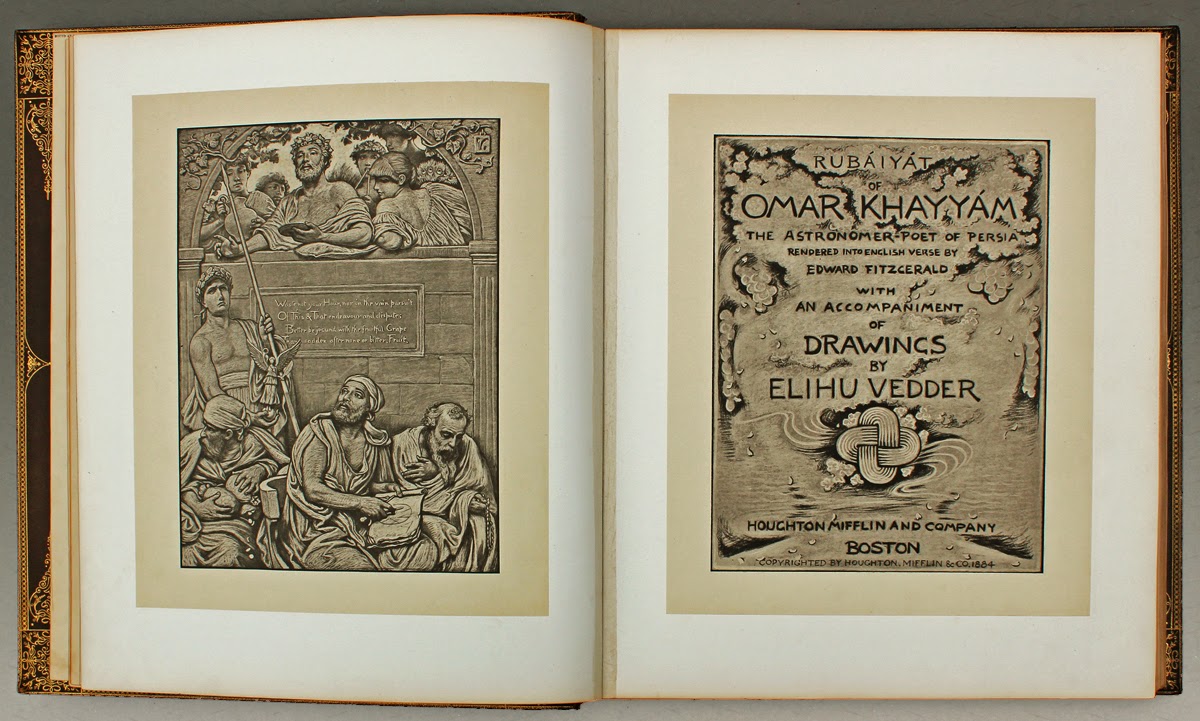 (Vedder, Elihu, illustrator) (Fitzgerald, Edward, translator). The Rubaiyat of Omar Khayyam the Astronomer-Poet of Persia Rendered into English Verse by Edward Fitzgerald with an Accompaniment of Drawings by Elihu Vedder.
Boston: Houghton Mifflin and Company, 1884. First Edition, #80 of the deluxe limited edition of 100 copies, each signed by Vedder. Large folio, bound in original full brown morocco, all edges gilt, cover and spine elaborately stamped in gold and black with inner dentelles and silk endpapers, all designed by Vedder. 57 leaves of heliotype plates with illustrations and decorative borders plus 8 leaves of text mounted on heavy Japanese vellum sheets on linen guards. Interior with light occasional foxing, upper front exterior hinge and lower corner professionally restored, else a Fine, bright copy, rare thus.
"Perhaps the most famous of all Rubáiyát illustrations are those of Elihu Vedder… also the first to be published, and helped usher in the so-called Golden Age of book illustration and design. The artist's control over the design of the entire book - from the embossed cover and the endpapers to the hand-drawn letters — set a precedent for artist-made books on both sides of the Atlantic." (The Harry Ransom Center's 2009 exhibition The Persian Sensation: The Rubaiyat of Omar Khayyam in the West)
"A milestone among publishers' bindings... This book brought Pre-Raphaelite aesthetics and modern Symbolism into the American home. Vedder… also designed the cover, which was dramatically of its time and beyond." (Richard Minsky in The Art of American Book Covers) (Offered by Carpe Diem Fine Books, Booth 215)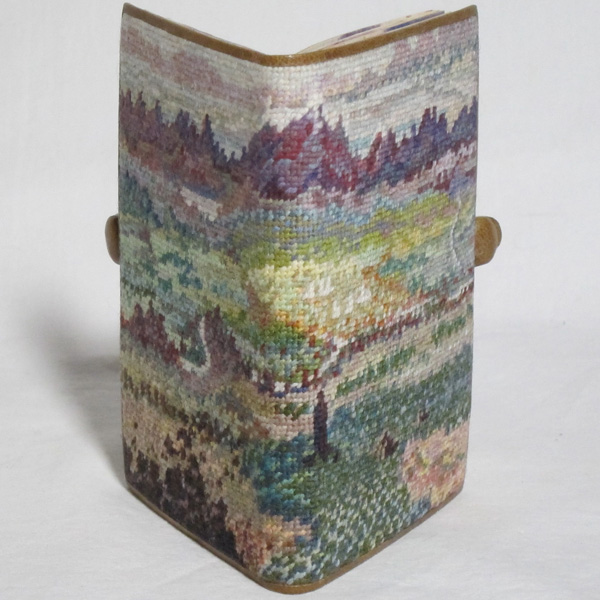 A Book of Visual and Verbal Contemplations, Philip Smith
(Yatton Keynell, Wiltshire, UK): Philip Smith Design, 1988. 3 x 4 1/2". Original needlepoint covered boards by Sarah Windrum, with continuous landscape design by Philip Smith, edged with beige morocco and with morocco-covered press stud closure, marbled paper leaves with various quotations in Philip Smith's hand, signed on the colophon by both Smith and Windrum, in fine condition.
A stunningly beautiful book from cover to cover. The tapestry is expertly worked by Sarah Windrum, a well-known UK embroiderer and author. The marbled papers, design, and binding were done by Philip Smith, an internationally well-known bookbinder and book artist who was awarded gold and silver medals in several international competitions. (Offered by The Book Lair, Booth 91)

A striking, powerful and mammoth Dispensationalist banner
For Ruth Watkins Evangelist / By permission of the author Clarence Larkin, DANIEL and REVELATION COMPARED. (Sacramento, CA area, ca. 1930s-early 1940s.)
Hand-painted polychrome banner on canvas, 46 ½"h x 136 ¼"w at edges. Metal grommets inserted all along edges to allow for hanging, with remnants of string ties. Some soiling and minor areas of abrasion, but very good or better for an artifact that probably saw some hard use. Accompanied by a heavily-annotated, battered and possibly incomplete copy of Clarence Larkin, Dispensational Truth (Philadelphia: Rev. Clarence Larkin Est, 1920), bearing the ownership inscription of "Guy L. Watkins, 474 South "W"[?] St. Tulare, [California.]" (Offered by Boston Rare Maps, Inc., Booth 608)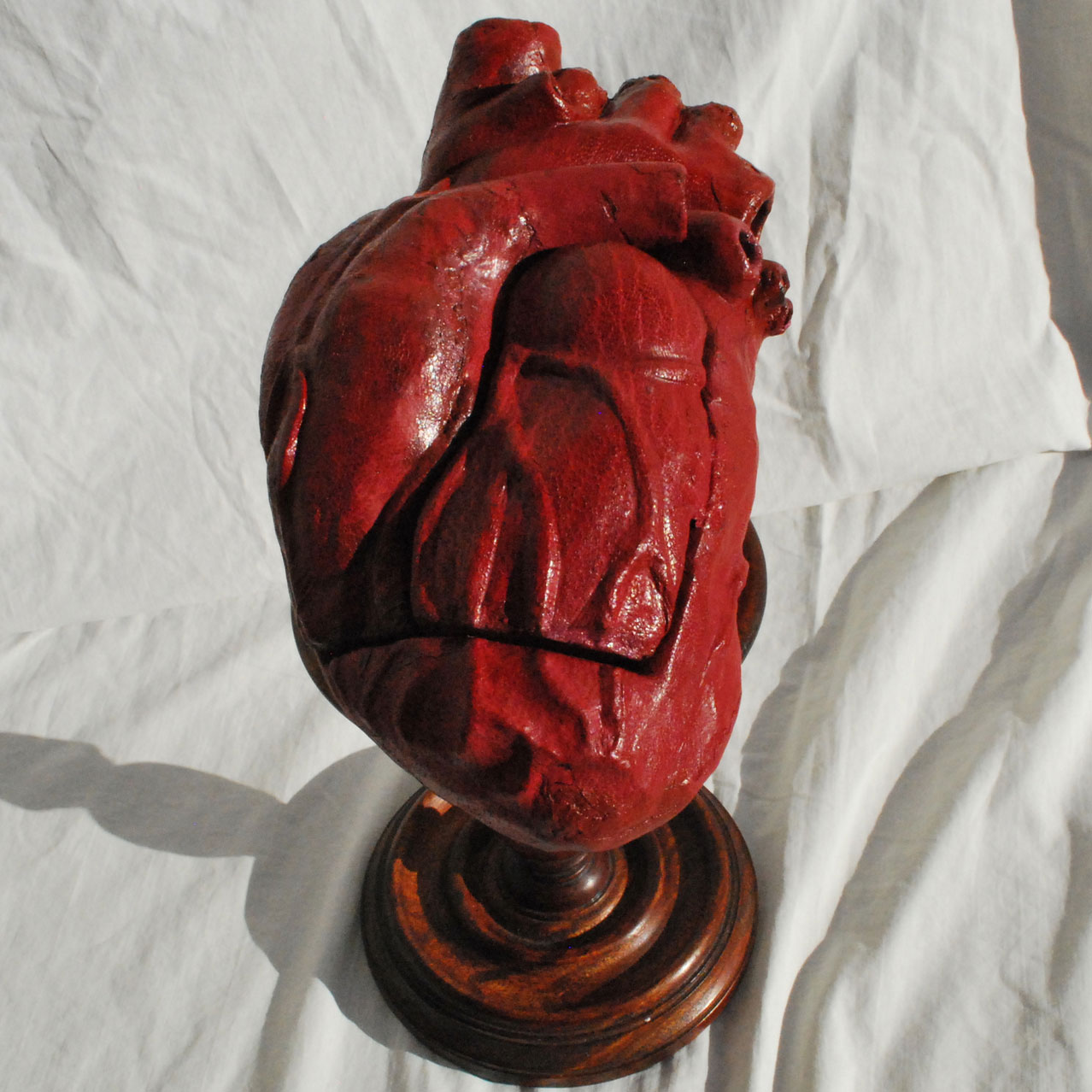 Jack the Ripper: A Bloody Alphabet. With Illustrations by Kristi Wyatt.
RICHARDS, Sean E.
Norman, OK: Byzantium Studios Limited, 2014. 32mo. 3 1/2 x 2 1/2 inches. Unpaginated. [50] pp. Engraved illustrations throughout, including facsimiles of 2 letters written at the time of the murders; text clean, unmarked. Hand-bound by Sean Richards in gilt-ruled red morocco, raised bands, marbled end-papers; binding square and tight. Housed in a box built up with papier-mâché into the shape of a human heart, covered with red morocco onlays, two brass hinges are embedded and pinned into the papier-mâché upon which are hinged two door that open forward to reveal the morocco-lined box that holds the little book. Comes complete with a wooden anatomical specimen stand hand-turned by a local wood-worker. Fine.
LIMITED EDITION of 95 copies, this is one of 20, SIGNED and Numbered 14, and housed in a human-heart-shaped box, and includes a wooden anatomical specimen stand for display. This artist's book reflects Sean Richards' life-long fascination with Jack the Ripper and his years of research on the Victorian crime spree attributed to this shadowy character. It also displays Richards' virtuosity as a visionary artist and creative bookbinder, who manifests his ideas in leather and papier-mâché. (Offered by John Howell for Books, Booth 914)

AN ORIGINAL PHOTOGRAPHIC ALBUM OF COSTA RICA, INCLUDING CHARLES LINDBERGH'S VISIT TO SAN JOSE

Labeled "Costa Rica – May 1927 to Oct. 1928," the album contains 176 black and white photographs, most measuring 3" x 5" or larger, capturing glimpses of a young woman's travels in Costa Rica. Notably, the album contains 14 original black and white photographs of famed aviator Charles Lindbergh's departure from San Jose, Costa Rica on January 9, 1928. These original images show Lindbergh on the airfield, the pilot testing the propeller, and the painting of the Costa Rican flag on the Spirit of St. Louis. Lindbergh's goodwill tour of Latin America and the Caribbean started in New York on December 13, 1927 and lasted until February 8, 1928. (Offered by johnson rare books & archives, Booth #802)
Dickens, Charles. Autograph Letter Signed From Charles Dickens to Charles Reade, author of The Cloister and the Hearth (1861).
1869. Dickens died from exhaustion and from complications of a stroke on June 9, 1870. (Offered by Johanson Rare Books, Booth 410)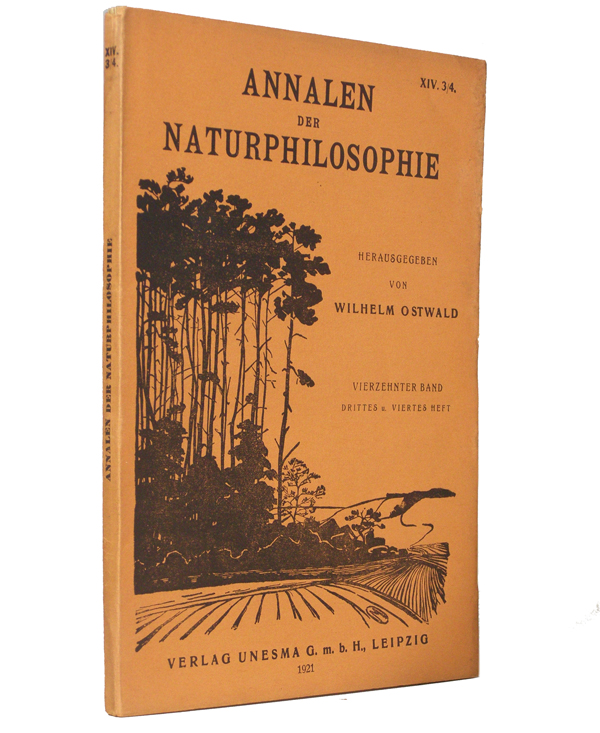 The Original Journal Publication of the Tractatus
WITTGENSTEIN, Ludwig. Logisch-Philosophische Abhandlung (A Logical-Philosophical Treatise) in Annalen der Naturphilosophie, herausgegeben von (edited by) Wilhelm Ostwald, Vierzehnter Band, Drittes u. Viertes Heft (Fourteenth Volume, Third and Fourth Part), Unesma G.m.b.H., Leipzig, 1921. Original printed wrap + [185]-308 + TP for Volume 14 + 1 leaf + Inhalt (Contents) for Volume 14, Octavo. First Edition (Frongia/McGuiness, "Logisch-philosophische Abhandlung", p. 42). (Offered by Athena Rare Books, Booth 1005)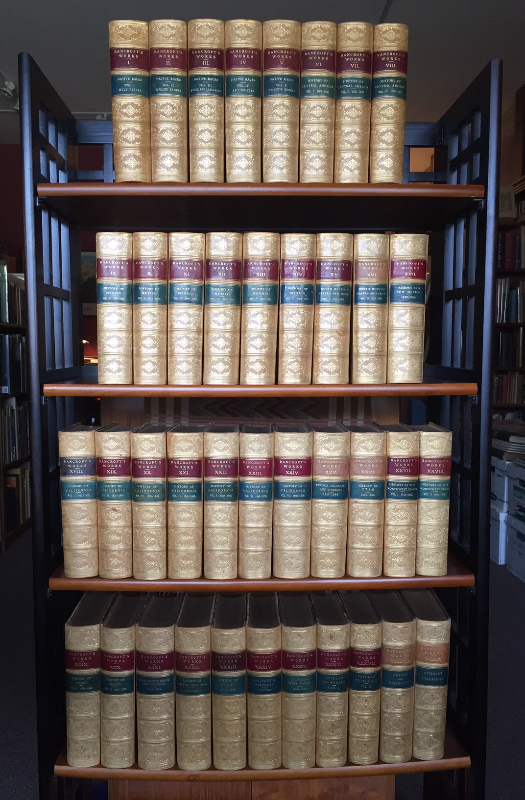 Bancroft, H[ubert] H[owe]. The Works of Hubert Howe Bancroft (Complete in 39 Volumes)
San Francisco. A.L. Bancroft & Company and The History Company, 1882-1890. First Editions, mixed printings. Octavos in original full polished tree calf, spines decoratively tooled & lettered in gilt, raised bands, burgundy and green morocco spine labels (series spine label of six volumes in variant color), inner gilt dentelles, marbled endpapers, all edges gilt. Illustrated with maps, text illustrations and engraved portrait of Bancroft. Laid in is the original 'Publisher's Notice' of the planned publication sequence of the 39 volumes. A few minor cosmetic flaws and a few tender hinges (those of two volumes professionally strengthened); a splendid set in the publisher's deluxe binding, fine and bright and rare thus. (Offered by Carpe Diem Fine Books, Booth 215)
Note: All items are Subject to Prior Sale.
Keep an eye on both the ABAA Facebook Page and the California Antiquarian Book Fair Facebook Page for more item previews and other information on the 50th annual California International Antiquarian Book Fair!